eSignatures are built for everyone – How to do an Electronic Signature
With an easy peasy interface, customisable options, integrations with your apps and not a piece of paper in sight, electronically signing and adding a signature to a document is straightforward with Signable. We'll show you how with our simple step-by-step guide…
Sending a document:
1. Upload Upload your document straight from your computer, DropBox or use a saved template 2. Customise Add your signing fields to your document, e.g. signature field, date field etc.
Remember to assign the right party to the right fields!
Do you want to set up a password to up the security of important documents? We've got you covered, tick the box. 3. Who's Signing? Pop the Signee(s) name and email address into the box and presto! You can choose however many people you want to sign, just add more parties until you're satisfied. If you want to just send a copy to them, slide the bar to the right for 'copy only'. 4. Send Click the send button and we'll do the rest!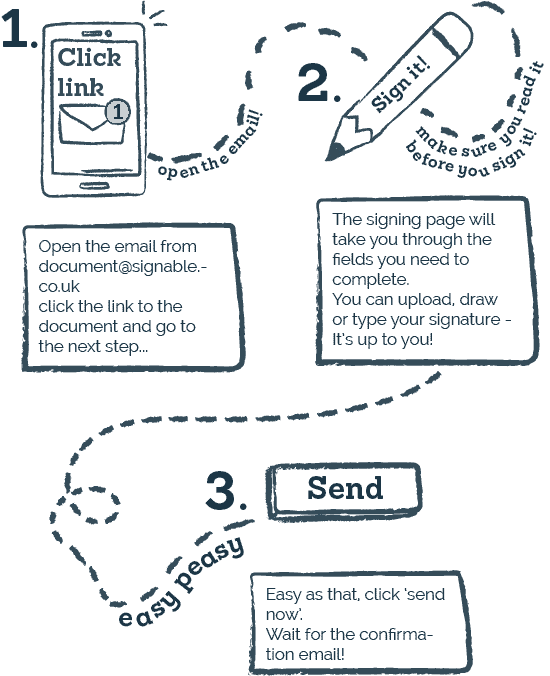 Signing a document:
1. Open the email from Signable.co.uk
Click your unique link to the document. You'll be taken to our super simple signing page. You don't need to have an account with us to sign or create an electronic signature, but you know what they say 'once you eSign, you'll never go back'…
2. Complete your sections
The sender will have specified what you need to fill in e.g. your signature. You can draw your signature using a touch-screen device, type it or upload a photo of it. They're all perfectly acceptable.
 3. Press 'Send'
Once you add your signature and everything is filled in, go ahead a press send. A copy of the signed document will be sent to you and everyone else who signed, including the sender. That's it! Easy, right?