Simplifying document processes for over 6,000 companies
With Signable you can speed up your processes with ease. A few minutes to set up, and a breeze to implement across your company, you'll be sending and signing with our e signature software in no time.
Send in minutes,
Sign in seconds,
File forever.
What do we offer?
Send & sign anywhere, on any device!
We ensure that your online signatures will work regardless of if you're using a Mac or PC or for that matter smartphone or tablet.
Whether you are using desktop or mobile device we've got you covered with rigorous levels of security. We test on a myriad of browsers, so whether you're using Chrome, Firefox, Safari, Opera or even Internet Explorer… your electronic documents are safe!
When you are using Signable you will find that you will be able to upload your document in various file formats, including Microsoft Word Documents, Microsoft Excel spreadsheets and PDFs. If you're collecting multiple signatures you can choose whether they need to be in a particular linear sequence or if you want to allow all-at-once signing.
Global e Signatures
Send a document to a client of yours 5,000 miles away through the postal system and it will arrive a week later. If you send that document online it will arrive almost instantaneously.
An e Signature is as legally binding as a handwritten one when you're looking to sign documents, as long as you're online you can sign documents on the move from just about any location in the world.
With Signable you can sign and send documents on the move with our tablet-based app or our Progressive Web Mobile App.
Save money, time & the planet
Whether you're a big or small business it all adds up. The paper to print on, the printer, the ink cartridges, the envelope, the stamp or recorded delivery and your time!
Our customers have significantly cut down their contract turn arounds from days and weeks to hours and minutes!
Every year millions of trees are cut down only to be turned into paper for our offline documents. These documents need to be delivered, emitting harmful gasses into our atmosphere from vans, lorries and planes.
We also have a bulk sends feature that allows you to send out multiple envelopes to multiple recipients in one go.
So swap your handwritten signature for an electronic one!
Signature laws
We fully comply with the Electronic Communications Act of 2000 (eSign act) and eIDAS regulations.
For information on the impact of the UK leaving the European Union, see here.
Download our full e Signature legality guide below. Plus you can enable two-factor authentication log-in for your Signable account to keep documents secure.
Full language translation
The languages that Signable currently supports include:
English
German
Spanish
French
Dutch
Portuguese
Control & in-depth document tracking
Keeping track of your online documents is a breeze. You can instantly see which clients have outstanding documents to digitally sign and add their e-signature to and which documents have accepted or rejected and their date processed.
Once all parties have signed their parts of the document you receive an audit trail that details every step of the signing process.
Easily Manage Teams
You can use Signable across multiple departments and teams.
Set up different teams of users to control who can access and edit templates and envelopes.
This means it's simple to manage access to personal or confidential information.
It's all about you
Customers are very much our lifeblood, so we love to help you with anything we can. That's why Featured Customers rated us as a Top Performer in their Autumn Customer Success report.
Our Customer Success team are here to guide you through anything you need help with. Even if that means downgrading your plan, if you're not using up your credits, or upgrading you to a better plan with more features, like IP Allowlist
We focus on providing easy e signature software, so you can be sure we're keeping you at the centre of what works and what doesn't. Meaning we give you regular updates about our new features, and love to get your feedback with our case studies.

Ready to give Signable a try?
If you would like to find out about our flexible pricing structure, have a look at our plans page. Or, if you're stuck on how to do an e signature, just fire any questions you have at us. We can help you get up to speed and you'll be sending documents like a pro in minutes, without a piece of paper in sight!
Our Integrations
Signable integrates with a variety of tools, syncing them with your customer's info and streamlining how you send your documents, making it easier to use an e signature in your day to day business. A full list of all of the current integrations Signable offers can be found below, simply click to find out more.
So many more integrations are coming soon, so watch this space!
Have you got an integration for us to share or one you would like to suggest? Let us know here.
Browsers We Support
We highly recommend you keep your browser updated for security updates and to ensure the app renders correctly.
We currently support the following browsers:
Mac
Google Chrome [Latest Version]
Safari [Latest Version]
Mozilla Firefox – [Latest Version]
Windows
Google Chrome [Latest Version]
Mozilla Firefox [Latest Version]
Microsoft Edge [Latest Version]
Mobile Browsers
Safari
Chrome
Samsung Internet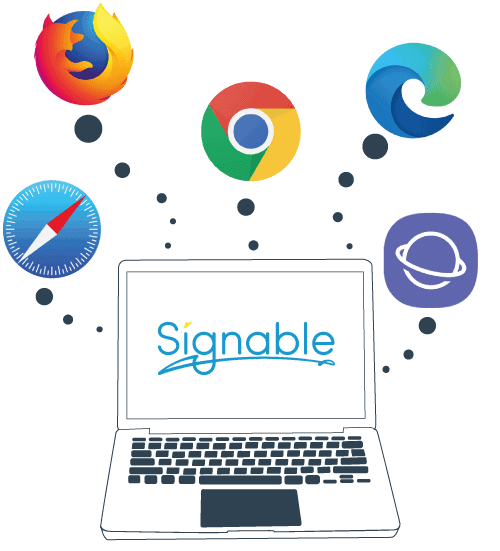 Enough from us, hear from our customers…
See what our customers have to say about Signable and our eSigning.