How to create and send an electronic signature document - a step by step guide
1: Select your document
Upload a document from your computer or select a template that you have already created.
2: Select your options
Specify whether you would like your document to be password protected for added security and if you want to first drag-and-drop signing elements, such as signature fields, onto your document before sending out.
3: Who to send the document to
Type in the email address and name of the recipient and click the "Send" button.
Tip: You can send the document to multiple recipients, for instance you might want to sign the document before it is sent to your client.
Email notifications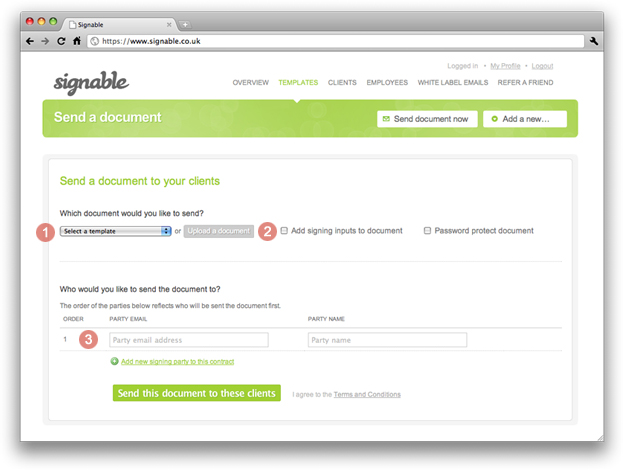 Signable handles all email communication
We send the email to each party in turn to sign. Attached to each email is the document that you uploaded and a short message letting them know who has sent them a document to sign.
We let you know when the party has opened the email, so you can confirm receipt.
Link to secure online document
We supply the party with a link to click which takes them directly to their secure signing page.
Tip: You can edit each and every email that is sent to your clients through our White Label options!
Sign document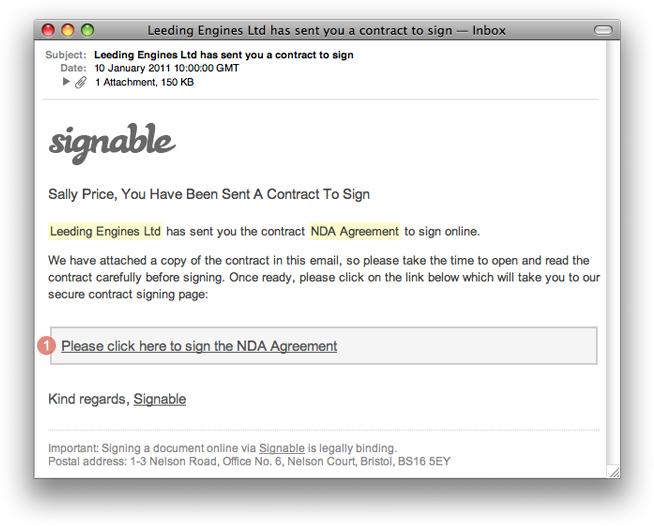 1: Click to add your signature
There is nothing for the party to install, so the document signing process is incredibly quick and simple. They can add their signature, add dates, and enter information into text fields.
2: Draw your signature
Clicking a signature field allows the party to draw their own signature using a mouse.
3: View your document progress
The party can see which fields they need to complete before being permitted to finish the signing procedure.
Document Complete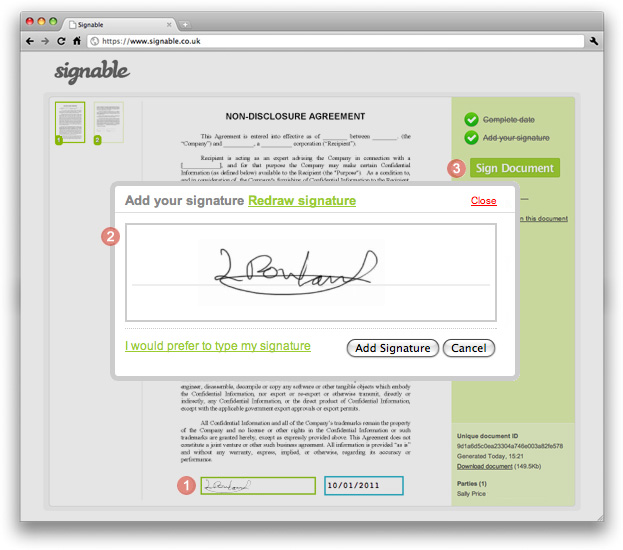 Signed document sent to all parties
An email containing the signed document is sent to all of the parties involved instantly, including you.
Complete with your certificate
Your signature certificate is located on the last page of the document and contains detailed information on:
Each signing party
Dates, IP addresses and fingerprints
Full audit log
Document securely stored in your account
Every completed document is securely stored in your account, so you can easily download it anytime, anywhere.
Sign up for a

FREE

14 day trial