How To Electronically Sign A PDF
Published:
Signing a PDF electronically with Signable…
So you've been sent PDF documents that need signing? Printing documents, signing by hand, and scanning them back into your computer can be a time-consuming process, especially when you receive multiple documents on a regular basis.
This is where eSignatures come in.
Instead of wasting your time and money on printing and resources, simply add eSignatures to your documents in one single click.
eSignatures mean no more worrying about the status of your documents. It takes just seconds to send a document straight to your client's inbox and receive their signature in response, leaving you more time for other important daily tasks.
What are eSignatures?
An eSignature put simply, allows a person to electronically sign a document using a digital version of their wet signature. The main benefits of electronically signing documents are saving time, added security for your documents and data, the flexibility to work from anywhere and on the move, and the ability to cater to your client's busy schedules.
We've ensured that you can sign documents from any device, whether that's your Mac, PC, tablet, or phone, we've made it super simple to do business on the go.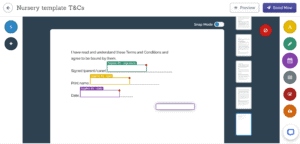 Are eSignatures legal?
In one word, yes! eSignatures are completely legal. Signable complies with eIDAS regulations meaning your documents are legally binding in any court. We also provide added security features including:
A full, detailed audit log
Identification of users verified before sending documents
Unique fingerprint IDs for each document
Secure storage for your documents and data.
Our eSignatures are 100% safe and secure, and with SSL encryption on every page you visit on the Signable website, no one can snoop on your personal data or documents. Rest assured your data is safe with us!
The benefits of eSignatures in a remote world
Working remotely has never been easier! With more companies now opting for fully remote or hybrid working schedules, digital tools and processes are increasing in popularity meaning now is a better time than ever to make the switch to eSignatures.
Being able to send and sign documents on the go gives you the ability to work from anywhere and on any device. This means more flexibility for you and your clients when it comes to getting PDF documents signed.
So, how do I send and sign a PDF with Signable?
Electronically sending and signing a PDF with Signable can be done in just a few simple steps! Getting a document signed is fast and easy, you can upload your own documents or use one of our customisable templates to save time.
Firstly log into the Signable app and upload your PDF document(s). Next, add the names and email addresses of your signing parties (as many as you like!). Signable will then prompt you to add any required signature, text and date fields to the document. Then click send and your parties will receive the document in their inbox ready for signing.
When signing a PDF document, the process is just as straightforward! Open the email you receive from document@signable.co.uk and click the link to take you to the document. Signable will prompt you to fill, sign and date where required.
Select the signature you'd like to use and your document will be signed and ready to go. Simple!
There are 3 types of eSignature you can choose from. These are:
Type your signature with your keyboard
Upload an image or scan of your wet signature
Draw your signature with your mouse or trackpad
Try eSignatures for yourself
Electronically signing documents with Signable saves 80% more time on average. There are plenty of benefits to going paperless, not only that but you'll be helping to save the planet too. Sending and signing PDF documents is easy with Signable, so why not try eSignatures for free and see for yourself?