June Signable Product Updates 2022
Published:
Last month, we put our Signable feature suggestion link in the May edition of our update blog and were very excited to see that so many of you had fantastic suggestions for our platform.
So many of you voted for new features and requests came pouring in, which was really great to see – your votes and comments are really important and help us understand the problems you're trying to solve day to day.
Our product team sprinted to get cracking so you can have the best personalised eSigning service in the world. We've got some exciting updates to talk about, so let's get stuck in.
Our signing page got a facelift
You may have noticed, but we applied our gorgeous new fonts & branding to the signing page, in line with the Signable website and web app. Please look and see what we've done next time you sign a document!
Branding colour applied to success page.
Previously, when sending branded envelopes off, you would have had the option to add the branding background colour only on to the signing it would not be applied to the success page.
Now, you can apply your branding to the success page easily meaning your logo will consistently look good in both places.
This new update guarantees that all sent envelopes are consistent, and there is no need to choose where it would look best, as this is all done for you.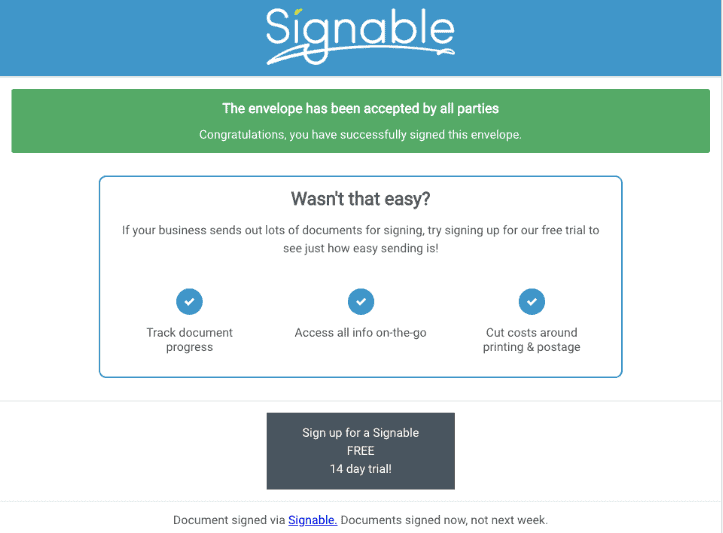 70% of envelopes are signed within a day on Signable!
We are always running tests in the background to ensure these features make your signing more efficient. Our latest tests show that 70% of all documents sent are signed within a day, which is a testament to the efficiency of Signable's eSignature solution!
Do you have a feature suggestion for Signable?
We're all ears at Signable. We would love to hear from you. We have a site where you can suggest, vote and talk about the features you want to see on Signable. Have a part to play on the platform!
Google Docs integration
Our ever-popular Google Docs integration is not so much a new feature, but we thought if you needed a sign to get integrated with our Google Doc plugin, this is it.
What can you do with our Google Docs integration?
With Google Docs integration, you can easily push your documents out to be eSigned through your Signable account. Simply create the document or load it from Google Drive, add your signing field, select your signing parties and send!
Follow us on Instagram for behind-the-scenes action!
We are very active on our social media, documenting all the fun events that we have going on each week and exclusive updates and awards as they happen. Make sure to follow us on Instagram.