Tech for good – Access Nursing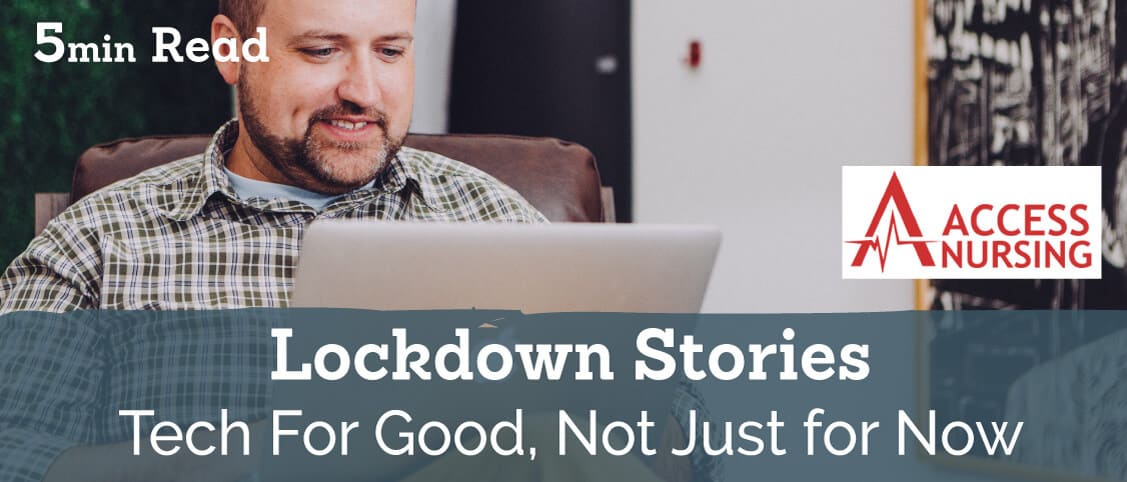 Published:
Lockdown Conversations: Tech for good, not just for lockdown
With a new normal hitting every sector, we spoke to some of our customers on their experience of Lockdown and how technology has played a key role in continuing 'business as usual'. Discussing the notion that tech is for good, not just for lockdown.
We're seeing a huge shift in the way every sector thinks about technology, with a readiness to continue to expand their digital adoption for years to come.
Our first interview was with Access Nursing. A recruitment agency for nurses and hospitals looking for temporary positions and shifts, as well as permanent nursing positions across Ireland.
Supplying the front-lines with nurses brings its own set of challenges, meaning their processes had to change to accommodate this shift. But, they say they've not seen growth across the board.
In conversation with Access Nursing
How has Access Nursing changed to adapt to Lockdown? Have you had to change your temporary vacancies processes to deal with the increased demand? Have your permanent vacancies fallen?
"Change has certainly been the key. We have realised the importance of having digital documents and electronic processes."
"Our workload has been changing due to the changing nature of the pandemic, for instance while some areas of the health sector have scaled up, many of the more routine procedures have been put on hold. So the demand for staff hasn't been as strong as one might think."
What problems were you facing before using eSignatures? And have they helped solve them?
"We are finding that it is faster for clients to agree to our terms of business and we now know for sure if workers are acknowledging their contracts of employment."
"We tried a few other tools similar to Signable, but they weren't as user-friendly."
Have you implemented other digital solutions to help with the current situation?
"We have been working with Google Meet for our team collaboration."
What things are you proudest about in regards to how the company has dealt with lockdown? Any positive stories to tell?
"It has been great to see how mature and reliable the team has been in terms of getting on. "
"I was particularly worried about a young person who joined the team 6 weeks before the lockdown and he hadn't completed his training, in fact, he had recently finished college."
"He continued to do his training and achieve the performance targets that we would have expected from someone with more experience. It was a great sign of his character and work ethic."
Do you see Signable as a tool you'll continue to use when things begin to return to "normal"? (as normal as can be expected!)
"Yes, it removes the barrier to signing on new clients and gives us comfort in our compliance processes."
What does this mean for UK Businesses?
This spells a positive change for all businesses, as technology is the easiest way to increase your productivity and speed up older, out-dated processes. Access Nursing are on the "tech for good" camp, but will our other interviewees agree? Stay tuned for our next instalments to find out!
If you're considering updating your document processes, try out Signable for sending and signing electronically with our 14-day free trial. No strings, just fast, compliant signing.