March Product Blog
Published:
Spring has officially sprung and in between longing for those hot summer days ahead, we've been busy continuing to tweak, develop and enhance the Signable experience across the board!
This month, we've been focusing on how we can work with you to provide a seamless eSignature integration for your customers.
How you ask? Why through our Signable Reseller Partnership Program of course!
What is the Signable Reseller Partnership Program?
Not to be confused with our Affiliate Scheme, the Reseller Partnership Program is a great initiative which enables you and your customers to receive the benefits of Signable's leading eSignature software, all from the comfort of your own system.
As a Signable Partner, you are able to fully integrate Signable with your platform, interface or website via the Signable API. Once integrated, your customers can upload and send documents to be signed electronically from within your product, allowing for more options and greater flexibility.
What are the key benefits?
There are a whole host of benefits you will receive as a Signable Partner:
Full API Access
The Signable API allows you to integrate Signable directly into your website or internal systems. This means that your customers will receive the full functionality of Signable's eSignature platform without having to leave your domain.
Discounted Partner prices
With a Signable partnership, you will be billed at an exclusive, wholesale price per envelope rather than the standard cost of our Signable plans.
Unlimited sub-accounts
A Signable partnership offers you the benefit of unlimited sub accounts, with the added ability to individually brand each account.This means that your customers can add their own branding to their signature request emails and signing page, resulting in a professional and personalised user experience.
Retrospective billing
Unlike direct customer subscriptions, Signable Partners are billed retrospectively. This ensures that you will only pay for the exact number of envelopes sent by your sub accounts each month and also that you will have received payment from your own customers before being charged Signable's fee. By operating this way, we aim to keep the costs low and provide a calculable return on investment for all our Partners.
Dedicated Support Team
As a Signable Partner, you will receive a dedicated Partner Manager and Support Team to help with the onboarding and managing of your account. You will also receive clear and simple API documentation, showcasing all of our functions. Your Partner Manager will check in with you for quarterly catch ups and also be on hand to provide additional support in relation to your Signable integration as and when you need it.
Marketing opportunities
Signable's Partnership involves a free of charge, co-marketing initiative to create bespoke assets that you can take advantage of to help boost your customer base. These include things such as:
Partner packs to share with your internal customers
A case study feature across Signable's marketing channels
Joint sales initiatives to attract new customers
Multi-channel social media campaigns
Co-hosted webinars to promote your business and expand your network
Who is eligible to become a Signable Partner?
While we'd love to partner with all of our customers, only businesses who provide their own software are eligible to integrate Signable into their system.
If you're unsure whether or not the Signable Reseller Partnership Program is right for your business, get in touch with our wonderful support team who will be more than happy to discuss your options.
Want to know more?
Want to learn more about our Reseller Partnership Program and how it could benefit your business?
Partner manager Terrie will be running an exclusive webinar answering all your questions on the topic so be sure to sign up and come along.
The webinar is taking place on Wednesday 5th April at 11am GMT.
We will cover:
What is the Signable Reseller Partnership Program?
How to integrate Signable with your own platform
Generating a return on investment
Key benefits of being a Signable Partner
Q&A session
Don't miss the opportunity to provide seamless electronic signing for your customers. Sign up for free below and get your questions answered!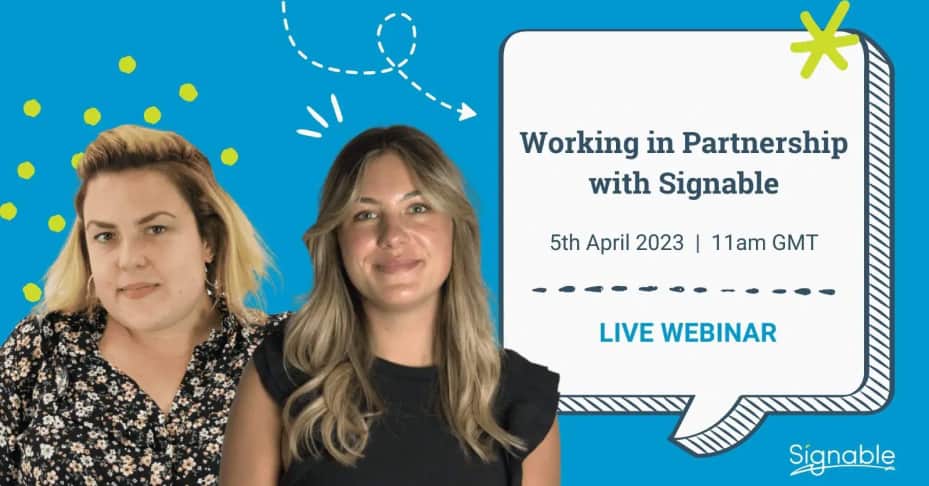 Interested in becoming a Signable Partner?
We'd love to work with you and help you deliver efficient and stress free e-signing to your customers. Head to our dedicated Partner's page to learn more about becoming a Signable Partner, and get in touch to discuss how we can best support you.