Paper Usage Calculator – One Change for the Planet

We're big on saving the environment where we can at Signable. Part of this is helping you see how much you're helping the environment too. So, by simply switching to electronic documents instead of paper ones, you're doing your bit against Climate Change.
Our Paper & carbon calculator below shows what one small change would save you and the environment. Simply slide the bar to select your monthly document usage.
What we've achieved with your help
By moving away from paper-based processes you are truly helping the environment and with more and more big companies and conglomerates going paperless we're starting to make a difference.
With the help of our loyal customers, we've managed to help reduce the number of trees offices use for paper on a pretty big scale. You can check out how much you've helped as a Signable user with our paper usage calculator above.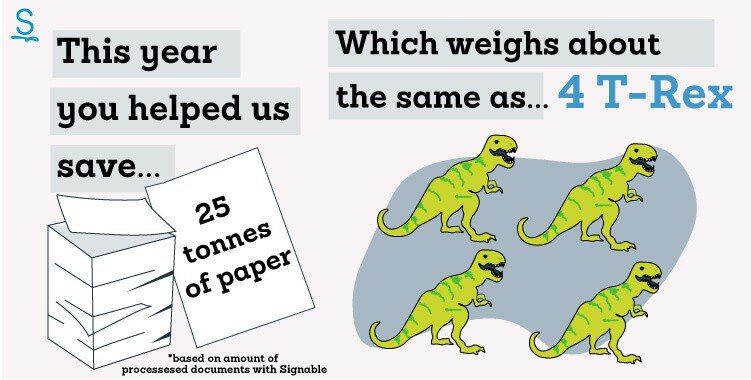 If you want to see how much money, water and even endangered species we saved in 2020 take a look at our graphic here.
Benefits of going paperless
Using less paper is important for obvious reasons, and we're fully behind reducing paper-based processes. Sending documents electronically is the best way to replicate a paperless document sending process. But what exactly are the benefits of reducing paper consumption in your office?
Money
Going paperless is actually a great way of saving money. As well as not needing to splash out on equipment for printing your documents, the sending and delivery of documents tends to be much lower when done without using paper.
Office space
Filing cabinets, printers, scanners. Equipment to print, send and store paper documents takes up precious office space. Freeing up space, reducing the amount of equipment you use might mean you can reduce office running costs and find extra space in the office for whatever you see fit.
Security
Storing your businesses and customers data in the most secure way possible is vitally important. For complete peace of mind storing documents electronically within Signable is much more secure than in a filing cabinet that hundreds of people could have access to. Find out more about how secure Signable is here.