With Signable's Pay As You Go eSignature plan you can have complete flexibility to use electronic signatures as and when you need them.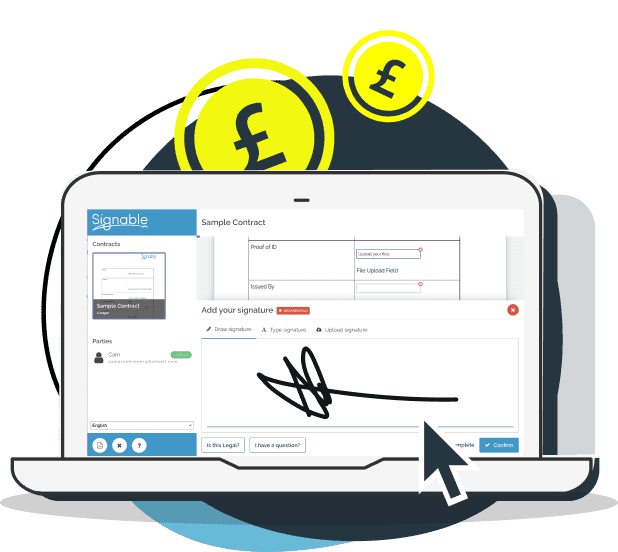 PAYG eSignature software
If you only need to send a few documents to be signed each month, then our Pay As You Go plan gives you access to Signable's eSignature software without committing to a monthly or annual plan.
Using eSignatures for online documents can save both time and money. They're 100% legally binding, secured with SSL encryption, and you'll get a full audit trail for every step of the signing process when the document is completed.
How much do PAYG eSignatures cost?
Using eSignature software can cost as little as £1 per envelope when you buy one of our PAYG bundles.
This is one of the most affordable ways to take advantage of electronic signatures. We offer a range of bundles from 10 credits for £15 to 125 credits for £125. One credit lets you send one envelope, which can contain as many documents as you need.
Once you've purchased a bundle of Pay As You Go eSignature credits you can use them whenever you want – the credits will never expire.
There's no limit to how many online documents you can send with a Pay As You Go plan. Just top up your credits when you need to, and if you don't require any eSignatures in a particular month you won't need to pay anything.
If you're regularly going to send more than 50 envelopes per month, then one of our monthly or annual plans might be a better option.
eSignature software for small businesses
Pay As You Go is great for individuals, freelancers, and small businesses who need to use electronic signatures. If you're only sending out a handful of documents, or your eSignature requirements fluctuate during the year, then you don't have to pay a set amount each month.
Like our other plans, you can add an unlimited number of users to your account at no additional cost. And you can set up an unlimited number of templates, so it's quick and easy to reuse and send out documents to be signed.
Sign up to Signable today for a 14-day free trial, no payment information required!