Swift eSignatures for Accountancy & Tax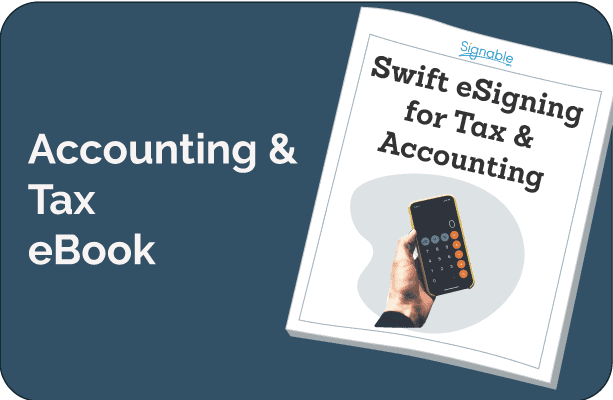 Deadlines beaten, compliance exceeded, IRS Tax solved!
What's included?
Our Accounting & Tax features
What your clients expect
Reducing job stress with electronic processes
The future of Accounting, Tax & eSignatures
IRS tax forms – What can you sign electronically?
Exceptions to eSign & eIDAS laws

What's in store for Accountancy and IRS Tax?
With big changes to tax and accountancy laws in recent months, we're looking forward to a new year with even more updates. We're predicting a total change over to electronic signing and digital documents by 2030. So, get ahead of the change and start implementing electronic signing.
It's what your clients expect
With these pushes towards a digital future, your clients have come to expect all businesses are moving with the times. So get started with electronic signatures today!
We're legally compliant with both the eSign and eIDAS acts as well as a host of other legislation across the world. Check out our global legality guides to see how we keep you legally binding, worldwide.
What do our customers say?
"Signable is a totally awesome package…I've been using it for engagement letters. Using it saves time, paper, money etc. Win, win, win."
Evenstone
"The ease of signing up was the main reason for choosing Signable… The user interface is just, very very simple. Not simple bad, but simple easy"
"Signable makes our life a lot easier. And I think that is the be-all and end-all when it comes to electronic signatures. Which is great."
"Our fastest transaction is 26 minutes – from the moment an invoice lands on our desk to the moment we got the cash out the door. And to that end, if we didn't have electronic signatures; we simply wouldn't have that"
GapCap