September Signable Product Updates
Published:
As the nights begin to draw in and the smell of pumpkin spice fills the air, we take a look back on what's been happening at Signable over the past month.
September signalled the end of a quarter and the introduction of some very exciting changes! In between office quizzes and lunch and learns, our fantastic product team have been working hard behind the scenes to bring you an even more personalised and efficient Signable experience.
Our Users & Teams feature is here
The star of this month's product update is undoubtedly our brand new Users & Teams feature which makes it easier than ever to manage permissions and share templates and envelopes within your Signable account.
With this new feature, you're able to assign each individual user a role which will determine their level of access and permissions on the account. What's more, those on our Medium Business package and above can place users into teams, making sharing access to envelopes and templates among groups simpler!
Let's break it down
First things first, there are three User Roles – User, Admin and Super-Admin. What's the difference? Good question:
User – A User has the most basic level of access permissions. They can create and send envelopes as well as create templates.
Admin – An Admin has all the permissions of a User, plus they can create and edit Users & Teams on the account.
Super-Admin – Super-Admins are the crème de la crème. They have full access and control over the account, including access to billing information, branding and API.
Find out how to add a user step-by-step in our simple Users & Teams help guide.
I'm a long-term user of Signable – what's changed on my account?
Any pre-existing user under our former Teams & Permissions feature will have had their new User Role allocated as follows:
If you previously had access to any of the permissions for Company Settings, you'll have been assigned the Super Admin role.
If you previously had 'Edit Users' permissions, you will have been assigned the role of Admin.
If you were set to 'Own Items Only' or simply had no permissions set, your new role is currently that of User.
To find out what else has changed for existing users, visit our handy guide.
Creating a Team
Grouping Users into Teams is a handy tool when it comes to sharing envelopes or templates with specific groups within your company. With our new Teams feature, you can share any envelope you send either to everyone, specific users of your choosing, or even whole teams.
For our smaller packages, you'll also get the option to either keep envelopes to yourself or share them with the team at large. Pretty cool, right?
Need a hand?
Here at Signable, we appreciate a visual aid as much as the next person and so our fantastic Customer Support team have put together a helpful video, talking you through the new feature and how you can apply it to your Signable account. Give it a watch below!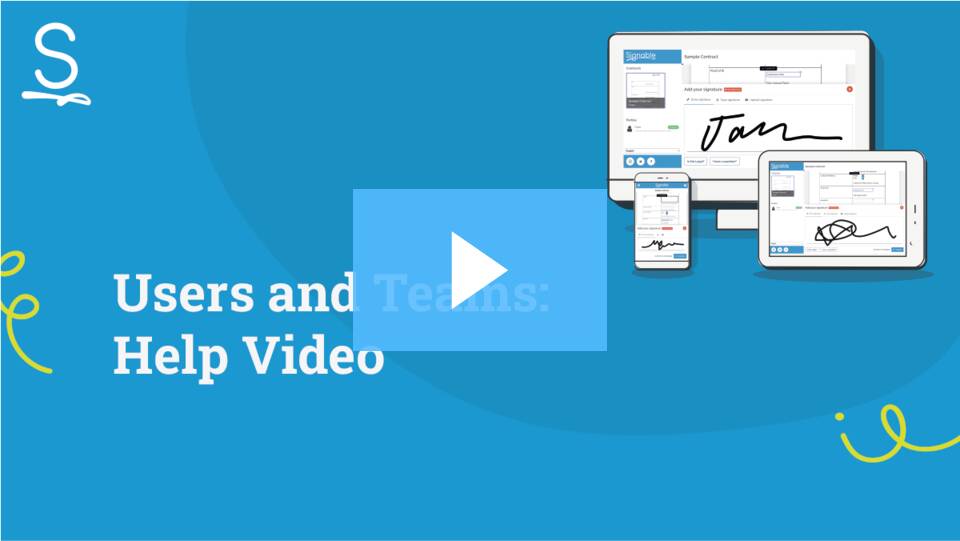 Learn more with a live demo!
For those who would like a live tour of the new feature, come and join our webinar on 29th September for an exclusive demo of Users & Teams. We'll be explaining exactly how to define roles as well as how the feature applies to teams.
Don't miss out on the opportunity to have your questions answered in our live Q&A, sign up to the webinar by clicking the link below.
Want to be a part of shaping Signable's future features?
If you have great ideas on how we can improve the Signable experience – we want to hear from you!
By joining the Signable research panel, you'll get the chance to take part in research, surveys and usability testing sessions, and will get an exclusive sneak peak at features that may be coming soon.
It takes 2 minutes to sign up and you can leave the panel at any time. Join now!