Let us introduce ourselves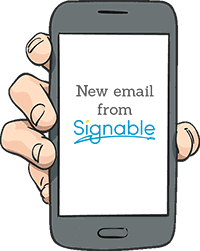 Signable is a UK-based electronic signature software provider. We enable businesses of all sizes to send electronic documents, in order to get them signed legally, safely, quickly and at less cost, all online. Signable is used by organisations in a variety of sectors, if you're not sure how electronic signatures impact yours why not check out one of our industry guides? We have guides that cover industries including Law, Finance, Property and more. Over 6,000 businesses in the UK, Europe and beyond are taking advantage of Signable's eSignature technology for fast and secure document signing. Interested? Give it a go today, and see what you've been missing!
If you want to check out the different plans that we offer, have a look at them here.
Why use Signable?
Signable helps save you bags of time when sending and managing documents
You can initiate contract signing, meaning you get the signed documents back quicker. Signable makes it easier to sign and can be signed from anywhere (your customers will thank you!)
It's cheaper!
eSignatures are legally binding and more secure than traditional contract signing
Market leading customer support for every user
We have a plan ready to suit every business (no long contracts and no hidden costs)
You can get started in just 60 seconds
Need some more info about Signable?
For details on how some of our customers use our electronic signature software for contract signing and the benefits that electronic signatures bring; head over to our case studies and see first hand the positive impact Signable has had on a diverse range of businesses. We have also put together a free eBook for anyone new to electronic signatures (or just looking to brush up on their knowledge of the subject!) If you would like to learn more you can download our eBook here.  
How much does it cost? 
Check out our flexible monthly plans here. We also offer a Pay as you go option which allows you to pay per envelope that you send without the commitment of a monthly contract.