A Year in Review: The 2022 Signable Round Up
Published:
2022, a strange year with many twists and turns, from the loss of Her Majesty Queen Elizabeth II, to the Russian invasion of Ukraine. Add Elon Musk buying Twitter into the mix, alongside the shortest serving UK Prime Minister EVER and you have yourself a year many people are keen to leave behind.
BUT… it wasn't all doom and gloom. The Lionesses brought it home for England at the 2022 UEFA Women's Euros and we celebrated 50 years of pride! Oh… and Signable continued to bring efficient signing to thousands of customers, with over 3.5 million envelopes sent and signed throughout the year.
Our company has scaled massively in 2022 – we've welcomed 14 new employees to our Signable family, all of whom have brought countless new ideas and fresh perspectives into the mix.
Alongside all of the amazing changes, donations, awards and events that took place over the year, our platform has continued to grow and undergo several changes.
What went on in 2022?
A lot happened, so let's jump straight into it!
API updates
Adding to the various layers of security already available within the API, we added a new password feature in January, making the platform even more robust.
The change enabled users to set the actual password of the envelope as opposed to the previous yes/no option.
User experience
Making the platform even more user friendly was a key priority this year and the team certainly delivered:

Search bar for Templates – An easy-to-use search function was added to the Templates section of our app meaning customers can easily search for individual Templates with minimal effort. This additional function was welcomed by many customers who regularly rotate dozens of different templates.
Delete cancelled envelopes – For all the Marie Kondo's out there, there is now no need to keep unnecessary envelopes in your library. Simply delete cancelled envelopes and stop them piling up! Don't panic though, you can still find your cancelled envelopes by using the Signable tags.
New sleek homepage design
Throughout 2022, we've made several design changes, the most notable being our Signable.co.uk homepage. Designed to make your movement through our site seamless, the new page boasts a sleek new style and effortless navigation.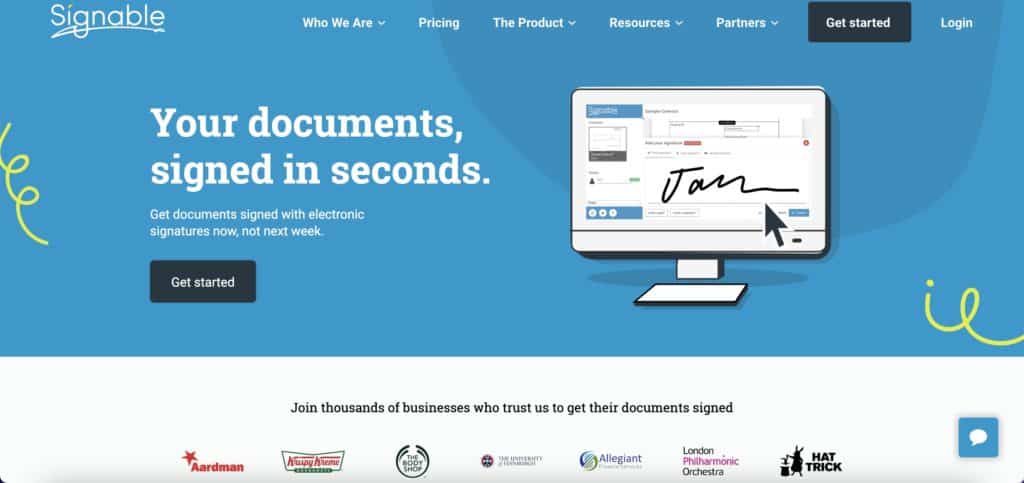 We added some really fun new features to our homepage too, including our Stripe Climate partnership and list of integrations.
Security initiatives
As all our customers would expect, keeping up with security is one of the most important things on our agenda, and that didn't change in 2022. Throughout the year, we made several changes to the app to increase some security-related aspects, taking advantage of the latest available standards.
Two-factor authentication (2FA) is just one measure which improves the security of your Signable account and minimises the risk of a data breach. 2FA works by requiring not only password protection, but also authentication from an app installed on your mobile device.
More information on 2FA and how to turn it on manually in your Signable account can be found in our dedicated product blog.
Keyboard Shortcuts
Turbo boost your fields by using keyboard shortcuts!
Say goodbye to hours spent creating complex documents and use these handy keyboard shortcuts when setting up fields instead:
Ctrl/⌘ + C = Copy a field
Ctrl/⌘ + V = Paste a field
Press the 'delete' key = deletes the field
For those working with long documents using the same field multiple times, keyboard shortcuts are an invaluable tool. Remember, you can turn complex documents that you use regularly into Templates, and these shortcuts work there too!
Users & Teams
Perhaps the most exciting new feature to launch this year was our Users & Teams feature which makes it easier than ever to manage permissions and share Templates and envelopes within your Signable account.
This new feature enables you to assign each individual user a role which will determine their level of access and permissions on the account. What's more, those on our Medium Business package and above can place users into teams, making sharing access to envelopes and Templates among groups simpler!
Find out more about Users & Teams here.
Awards
2022 has been kind to us in terms of awards (we are pretty great if we do say so ourselves…)
Southern Enterprise – In August, Signable was nominated for an SME award by an independent judge panel in the 'Best Value Electronic Signature Software Company category and came out on top!
SME News' annual award aims to showcase some of the key players across the UK and recognise the innovation and creative achievements of small to medium size businesses, despite them often being overlooked by mainstream business awards.
Better Alternative – In September, Signable was listed as one of the top Electronic Signature Software Providers on Better Alternative!
This means that as well as being featured online in a hand-picked list of elite software providers, we now have another shiny badge to show off!
UK Best Workplaces™ – 2022 saw us coming top 10 in the UK Best Workplaces™ in Tech category! On top of that we won another not one, not two but three UK Best Workplaces™ awards!
These were:
UK Best Workplaces™ 2022
UK Best Workplaces™ for Wellbeing 2022
UK Best Workplaces™ for Women 2022
Giving back
This year, we've held several fundraisers, volunteered at various events and donated a whopping £30,000 to Stripe Climate! Giving back to our community is a huge part of what we do and we're thankful for all the support from our staff and volunteers who champion our values day in, day out! 
To keep up with all of the work we do, be sure to follow us on Instagram and see what goes into making Signable a fantastic place to work!
Moving into next year, we will continue to strive for growth and can't wait to see what 2023 has in store for Signable! Thank you to all our valued customers who have signed with us in 2022, we'd love to hear about your experience – why not leave us a review on Trustpilot and don't forget to let us know of any feature suggestions you'd love to see in 2023!