April Product Updates 2021
Published:
April 2021 Product Updates
A Spring Clean For Signable…
As many of you may have seen already, the app has had quite the update this month. We're so pleased to see all the positive feedback already.
In basic terms, we've updated the menu bar and headers to make things look slicker, clearer, and just easier for you to maneuver. This look ties in with the design direction we're planning to move towards this year. Big things are coming!
As always with cosmetic changes, nothing will affect your envelopes or the sending or signing process, so don't fret!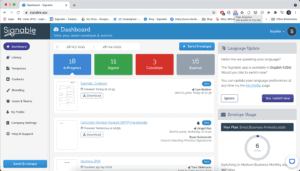 Branding Page Update
Our white-label Branding is one of our most loved features, and if you've used it you'll know why… It's an easy way to customise your emails and signing page to add that extra air of professionalism to electronic signing.
Because we know how important it is to so many of you, we wanted to give it a fresh lick of paint, so to speak. So we've changed things a little to make it easier for you to see what your logo looks like and give you more brand colour options.
You'll now be able to choose the background colour for your logo, meaning your branding can look seamless with your website.
*This update will be live the week of 3rd May 2021.
API Updates
We will now be keeping all API users up to date with any API improvements we action during the month. This month we've not seen many impactful changes, but keep your eyes peeled for next month's updates.