We're A Certified Great Place To Work – How It's Changed Us
Published:
What Is The 'Great Place To Work' Certification?
Naturally, the Great Place To Work Certification is an award for companies who meet a high standard of employee engagement, happiness, and trust. The certification itself is a measure of the company and comprises of a few different key areas of 'The Trust Model':
Trust: Credibility
The credibility of management. This is around the employees' perception of their managers, so how competent, trustworthy they're seen as, as well as their communication methods.
Trust: Respect
How respected employees feel. This centers around their support within the company in a range of areas, involvement in decision making, and the help they receive from their managers.
Trust: Fairness
The fairness of company practices and policies. How fair employees feel the workplace is, with key areas for equality, impartiality, and justice for everyone.
Pride
How employees feel about their impact within the company. Do employees take pride in what they do and the work of their team?
Camaraderie
The relationship between employees and teams. This is specifically around the community in the company, how friendly employees are to one another and the level of support and welcoming for new employees.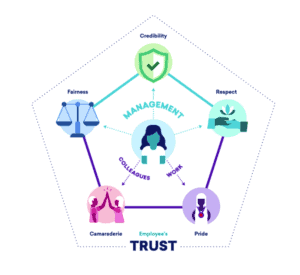 Source: Great Place To Work
How We Got Certified?
Our culture has always been a big part of what we do and how we do it at Signable. So, having this mark to show our pride in our employees was a no-brainer for us.
We got everyone to take part in a company-wide survey about how they felt about the areas mentioned in The Trust Model above. The answers are anonymous, giving employees free rein, to be honest. Then based on these answers Great Place To Work analyse and award the top companies the official certification.
What Does Being a 'Great Place To Work' Mean?
In terms of how we've changed since receiving our certification, we've established some new internal initiatives to give our employees a chance to speak out about the issues they feel passionate about. These initiatives will help us grow even further and teach ourselves to be better every day.
We're also planning some exciting community-based projects to support our home city, Bristol, and the local area.
A final word from our CEO Olly on how this has made the company feel:
"We are extremely proud to be a Great Place To Work certified company! Our team are the most important part of the company and I am personally really happy to see that our efforts are paying off.

The anonymous survey sent out has given us some great ideas on how we can be even better, as a company, and I am really looking forward to seeing them in action."

Olly Culverhouse, CEO
Visit our careers site to see what goes on at Signable, plus see our current vacancies…