6 Reasons Banks should use eSignatures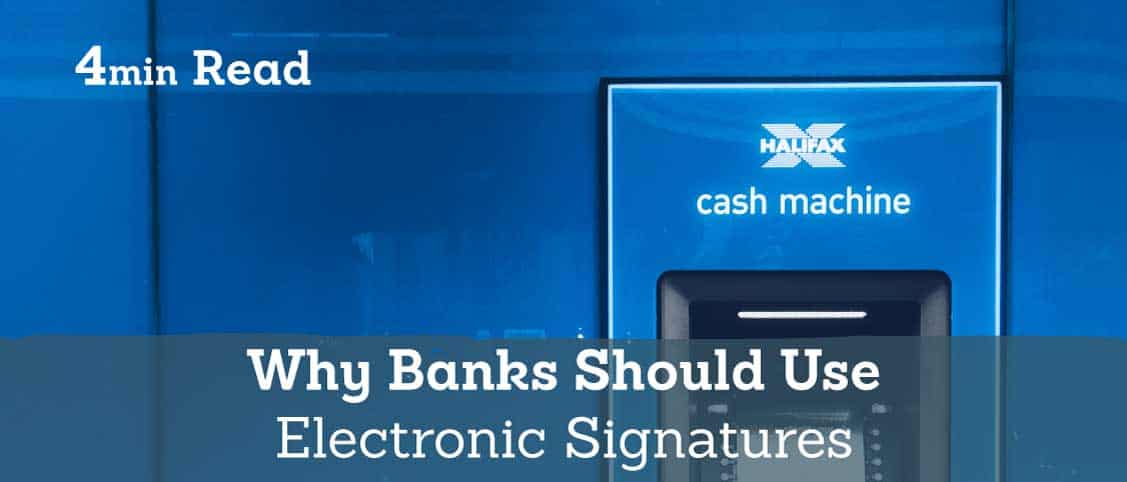 Published:
The concept of a digitally signed document is much older than blockchain, artificial intelligence, machine learning. And of course, all the world's leading banks have long taken the best of modern technology and aimed it at improving security and customer service.
However, we're still not seeing enough financial companies opt out paper documents for digital ones. A change that other industries like Property, have embraced. But, why should you even consider using digitally signed documents?
Increase Efficiency – Digitally signed document vs Paper document
Delays in performing elementary operations, both on the part of the bank and the client, are what impede the entire process of exchanging financial data and assets. Electronic signatures speed up the entire process of cooperation, as it provides a simpler procedure for exchanging documents.
In addition, a number of financial institutions have already embarked on a path of accelerated development and got rid of bureaucratic red tape, replacing it with thorough data analysis and artificial intelligence.
So, banks and other financial companies can trust their customers more and trust not on the basis of a mountain of references and statements, but on the basis of customer data and their analysis.
Reduce Costs
What are the two main types of expenses associated with the consumption of paper in financial business processes? Yep, the cost of buying the paper itself, plus associated costs – printing equipment, ink for cartridges, and the cost of postal services for delivering documents to the client and back.
With electronic signature plans costing as low as 30p a document, these costs are pretty non-existent when you make the switch.
Banks can also use electronic signatures internally, as well as on a customer basis. Users can perform all operations online, signing internal documents, sending them to bank representatives as well as new employment contracts and agreements.
Obviously, you need to ensure the eSignature provider you choose complies with all the necessary legislation. You can see Signable's full legality white paper here.
Provide Simplicity
Probably the biggest feedback we get from our customers is that "electronic signatures have made life far easier".
Which is why bank customers greatly appreciate online processes as they can get sent the necessary forms, sign online and the document is immediately sent back to the bank representative. Previously, this task required a whole range of actions – now this issue can be solved with a few clicks of the mouse.
Removing roadblocks
It often happens that a signature on a document is needed urgently, and the boss just left. Or the desired branch of the bank is located in another building or even in another city.
With eSignatures, the bank manager can sign reports even when away using a tablet or laptop. A standalone unit will receive agreed documents in minutes, just like government services. Customers are also no longer forced to run around the city delivering signed documents to their banks.
Improve Reliability
Signature forgery can have huge ramifications if done maliciously, but the risk of an illegal forged signature is basically eradicated on a digitally signed document. When you sign electronically all information added to the document is encrypted. If you'd like more on how Signable does this click here.
A digital signature not only provides information about the person who signed the document. But it also makes it possible to verify that the document itself was not altered or forged after signing. Moreover, digital document storage is all cloud-based, with secure data security and backups.
Transparent document history
Each financial transaction that is performed using a digital signature is recorded. Data on each operation is reported in an 'Audit Trail' that is attached to every document sent.
Both the bank and the client have all the data about the chain of events – so they can't be changed or tampered with. As a result, this once again protects against fraud and attempts to violate the contract of any of the parties to the transaction.
Help preserve the planet while you're at it
Saving paper is a great example of how banks contribute to solving global environmental problems. Paper use increases year on year and has quadrupled over the past 50 years.
With digital transformation and using digitally signed document processes, you can see a dramatic change in your company's carbon footprint. When we're seeing huge companies like Nike, Quorn & Microsoft (to name a few) moving to reduce their carbon emissions, all other industries should be following suit.
Yet, global paper consumption is still at a high level.
"Paperless" banking processes are an opportunity to save money, speed up business and ensure compliance with regulatory requirements. In other words, reducing the use of paper is one of those wise decisions that the world expects from business today, including from banks. Although a complete transition to the paperless workflow for many financial companies may be an unattainable goal right now, any organization can take one simple step towards this goal.
Author Bio:
Mónica Rodríguez is a writer, art historian, and editor at LendGenius. She specializes in Art History, Art Conservation, History, Literature, Finance, Tech, Wellness, and Travel. In her free time, she's usually roaming the halls of the museum or the local bookstore surrounded by stacks of books.