Fossil Fuel Fury: COP26 takeaways.
Published:
What happened at COP26?
It's been an eventful COP26, to say the least, and compared to previous years, and many of the global representatives seemed to be on the same page about what we need to aim for. We are here to outline them in our key COP26 takeaways.
The looming pressure of rising temperatures (that only affect the least developed 40% of the world) has ignited most countries fires. Some, more willing to enact radical changes than others.
Also, we have opted to leave out the technical jargon, so this blog is one that everyone can understand, including us!
The Elephant in the room – fossil fuels:
The first COP26 draft, published in the early hours of Wednesday, called on countries to "accelerate the phasing out of unabated coal and subsidies for fossil fuels" – to the delight of climate campaigners.
The World Resources Institute argued that the inclusion of "unabated" (which means coal emissions that aren't captured back, for example, by carbon capture and storage) and "inefficient" was demanded by countries with big interests like Saudi Arabia.
However, Polly Mackenzie, who was a senior adviser to the UK government during the coalition years, pointed out that leaving room for "efficient" subsidies was terrible news as they were the ones most damaging.
Australia, the world's third-largest fossil fuel exporter, has refused to sign an international pact to curb the gas. Australia's plan for net-zero by 2050 continues to attract criticism. It bakes in some major get-out-of-jail-free cards for fossil-fuel giants, allowing Santos to keep emitting through the use of controversial carbon capture offsets — a technology that has had mixed success.
Overall, nothing radical has come in the wake of fossil fuel talks – albeit the most significant contributor to global warming.
Investment into Electric Vehicle (EV) charging stations.
As anticipated, Biden had big plans for COP26, which we wrote about in our COP26 blog running up to the 1st of November. Joe Biden set aside $7.5 billion of his $1.2tn infrastructure bill to create nationwide EV charging stations across the USA.
Our very own Boris Johnson also announced the extension of phasing out new petrol and diesel cars by 2030 to HGVs, which will now have to be zero emissions by 2040.
The investment of EV charging stations could present opportunities and challenges for landlords of commercial and residential buildings as Electric Vehicle charging points are likely to become more in demand by tenants.
China-US deal on emissions:
The joint climate announcement by the US and China on Wednesday was one of the crucial moments of the summit.
In a press conference, John Kerry, United States Special Presidential Envoy for Climate, declared that: "co-operation is the only way to get this job done."
The size of these two economies will unlock significant financial flows. It will require the insight of experts working in the built environment to ensure that measuring carbon becomes integral in the lifecycle of projects.
Technology:
There have been some intense conversations about the technology that could prove crucial in the climate battle in the past fortnight. One scorching topic is nuclear power.
The UK and French governments, for example, are stepping up their focus on nuclear as a significant plank in the global climate response. At the same time, some in the environmental movement remain leery.
How is Signable helping to remove carbon emissions?
At Signable, we contribute 1% of our revenue monthly to Stripe Climate to remove carbon. 
Signable is part of Stripe Climate, a coalition of businesses accelerating carbon removal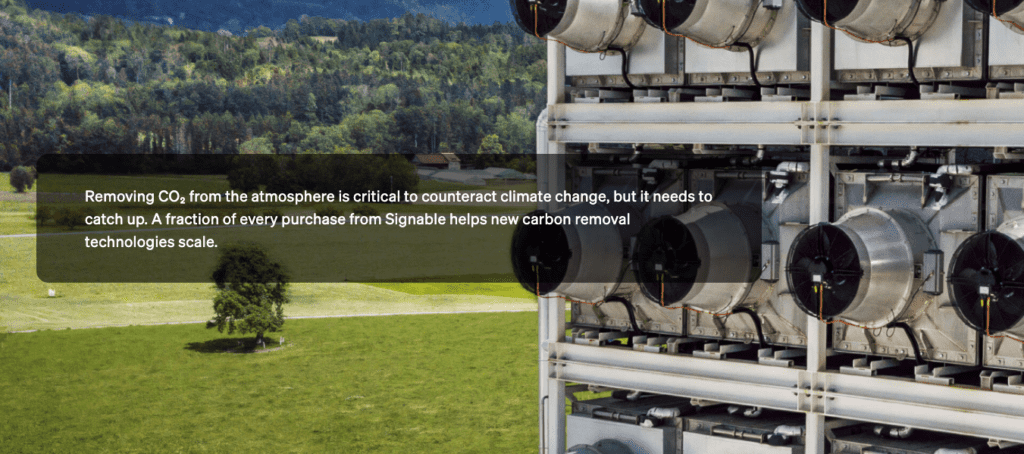 No company can stop climate change by itself. Stripe Climate aggregates funds from forward-thinking businesses around the world to increase demand for carbon removal.
As a paperless company, who aim to become fully carbon neutral, the aims of Stripe Climate resonated with us, as we both envision a world where the technologies and infrastructure that allow us to operate could also become environmentally friendly.
What technologies does Stripe Climate fund?
Climeworks uses renewable geothermal energy and waste heat to capture CO₂ directly from the air, concentrate it, and permanently sequester it underground in basaltic rock formations with Carbfix.
Charm Industrial has created a novel carbon removal pathway that converts biomass into bio-oil and then injects it deep underground for permanent geologic storage. Stripe Climate was Charm's first customer.
November 12th is not the end of discussions:
Alok Sharma, COP26 president, said there was "still more to be done" on the summit's draft text and hinted that discussions may go past the end of COP26's official discussions.
However, it could not be clearer that we are all facing the same challenges despite the disparity in geography, development, GDP, populations, and environment.
Here in London, for example, we are working on becoming a zero-emissions city. Simultaneously across the globe, we heard from Quito, Ecuador, there are proposals for their central zero-emissions zone. At the same time, Amsterdam has committed to zero emissions across the whole city by 2030.
It is sobering yet uplifting to know that action is being taken to ensure a better and greener future from all corners of the world.