How Digital Business Transformation Exploded in 2020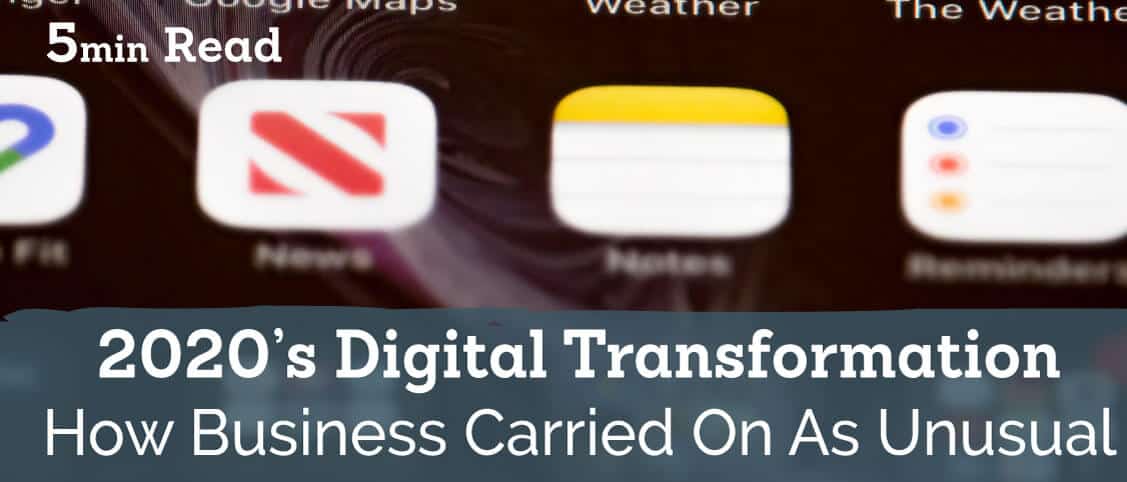 Published:
Digital business transformation sounds like something from about 5+ years ago when businesses ventured into contactless payments and binned fax machines. So, none of us expected such a surge of rapid transformation in business that we experienced in 2020.
London School of Economics (LSE) say that this year has been a huge turning point for traditional businesses' attitudes to technology and the role it plays.
"It is likely that the 2020-21 experience will change managerial mindsets once and for all on the need for operational resilience and technology support."
This data, interpreted by ZDNet, shows that over 50% of companies surveyed have implemented new digital technology they were previously apprehensive about trying.
Data: Studio Graphene / Chart: ZDNet
This proves that statement we've all been hit over the head with, that 2020 was the biggest growth in mass, wide-spread adoption of new digital tools than any other year. This can only mean that 2021 will be a year of business' digital age.
How eSignatures enabled a new age of digital business transformation
We've seen business transactions change hugely too over the last year. With digital transactions even spreading to distribution with EPODs (electronic proof of delivery) for contact-free deliveries and supply chain transactions.
The ITFA (International Trade and Forfaiting Association) have released practical guidance on using electronic signatures for international trade. These guidelines relate to the recent issues the pandemic has caused, but for international trade to carry on in a forward motion, electronic signature guidance must be permanent.
"Signatures used in virtual signings need not be or have originated as "wet-ink" signatures although traditionally this has been the case. A digital signature is enough."
Property has been able to continue, almost business as usual with the aid of remote contract signings.
"Signable has saved us considerable time meeting with clients to sign their leases. It has meant clients can sign their leases remotely."
Read our full breakdown of the property market through Lockdown here.
Electronic Signatures have helped key sectors continue with little interruption
Throughout 2020 we've been speaking to our customers who chose Signable to help them through remote working and beyond. We spoke to The Co-Operative Travel Midcounties on how they've used Signable to keep communications open with their customers.
"Since lockdown, we have then been able to implement the solution into our retail branch network as we have been unable to welcome our customers into our branches.

With this solution, we have been able to still communicate effectively, and issue and sign documents without the need to see our customers. Even though we know our customers prefer to visit us, they have responded well to the new process and the esign Signable response has been fantastic."
Recruitment has been affected by the rise and fall in employment requirements from different sectors, but electronic signatures have been there to facilitate remote onboarding.
We spoke to Access Nursing, A recruitment agency for nurses and hospitals looking for temporary positions and shifts, as well as permanent nursing positions across Ireland. So, providing the front-lines with key workers has been a challenge Signable has helped improve.
"Change has certainly been the key. We have realised the importance of having digital documents and electronic processes."

"Our workload has been changing due to the changing nature of the pandemic, but, it removes the barrier to signing on new clients and gives us comfort in our compliance processes."
Throughout 2020 Local authorities and councils have felt unprecedented pressure to support their local communities, while also securing the funding to do so. Remote work has made this increasingly difficult, so electronic signatures have meant they can offer more flexibility for support remotely.
"Electronic signatures were planned as an option pre-Covid and will likely be critical post-Covid. Our European funding evidence, grant agreements and general contracts have been streamlined and processes have been sped up."
"Signable allows us to work safely and concentrate on helping our clients without the faff of working with piles of paper that were previously used and required scanning."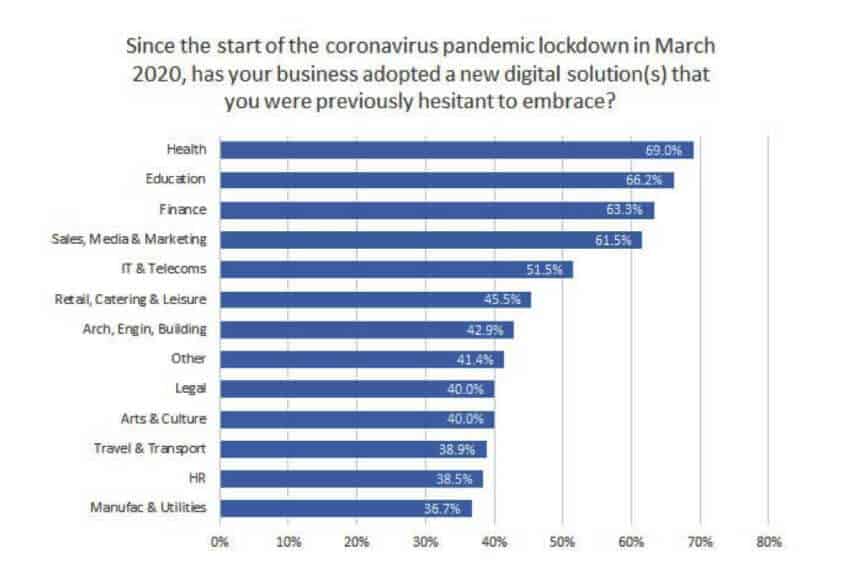 Data: Studio Graphene / Chart: ZDNet
Looking to 2021
With difficulty has come the revolution, and 2020 has proven the biggest revolution in business transformation. Tech has been there every step of the way, improving customer experience, transforming business processes and business strategy and more importantly getting everyone through a difficult year.
This accelerated digital transformation offers a positive outlook for the future — armed with technology, businesses will now be much better-placed to adapt to any unforeseen challenges that may come their way."