International Electronic Trading News – Electronic Signatures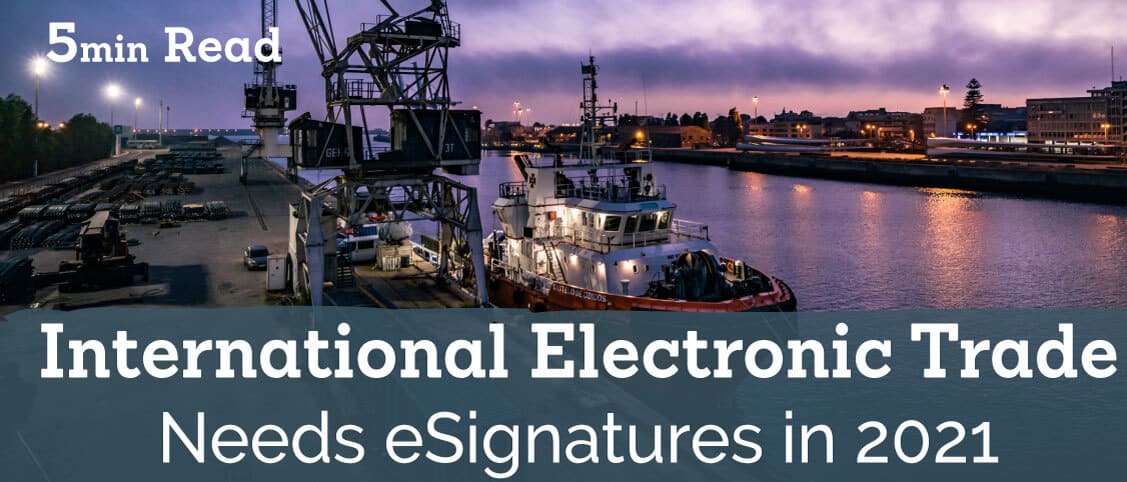 Published:
International trading needs electronic signatures to progress into 2021 – Electronic Trading News
ECommerce is something we're all familiar with, but international electronic trading has connected the world in a wholly groundbreaking way. Allowing technologies, products and ideas to reach further corners of the globe than ever before.
However, this doesn't mean electronic international trade is always a seamless process, quite the opposite. As electronic international trade has grown, more complex transactions have seen a huge rise, also then causing policy issues.
We'll break down this electronic trading news topic, and outline why electronic signatures are integral to the advancement of a larger global economy.
Why are electronic signatures core to international trade?
With this new demand for global eCommerce, governments are pushed to update the current laws governing international trade. This is where electronic signatures come in. ESignatures are a facilitator of electronic commerce on a global scale, they allow countries to make secure deals without meeting in person.
The ITFA (International Trade and Forfaiting Association) have released practical guidance on using electronic signatures for international trade. These guidelines relate to the recent issues the pandemic has caused, but for international trade to carry on in a forward motion, electronic signature guidance must be permanent.
"Signatures used in virtual signings need not be or have originated as "wet-ink" signatures although traditionally this has been the case. A digital signature is enough."
Electronic signatures are already readily used and legally valid in lots of countries including the UK, EU, US and Australia. However, it's the laws around cross-border transactions that are muddier, with different laws across different neighbouring countries.
This doesn't mean eSignatures aren't an option for international trade, as we've mentioned, international trade requires eSignatures to make these more secure and confidential agreements across the world.
BCG outlines the need for businesses to seriously plan around global electronic trade and not to discount it because of some teething problems. The wheels of change are in motion due to the way we work is heavily impacted in 2020, so we're seeing lots of governments making huge steps forward to help electronic transactions. This makes this piece of electronic trading news, increasingly important for Governments to take notice of.
Current Global eSignature laws
UK & EU
On July 1, 2016, the eIDAS regulation came into play. This repealed the existing eSignatures acts and automatically replaced any inconsistent national laws, standardising the regulations across Europe.
eIDAS outlines:
Article 25 of the Regulation asserts that all electronic signatures and verification services are admissible as evidence in court. This includes eSignatures, seals, time stamps, registered delivery services and certificates for website authentication.
The eIDAS definition of the service companies that provide these electronic signatures, seals and stamps is "Trust Services". It goes further and distinguishes between qualified and non-qualified Trust Services and the requirements and supervision associated with them apply greater scrutiny to their operation than before. Going further than the 1999 directive, and distinguishing between qualified and non-qualified Trust Services
N.B. With Brexit on our doorstep (at time of writing), experts are predicting little change to these laws laid out by the eIDAS.
US
In the United States, there are two laws involved in regulating electronic signatures in the United States. The first is a federal law, the Electronic Signatures in Global and National Commerce Act (ESIGN), which applies to every state so that businesses in the US can use e-signatures when trading across states.
The second is the Uniform Electronic Transactions Act (UETA). This law aims to regulate the retention of 'paper' records and to check the validity of the electronic signature. Both laws were officially passed in 2000 and were drafted and adopted in 1999. Showing that electronic documents and signatures can't be rejected simply for being electronic.
New York & Illinois
Illinois falls under the ESIGN act, as it is federal law. But, they have not adopted the UETA act. In fact, Illinois has its own Electronic Commerce Security Act, the ECSA. This takes care of electronic signature regulations It is modelled on the ESIGN act.
New York has similarly passed its own state-wide law called the Electronic Signatures and Records Act (ESRA). ESRA acts in a similar manner to the UETA but designates ITS as the authority of encouraging electronic commerce and the electronic government in New York State.
Australia
Australia operates a Common Law system, which is based on:
– Judicial decisions are seen as binding
– Laws aren't always of a written structure
– Few provisions are hinted at into the contract, by law
– Generally, everything is permitted that isn't expressly prohibited by law
Australian electronic trade is also regulated by Electronic Transactions Acts at the Commonwealth and State levels. This allows the use of electronic communications to create secure business and personal transactions online.
See our global legality guides for in-depth guidelines for the rest of the world.
What should you do as an international trade business?
1) Integrate your digital and global strategies. This will help you avoid higher costs down the line. It's good practice to start integrating your electronic tools with your business strategies in general.
2) Look at how your business is affected by electronic trade to measure how you react. If you're a company highly affected by digital trade, your integration of electronic processes should be at the front of your mind.
3) Influence policies or settle for the current rules. If you're impacted by the pitfalls of electronic trade, you're able to influence a change in policy by highlighting these issues.