How finance companies can save the pain by using electronic signatures
Published: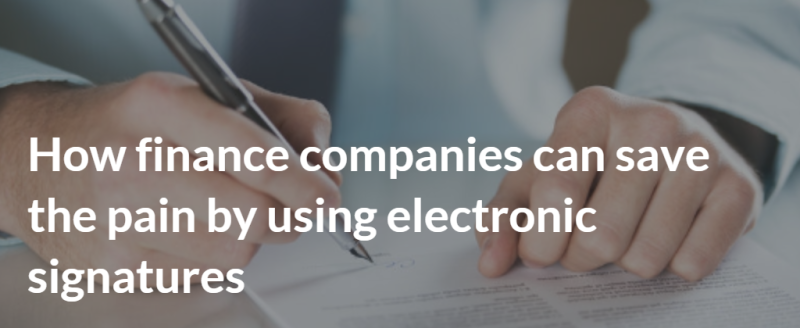 Like many hundreds of thousands of football fans, across the UK, I recently decided to renew my season ticket for another year. I chose to pay for my ticket using finance, to help spread the cost over the year.
Using Signable, this transaction would have taken a matter of hours.
Unfortunately, the finance company didn't use Signable and the process continues to roll on, even as I write this post!
Let me explain…
Finance Companies and Signable
When my application arrived (by post) I immediately completed, signed and posted it back to them as I was very keen to sort this most important of transactions!
BUT…ten days later, when a reminder letter arrived, I was informed that they had not received my letter – which meant that I had to endure a tedious call to them to sort another application…which never arrived!
So they said they would send it electronically…success, thought I! BUT…no, it was only sent by email and asked me to print, sign and POST off the form back to them for completion.
Just think of the PAIN that has been suffered by me (the customer) as well as by them (the supplier) due to the cost of print & postage, the unreliability of the mail and the procrastination involved in doing things inefficiently.
Signable helps many finance companies streamline their business processes and help them work smarter, more efficiently, positively increase their customer engagement/experience and all at less cost than their current solution.
How they do this is by using our leading electronic signature solution to allow them to do business in hours, not weeks (or even months in this case!). Here is how the process would look using Signable;
Finance companies can upload the document and insert the signing elements using our user friendly 'drag & drop' feature.
Finance company sends application form complete with all the elements that needs to be completed.
Customer receives an email with a secure link to a navigation screen where they can complete the document.
Both parties receive an email of completion, along with a pdf copy of the document plus a full history of that document which is legally binding, secure & traceable.
Business has been done!
The customer is delighted and engaged in a far better way – they haven't had to print, post, fax or mail anything whilst using a modern, eco-friendly solution – which is also pretty cool!
The finance company has secured a sale, made a new or returning customer happy, freed up time and resources and can now move on to sell more!
It truly is a win – win situation…
Anyway, back to topic – three weeks later I have now had my letter of confirmation but, alas, no ticket.
Hopefully it'll arrive in time for August…but will have to rely of the 'snail mail' for that I guess!
(Memo to Olly Culverhouse: Look in to an electronic way of sending season tickets!)