Removing the pain of signature chasing in the property and letting industries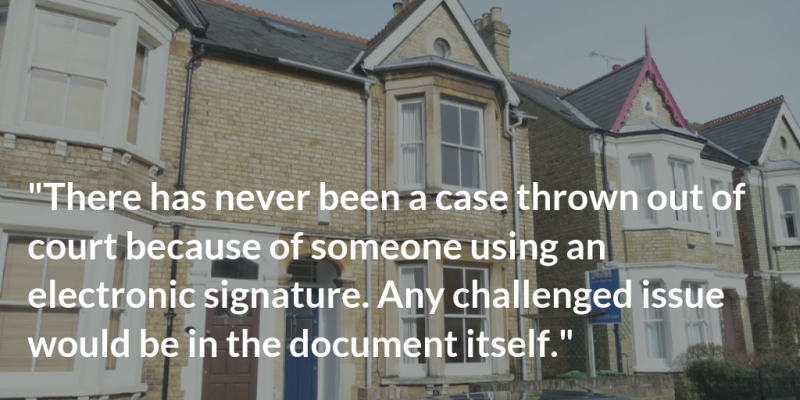 When I first started at Signable – I came in to the business from a completely different industry. So, like all good sales professionals – I first looked at where we currently do business – so that I could speak to more of those types of business and help them work smarter. I noticed that we had a very large customer base in the Property, Lettings & Estate sectors – which does make sense, being a traditionally paper-heavy industry. I did my due diligence by speaking to some of those clients to see how our electronic signature solution helps them do business. The responses I had were phenomenal – so many happy customers and success stories on how Signable has saved them time, money & has positively increased the customer engagement experience – meaning people loved doing business with them! This was pretty cool on a few levels – firstly, because it reaffirmed why I joined Signable – I myself was a happy customer!  Secondly, to hear success stories and testimonials from people using your solution is so awesome.  Thirdly, because each of them would actively recommend, and do recommend Signable as a revolutionary product for their businesses. Let me breakdown the traditional process of sending – for example – a tenancy agreement to multiple (let's say 6) tenants;
The landlord prints & completes 6 copies of the agreement (PAIN = cost of print, time in completing 6 documents)
The landlord then posts the agreement to each tenant (PAIN = cost and delays of postage)
The landlord then waits for the agreements to be returned (PAIN = procrastination of tenants, delays in postage)
Then business can be done
Even if the landlord emails them the agreements – they are just putting the pain back on to the tenant – who has to print, sign, post & wait themselves (PAIN – massive customer service fail, poor engagement) Now let's look at the process using Signable!
The landlord uploads the agreement once & populates the document with the information needing to be completed.
The landlord sends the document to all parties, at once – which lands with the tenants immediately.
The tenants then sign, electronically, using our user friendly system and all parties receive copies of the agreement and document history.
Business can be done – at a fraction of the cost, in super fast time, archived digitally and with a full, legal audit trail giving more security and legality than just a 'wet signature'.
The result is a smooth, painless customer experience which benefits all parties, and is clean, green and fast! Electronic signatures can be found everywhere. When you sign for your groceries which have been delivered, when you use a chip and pin card terminal, when you click on 'Accept' for a banking transaction. The signature itself can be made by;
Your mouse
Your finger
Typing your name
Uploading your signature
These are all cosmetic. The legality comes from the digital imprint that you leave when you are using the document or completing the transaction. To the extent that Electronic Signatures are their own Witness Signatories. You can add them for cosmetic purposes, but it is no longer needed. So with regard to the law, if one of your documents is challenged in a court of law – it is a case of evidence building. A wet signature, or an email come to that, has one point of evidence. The pen on paper to say that you are who you say you are and that you agree to the contract. With Signable, there are many layers of evidence that can be used;
Delivered to the client's secure email address.
The IP address of when & where it was opened, signed, sent & delivered.
Any evidence of the document being tampered with.
Trackable history of interaction with that client, stored in one place.
Proof of a relationship between, in your cases, landlord & tenant.
There has never been a case thrown out of court because of someone using an electronic signature. Any challenged issue would be in the document itself. eSignatures are admissible in court.
If you're interested in giving us a try, you can find our plans & pricing here. If you're convinced already, you can go straight to our simple sign up for 14 days free!