Why France is the next leader of electronic signatures
Published:
The global pandemic has put the infrastructure of financial institutions and economies across Europe to the test. This hasn't been the first economic strain. Since the global financial crisis in 2008, Western banking infrastructures have been under scrutiny and debate. Both of these crises have pulled focus to some of the biggest questions of our time – how do we protect our economies in the future? How do we support people and their businesses?
And, what does this have to do with France's electronic signature law?
The French economy has retained its strength after the pandemic crisis hit due to Macron's "business-friendly economic measures" and remains the euro zone's second biggest economy. The French Finance Minister, Bruno Le Maire, announced at the end of 2020 that the French economy was "on the right track", telling the French TV station France 2 that the country's economic growth could do better than a small contraction in 2021.
This is off the back of France's economy shrinking "1.3% in the final three months of 2020 after France entered a second coronavirus lockdown in October to contain a second wave of infections" (from the INSEE statistics agency). France has consistently proven itself an economic force.
Having recovered from the 2008 crisis through protective measures and after introducing financial tech (or fintech, like online banking), France has made itself the next big leader in digital transactions, digital trade and adopting the electronic signature.
We looked at the biggest factors in France's adoption of digital signatures, and how business expectations have changed for French transactions. These mainly boil down to three factors.
We will look at how Macron's economic policies that have encouraged the BFSI sector to grow; second how France quickly took up e-commerce and digital transactions; and finally how the introduction of eIDAS made electronic signatures easier in France. Let's delve a bit deeper and take a look!
The BFSI sector brought France's electronic signatures to the forefront
France's adoption of electronic signatures developed from France's strong economy and the steady growth of the BFSI sector. France's arguably successful survival during the global pandemic is evidence of this. The business and finance sector has become strong with Macron's business friendly measures and welcoming of innovation and technology.
Second to London-based HSBC, the French Paris-based BNP Paribas is the second largest bank in Europe and Credit Agricole Group is the third largest. Both banks by 2018 had over 1.8 trillion euros in total assets compared to HSBC's 2.2 trillion. France's banks have, through Macron's steady measures, become more resilient to shocks, and, as proof, are weathering the pandemic better than economists predicted.
So it's not surprising that France is taking over as the next big leader in digital signature adoption. The sector recovered from the initial 2008 crisis through cutting back physical branches and opting for FinTech. France transitioned economically from old to new.
Banks and credit institutions across the European Union generally decreased after 2008 from over 8.5 thousand to 6 thousand. This huge shift to digital business has driven France to becoming the next biggest leader in electronic signature adoption. Our electronic signature market report for 2018-2023 reports that "BFSI are expected to witness the highest growth rate in the Europe, due to eIDAS regulation standardising cross-country trading" specifically France.
France's E-Commerce uptake has altered consumer expectations
With the development of business tech, France has welcomed e-commerce with open arms, making a very quick transition to online transitions. On March 17 in 2014, French government passed the 2014-344 Act, aka the "Consumer Rights Directive" to guide e-commerce companies with consumer interactions. By 2017, another decree set up transparency guidelines for online platforms and marketplaces.
These legal moves are evidence of the unfolding uptake of digital transactions. France welcomed their business online (although has one of the worst rates of online consumer fraud in Europe). And, now, France's e-commerce market size stands at a significant €81.7 billion!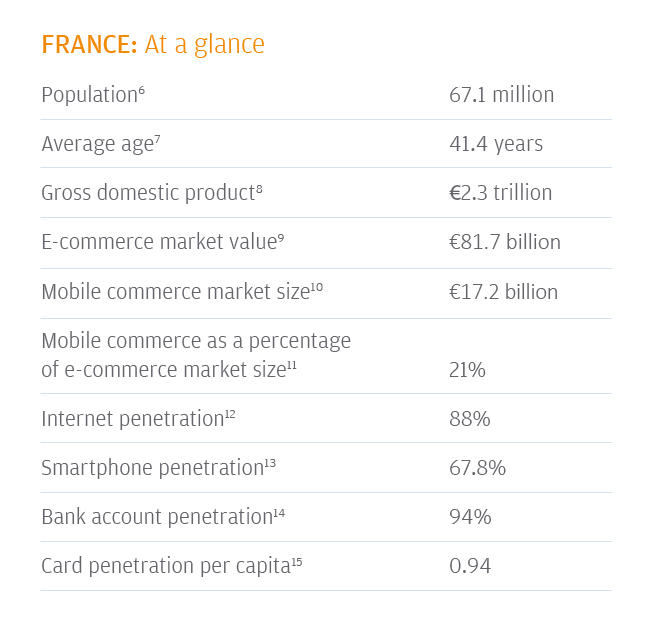 Source: JP Morgan, 2019
Nevertheless, JP Morgan expects that "the country is still tipped for double-digit growth" in the next couple years, "as the mobile commerce boom continues". All of the moves to e-commerce are also steps towards more traditional contracts becoming electronic in France.
The effect of eIDAS on France's electronic signatures
The landmark eIDAS standardisations (Electronic IDentification Authentication and trust Services) across Europe have helped European cross-country trading, and have allowed France to open up many new possibilities.
France initially established electronic identification measures in EU regulations in 2000 with their own act No 2000-230 after that first allowed esignatures. This came into force on the 1st July 2016 that meant all organisations delivering public digital services in an EU member state must recognise electronic identification from EU member states.
This was the introduction of the eIDAS regulation meant that all companies in the EU must comply with each other's eSignature regulations. The eIDAS regulations established three different types of electronic signatures:
The Standard Electronic Signature (SES)
Advanced Electronic Signature (AES)
And the Qualified Electronic Signature (QES)
French law states that a QES is as legally valid as a handwritten signature, and if a signature doesn't meet the standards of a QES, this doesn't by nature make it inadmissible.
Article 1316 in the French Civil Code highlights that contracts don't need a handwritten signature to be seen as credible. Agreements are legal as long as individuals reach accord by either verbally, electronically or physically signing.
All of these significant steps in French law and the early adoption of electronic signatures are evidence of France's move towards digital business and electronic transactions.
I expect we will see France taking the lead in Financial Tech solutions and leading the way to new and innovative ways of conducting business in the near future. With such a strong and fairly stable economy, and after the UK leaving the EU, France will continue to lead the way in cross-continental trade and spearheading technological advancements across the continent.