How remote working is changing sales in Germany in 2021
Published:
A lot has changed to the way we sell in 2021. Sales teams have adapted to going completely online while maintaining a cohesive strategy. Most research suggests that this digital shift in selling is here to stay. As is working remotely. Making hundreds of phone calls a week may now change to video-selling, live-chat, and electronic signing.
Who is leading the change? The German economy is expected to expand by 4% year-on-year from 2021, reports KPMG. Recovering at a relatively fast pace, the German economy has adapted to remote selling.
Particularly as they keep their most important overseas markets close, like the US and China. Although, the outlook for the year is still highly dependent on the vaccine roll out in Germany, which means remote selling will be here to stay. Here we take a look at the ways in which Germany has digitised selling for the better.
Video Phone
As face-to-face selling remains off-limits and business is conducted more and more on an international scale, the next best option (maybe even better option) is here to stay: sales videos. You may call them virtual conference meetings or a pre-recorded check-in video, Zoom, or FaceTime. But, given the effectiveness of face-to-face selling, videos create a lot more trust and get a lot more attention in sales, pushing more leads to accept a meeting.
With video making up 75% of the world's internet traffic, we know that video is the preferred content format for most people. In 2021, 87% of marketing and sales teams use video on a regular basis, "up from just 61% in 2016", which is a 41% increase, according to WYZowl's Video Marketing Report.
In fact, the most popular types of videos created are, firstly, explainer videos, social media videos, presentation videos, sales videos and finally video ads, in that order. It is a versatile tool that should be used to keep and improve working remotely and your remote sales.
In fact, Gong.io analyzed the audio and video "of more than 100,000 sales meetings to understand the effect of using a webcam on closing deals". Their study revealed that for deals that were won and closed, "webcams were used 41% more frequently throughout the sales cycle", which is incredible evidence of the power of video in remote sales.
How do you close the 'human gap' in sales when you cannot meet? The answer is clearly video, which means it should be a sales priority going forward. Video actually offers a lot of benefits for controlling the meeting and how your potential customers will respond.
Live Chat
Similarly, McKinsey has found in their study that not only has video emerged as a dominant channel, but so too has live chat. For interacting and closing remote sales specifically for B2B customers, live chat has become a go-to.
And consumers and customers are now preferring remote chat over in-person sales. Over three quarters of buyers and sellers reported that they "now prefer digital self-service and remote human engagement over face-to-face interactions" in 2021.
McKinsey's study found that it wasn't just the safety element of remote sales, but that customers could "better get information, place orders, and arrange service" with speed and convenience". Only around 20% of buyers hoped to return to in-person sales, across all sectors -even ones that have traditionally demanded "field-sales models".
What can we learn about remote sales and working remotely in sales from these shifts? There are clearly a few clashing desires. Consumers are wanting the convenience of remote sales in the form of easily accessible information that doesn't require human interaction. While, for bigger, maybe more complicated purchases like in B2B business, the human element to gain an important connection is crucial.
Technology provides for each of these requirements. As it shows for recovering economies, such as Germany, it pays to understand why the technology we use is working.
eSigning Digital Deals
Another big player in keeping sales teams connected over 2021 is eSigning. Whether it's service agreements, trade deals, affiliate contracts, creative concepts or artwork sign offs, eSignature software has been hugely successful and adopted by sales teams over the past couple of years.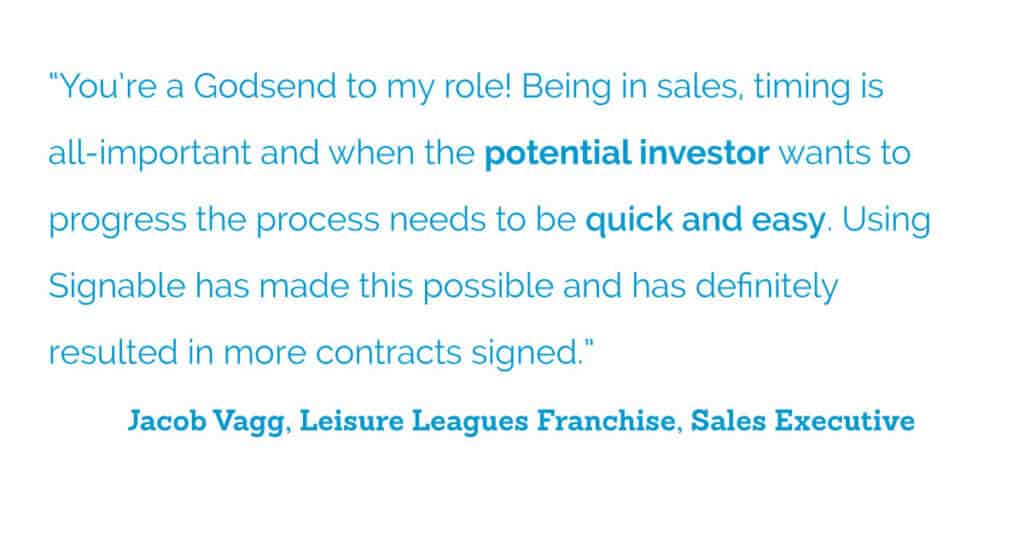 Remote sales couldn't exist without eSignatures and digital documents. And with sales teams all working remotely, the benefit of a contract software has changed efficiency, time, and spending of a sales process.
With tracking and audit trails provided with eSigning software, remote sales teams are targeting when prospects have opened, read, signed, or closed a proposal. eSignatures mean regular email reminders to customers to sign the agreement without having to keep tabs on multiple deals.
Plus, it has allowed sales teams to work entirely on their mobile and laptop, without needing a pen, a fax machine, a scanner, or camera. Documents are automatically stored and encrypted in an external cloud, to save sales teams from using up more data and to access it anywhere and anytime. Working outside of the office has never been easier.
Tell us how your sales team is adapting to remote sales! Leave a comment or message on Facebook or Twitter at @Signablehq