How the pandemic changed our view of cloud computing
Published:
Cloud computing – We are on week 73 of COVID-19, and technological trends have evolved time and time again.
So naturally, the most popular operating systems and practices have seen their integrations catapult as industries realize their necessity in the digitalized ecosystem.
One of those systems with rampant attention is cloud computing.
After a year of businesses -big and small – emphasizing its application, we see how our dependency on the system could be a significant source of security issues and unpredictability in moments of downtime.
On Tuesday this week, websites like Amazon, Reddit, Financial Times, the Guardian and the New York Times saw their sites go down for millions of visitors, highlighting our dependency.
The Cloud computing provider Fastly announced that its global content delivery network (CDN) was down.
We explore cloud computing and how its necessity has evolved over the pandemic further below.
What is cloud computing?
Cloud computing is the delivery of on-demand computing services over the internet. It is not new. In fact, the term "Cloud Computing" appeared in 1997 in a seminar given by Ramnath Chellappa.
From 2006 to 2008, it began to be offered commercially, when small, medium, and large companies adopted it as part of the corporate universe.
It was popularized with Amazon.com releasing its Elastic Compute Cloud product in 2006.
What types of cloud storage services are there available?
There are three main service models of cloud computing – Infrastructure as a Service (IaaS), Platform as a Service (PaaS) and Software as a Service (SaaS).
IaaS system providers include GoGrid and AWS|EC2. This system provides all the computing resources but in a virtual environment, mainly used by SYSadmins.
PaaS providers include Windows Azure, Google App Engine and Force.com. This service is mainly a development environment for programming execution. This environment describes a place where users can build, compile and run their programs without worrying about the underlying infrastructure.
Lastly, SaaS providers include the Google ecosystem such as google drive, Microsoft Office 365 and Signable. SaaS provides on-demand use of pay-per-use services with limited liability as it is an independent platform wholly managed by the vendor. SaaS systems can usually be accessed through desktop apps and mobile apps.
How many businesses have adopted cloud computing?
Over 94% of businesses use the cloud.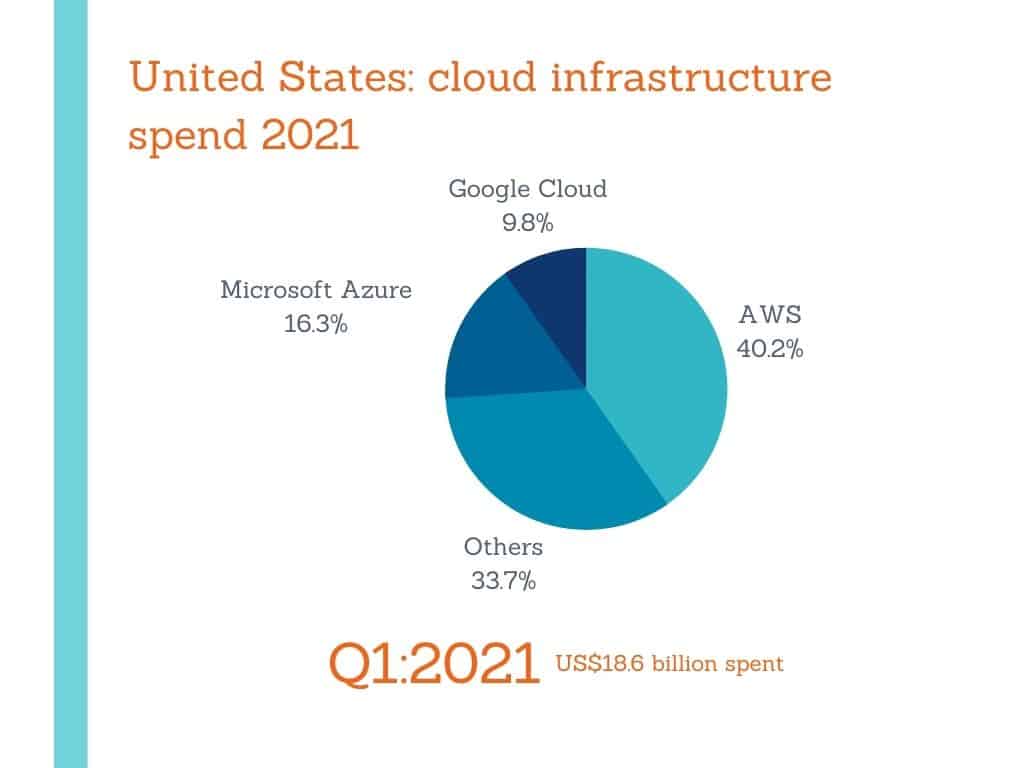 Source: Canalys estimates, May 2021
Financial services case study:
70% of the companies that offer financial services are still in the early stages of cloud adoption.
In financial services, firms have transitioned to new work models and faced a sometimes unpredictable increase in workloads.
Cloud has played an essential role in managing this, from the day-to-day transitioning from physical to remote environments to managing volatile spikes in service demands.
As Deloitte observers indicate, cloud computing appeared in the focus of IT leaders in banks these days. This is because it assists in meeting changing customer expectations and developing alternative business models the best.
Recently, new partnerships have emerged, bringing financial institutions closer to technology companies to develop cloud technologies cohesively.
For example, Bank of America requested IBM Cloud Policy Framework for financial services, and Banko Santander added Microsoft Azure to its hybrid cloud programme.
These developments are exciting but not surprising. The most significant benefit of cloud computing for businesses was saving on costs, shortening times to market, and improving service levels.
"With cloud, companies can reduce IT overhead costs by 30 to 40%." – Cloud Reach
Why is the cloud more important after the pandemic?
The pandemic has meant that more businesses are putting the most priority into migrating their workload to the cloud, trumped by the need to optimize existing cloud usage.
Ninety percent of industries said cloud usage is higher than initially planned, solidifying cloud computing's status as 'a vital enabler in times of disruption' (The Institute of International Finance).
In the US, EU and many other countries, governments lean on financial institutions (FIs) to deliver additional crucial services to citizens, like disbursement of stimulus funds.
ePayments systems deal with unprecedented transaction volumes, as convenience and hygiene concerns drive an accelerated shift to cashlessness.
Society's direction towards complete integration with cloud computing is palatable. However, it does come with its risks.
Adam Smith, a software testing expert with the BCS, the Chartered Institute for IT, said that outages with content delivery networks such as the one a couple days ago on June 8th "highlight the growing ecosystem of complex and coupled components that are involved in delivering internet services".

For example, an outage on Amazon Web Services in 2017 cost publicly traded companies up to $150 million dollars.
On top of this, any discussion involving data must address security and privacy, especially when managing sensitive data.
We must not forget what happened at Code Space and the hacking of their AWS EC2 console, which led to data deletion and the eventual shutdown of the company.
Their dependence on remote cloud-based infrastructure meant taking on the risks of outsourcing everything.
The ability to use on-demand and scalable cloud models to achieve cost-efficiency and business continuity is a huge selling point for cloud computing, exemplified through the pandemic.
The proportion of IT spending shifting to the cloud will accelerate in the aftermath of the COVID-19 crisis, with cloud projected to make up 14.2% of the total global enterprise IT spending market in 2024, up from 9.1% in 2020.
Cloud computing for your business:
If your business was not adopting at least one form of cloud into your decision-making process before the pandemic, it most likely is now.
As enterprises increase investments in mobility, collaboration and other remote working technologies and infrastructure, growth in the public cloud will continue to grow.
When figuring out which cloud plan would suit your businesses needs best, a business owner should make sure that all features meet your needs. For example, if you want a storage service for a large enterprise, your focus should be on security features provided by the cloud storage service.
Security in cloud computing for Signable:
Security in hybrid cloud adoption is a feature that Signable boasts proudly. We host our data through the Amazon AWS data centre in London and private data centres.
For our users, rest assured that our use of SSL encryption means the data anyone uploads/shares is secure, in compliance with regulations established by The eIDAS Regulation. This confirms the legal status of electronic signatures and grants them the exact legality as pen and paper documents.
If you would like to read more about this, here is our page on data security.