What is a sales pipeline?
Published:
Are your sales stagnating? Do you feel as if you are leaving money on the table? A strong sales pipeline strategy could be the answer for you.
What is a sales pipeline?
A sales pipeline is a set of stages that a prospect moves through as it progresses from a new lead to a customer. A strong pipeline makes sure that no stone is left unturned.
It is important to remember that the word 'pipeline' is just a buzzword. It should be seen as a tool for sales management operations. Sales pipeline management describes the process of overseeing and directing future sales in various stages.
If you have a pipeline worth £100,000 in contract value and your conversion rates, from lead to a sale, is 10% (which is the average), then you can expect to close with £10,000 of new business.
The amount of leads you will have to convert depends on your business's revenue goals, but if your sales target is £30,000, you will have to convert three times the lead.
How do they differ from a sales funnel?
When researching sales pipelines, you have likely come across a 'sales funnel'. Both processes describe the flow of prospects. A pipeline is visualized from the sellers perspective. In contrast, the funnel is visualized precisely that, a funnel as prospects enter, then increasingly narrow as they are disqualified or decide not to buy.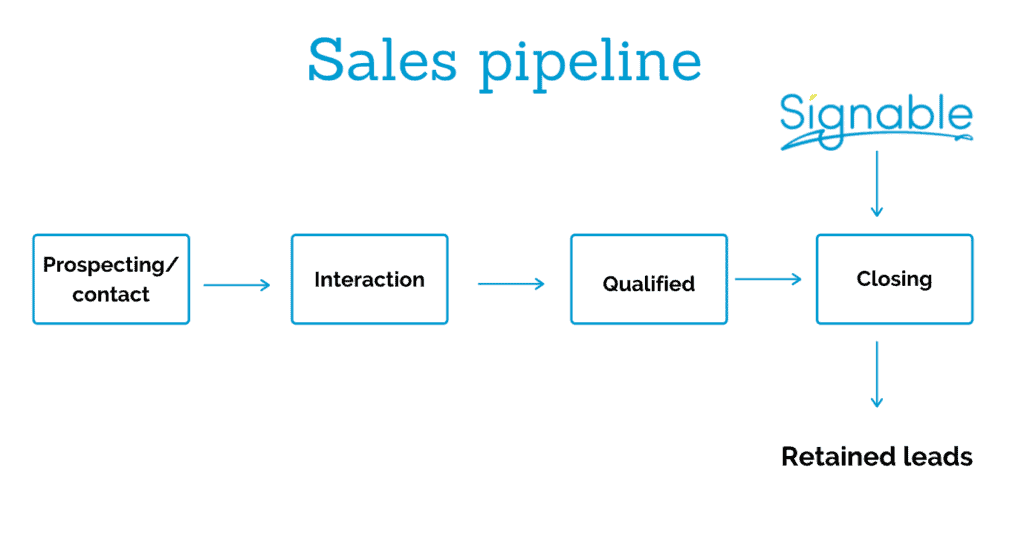 The structure of a B2B sales pipeline can differ from company to company. Here are the typical sales pipeline stages, which Signable can help optimize:
1: Prospecting/contact: Before engaging with a potential customer, a sales rep should first identify if the prospect is part of the target market. Does the prospect have the need, budget and authority to buy in the future? If your prospect ticks all these boxes, this is the stage where you acquire their contact information.
2: Interaction: This is when you are now in contact with the qualified lead. They have contacted you about a sales opportunity, and you have contacted them to see whether there's an opportunity to sell your goods or services.
3: Qualified: The sales rep now sends the prospect a detailed quote laying out what will be provided, how much it will cost, and the necessary length.
4: Closing: This is where the final negotiations are made and contracts are signed. Congratulations! Your prospect is now your customer. Signable can help make sure contracts are sent, tracked and monitored online securely, speeding up the closing process.
Targeting the right decision maker:
Especially in B2B sales, most of the time, the sales team will not be dealing with just one decision-maker but rather a few people with varying titles. In enterprise organizations, 99% of all business technology buying decisions are made by groups of 2 or more people.
The size of a buying committee in a B2B sales pipeline means that organization is critical. On top of the various stages mentioned above, businesses should streamline communication processes as it's essential to map the b-to-b buying committee, matching each member with the role they will play.
The Do's and Dont's of sales pipelines:
DO automate your follow up emails. Following up with a large number of prospects means a lot of routine tasks. Using a CRM tool to write a follow up email means a lot of time is saved, and you can ensure that you have exhausted every prospect from using a robotic helping hand.
Setting a follow up email 24 hours after sending the first one is commonplace. However, don't be discouraged when they don't reply – 60% of customers say no four times before saying yes, whereas 48% of salespeople never even make a single follow up attempt.
DO follow up with cold leads from previous sales cycles. Just because they were not ready then does not mean they are not prepared now. Members of their buying team might have more authority, budget or need now.
Cold calling might not be within your ethical realm, but 41.2% of salespeople said their phone is the most effective sales tool at their disposal.
DO ask for referrals from successful leads. Satisfied customers are more likely to be loyal customers. A bonus of giving these customers exceptional product or services is that they will be more inclined to provide referrals or testimonials that could lead to fresh leads for your next sales cycle.
DON'T be disingenuous with your customers. With the information above, it is essential not to use emails and calls as a spamming tool. Customers are more likely to follow through to the next stage if there is a genuine interest from the sales rep. It would be best to offer your customer genuine enthusiasm, which you can do by researching the customer's basic information, so it is easier to build up that rapport.
DON'T ignore customer objections. It is essential to listen to the prospect's reasons for them not going through with the deal. As a sales rep, it is good to explore their hesitations as they could very well be the product of miscommunication or lack of information, which you can quickly rectify. Try to learn more by asking questions like:
"If this didn't go through, what would the reason be?"
"We've talked about why you like [product] — can we spend some time on what you don't like?"
Hopefully, after implementing all of the suggestions and stages above, your team will have a standardized, repeatable sales process that the sales team can fine-tune to perfection to improve lead generation effectiveness.