Electronic signatures for Law
eIDAS, Esign compliant for global, legal signing
Whilst eSignatures have been in place for years, the legal sector has continued to deal with blurry photocopies and poorly ordered files. But since recent updates from The Law Society, now businesses can start to enjoy the efficiency that using electronic signatures brings.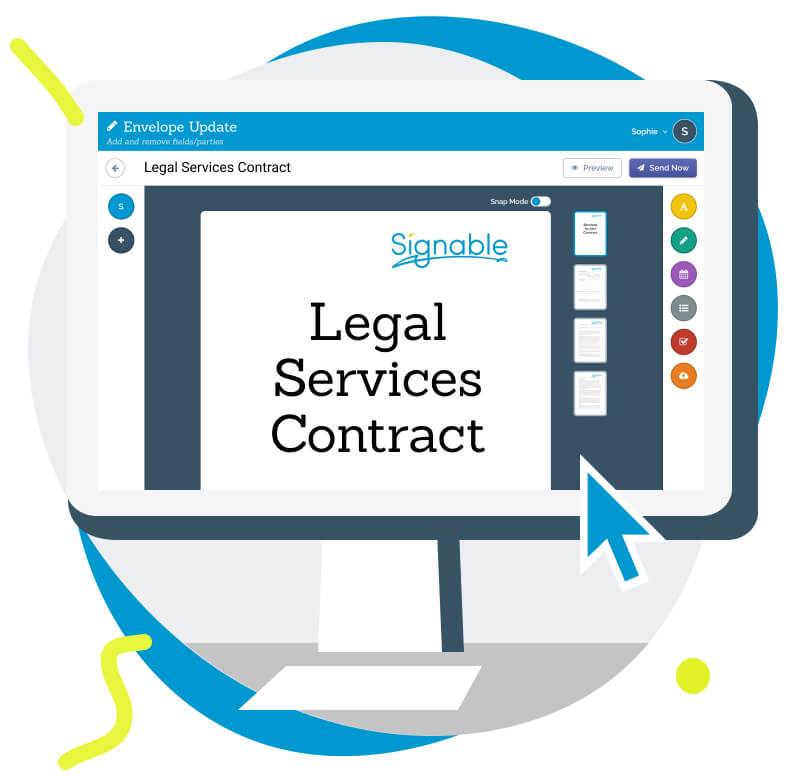 Signable meets your requirements
Download the complete PDF guide
'eSignatures for Law'
Why choose Signable?
Searchable and secure documentation
Protect and securely store documents in your online account for as long as your retention policy requires. Your account is accessible through email/ password login, and, within your account, you are able to set team permissions. Further restricting access to contracts and their content.
Ensure all content is seen
Reviewing legal documentation involves heavy concentration. It's essential that no areas are skimmed. This is ensured by adding a checkbox to every page, or, next to specific sections of the contract that require extra attention.
Reassurance for clients
Adopting an up to date approach illustrates your company's forward-thinking attitude and willingness to continue to develop and grow. You will also accommodate your signer's schedules. Allowing clients time to review documents in a timeframe which is suited to them. Which is particularly useful for those lengthier contracts, or when an office visit isn't possible.
Reinforce enforceability
eSignatures highlight the fact that a signer's signature has absolutely not been tampered with. This is done by logging the signer's email address, geolocation & IP address. These details are logged, along with a full audit trail of the signer's interaction with the document. And then emailed as a PDF to all parties upon completion.
Concerned about legality and security of your client's information? See our full legality guide here.
Our conversion on signed packs is notably higher using this method. Whenever we can use an electronic signature for a client, we use it.
Stanton Fisher
Blog post
Is signing on behalf of someone legal in 2023? - ESignature law
Signable meets your requirements
Download the complete PDF guide
'eSignatures for Law'
Join thousands of businesses who trust us to get their documents signed