June & July 2021 Signable Product Updates
Published:
Summer 2021 Product Updates – Mobile signing has never been easier
Summer's here and the time is right, for mobile updates and dancing in the street…
Mobile UX
Take Signable with you wherever you go with our new updates to the mobile site.
Key updates have been made to our mobile site to allow you to add/update your branding and get hold of the right person while you're on the go.
Contact page updates:
The new card layout means you can now view your contacts while you're on the go. Easily find the contact information for anyone in your Signable address book.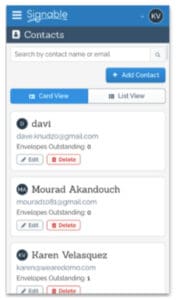 Branding page updates:
Update your branding instantly from the train, plane, or automobile with our new improved branding settings. We've made it easier for you to adjust and upload your logos at the correct size on mobile, meaning your contracts and letters will keep that professional touch.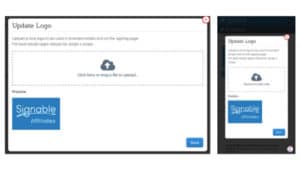 Terminology corrections
We've updated some of our terminologies so it's easier for you to see where your documents are and their status. Plus we've made creating a new envelope even easier.
Envelope Status Change:
Your active envelopes will now only show 'In Progress' when they are still awaiting signatures.
New Envelope Change:
To send a new envelope you will now click 'New Envelope'.