Long-Term Remote Work Strategies for SMEs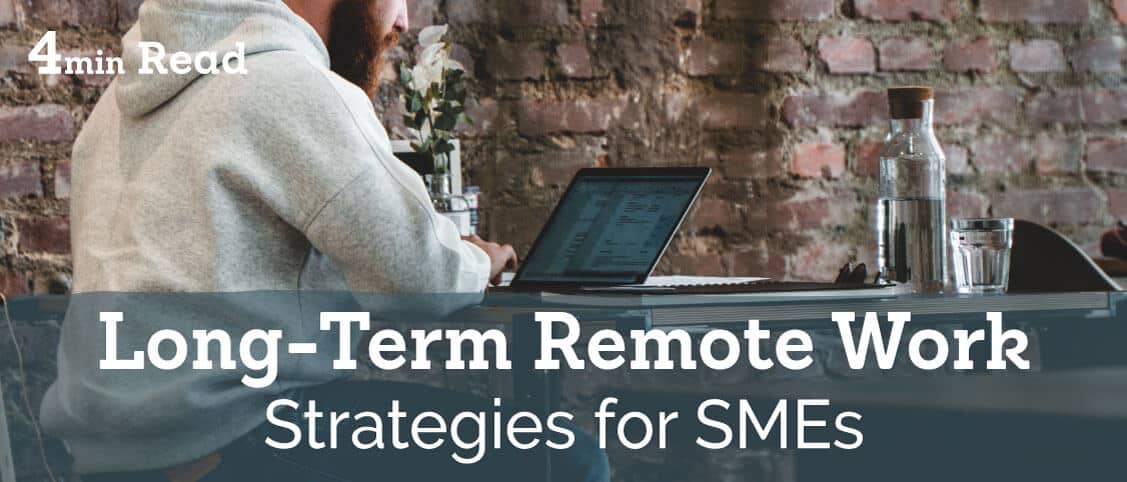 Published:
A structure for change…
COVID-19 has been challenging for us all and although lockdown has been lifted, businesses are navigating a new day-to-day with social distancing in place. It can be difficult for businesses to adapt to this long-term, but we're seeing forward-thinking attitudes to making work-life COVID-secure. But, where do I start I hear you ask?
With a solid long term remote work strategy, that's where…
Embracing remote working
Remote working has become far more common under COVID-19 regulations, and it looks as though it is here to stay for the foreseeable future.
In fact, 88% of organisations have encouraged remote working as a result of the pandemic. By working remotely, businesses can continue to offer their services safely, without putting staff or customers at risk. Obviously, the best way to social distance is to distribute your team and advocate the use of online tools for better collaboration and communication.
Remote working offers businesses a host of benefits, not only in terms of social distancing – it offers staff a better work-life balance, which in turn creates happier and more productive staff. There are also reduced overhead costs for businesses and less commuting stress for employees.
Plus, who doesn't love seeing a cat pop up in the weekly meeting?
On-demand training…
It's not just the day to day tasks that can be completed at home, but staff can also make the most of remote training too. Training is important at the best of times in any industry, but it's especially important now that increasing motivation and productivity are so vital to business success.
Companies need to identify skills gaps and invest in their staff, but there's no need to ignore social distancing in the process. Remote training is far safer for everyone involved and can be just as effective as in-person workshops and programmes.
With remote learning, staff have more flexibility over their learning and can control their schedule more efficiently than when they're forced to stick to a rigid in-person training schedule. This method of training also saves businesses money and is more time-efficient, so it won't interfere with other projects and tasks as much.
Listen to your staff
Your staff know the best ways to work within your business – after all, they carry out tasks every day. Studies show that 90% of people want to love the work they do, but over 55% are unhappy in their job.
Much of this negative feeling is due to employees feeling unappreciated in their role and feeling that they are not listened to by senior members of staff. COVID-19 has only amplified this feeling of being ignored, so it's key that business owners listen to their staff and take on board what is being said within the team. Try to understand the challenges they face due to social distancing so that you can find effective solutions that really help them.
Digitise what you can
More and more businesses are switching to cloud-based services in order to implement a long term remote work strategy and work more efficiently.
With digital documents and technological solutions, such as eSignatures and staff management apps, businesses can work flexibly and remotely without it hindering their efficiency. It also delivers far more security in terms of sensitive data and allows you to control access to files and documents more effectively.
Follow government advice closely
As everyone has discovered since the pandemic hit, things change quickly as a result of COVID-19. So, it's critical that businesses stay up to date with the latest regulations and rules from the government in order to stay safe and adhere to legal requirements.
You don't want to be doing something illegal without realising, and you also don't want to fall behind your competition because you're not responding to relaxed restrictions either.
Monitor customer behaviour
It's important to understand how your customers are reacting to social distancing measures so that you can adapt your business to suit their needs. Monitor the behaviour of your clients so that you can clearly see what is working and what isn't.
This way, you'll be better equipped to make changes and keep your customers as happy as possible as everyone shifts back to a new normality.
Final thoughts
The pandemic has been difficult for everyone and it's forced many of us to rethink how we live and work. For businesses, the social distancing measures have brought a host of changes to how they work and serve their customers, but there are ways to adapt.
Companies need to stay informed of the latest regulations to keep staff and customers safe, but they can also make use of technology and remote tools to allow staff to continue working without risk.
Let us know how your long-term remote work strategy is going on Twitter, Facebook or LinkedIn!
Author Bio:
Daniel Groves achieved a 1st class honours degree in Business Economics. Since graduating, Daniel has collaborated with a number of online publications with the aim to further develop his knowledge and share his experience with like-minded entrepreneurs, business owners and growth strategists. Connect with Daniel on Twitter: @DanielGroves90