March 2021 Product Updates
Published:
Updates March 2021
We're Officially "A Great Place To Work"
Following a great survey with our now 31 people strong team, we got certified as a 'Great Place To Work'!
"Companies that cultivate a people-first culture and are voted 'great' by employees." – GPTW
We've come SO far in the last few years and our teams have thrived under stressful new work environments, we're so proud of everyone and the work we've done together.
This time last year we had no idea what would happen in the UK's national Lockdown, but we've come out stronger than ever, but reeeeaaaally in need of a beer in our beloved Hatchet!
Fingers Crossed we'll be doing that very soon…
If you'd like to follow our brand journey and see what we get up to when we're back in the office soon, follow us on Instagram @signablehq
We post all our vacancies on our job board here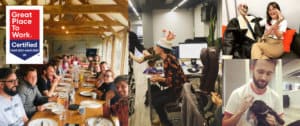 As of March 2021, we're official partners with Stripe Climate. We'll be giving a percentage of our profits towards lowering CO2 with the help of Stripe's new initiative that brings together businesses who want to make a difference.
Climate Change has been a cause close to our hearts for the last few years and seeing our streets light up with climate campaigners and even Greta Thunberg speaking right outside our office, it felt like we needed to take action.
Electronic Signatures also help lower your carbon footprint, so as a customer of Signable, you're doing your bit. Obviously, we'd encourage everyone to go fully paperless, so we'll be offering help and support in the coming months to show you how you can do this.
Until then, check out our carbon calculator to see how much Signable has reduced your carbon footprint!

Changes to the Signable Platform
We're expecting some bigger platform design updates to improve your user experience in the next few months, so we'll keep you posted on our social media when they get released!