Exploring the New Normal: Midcounties Co-operative Travel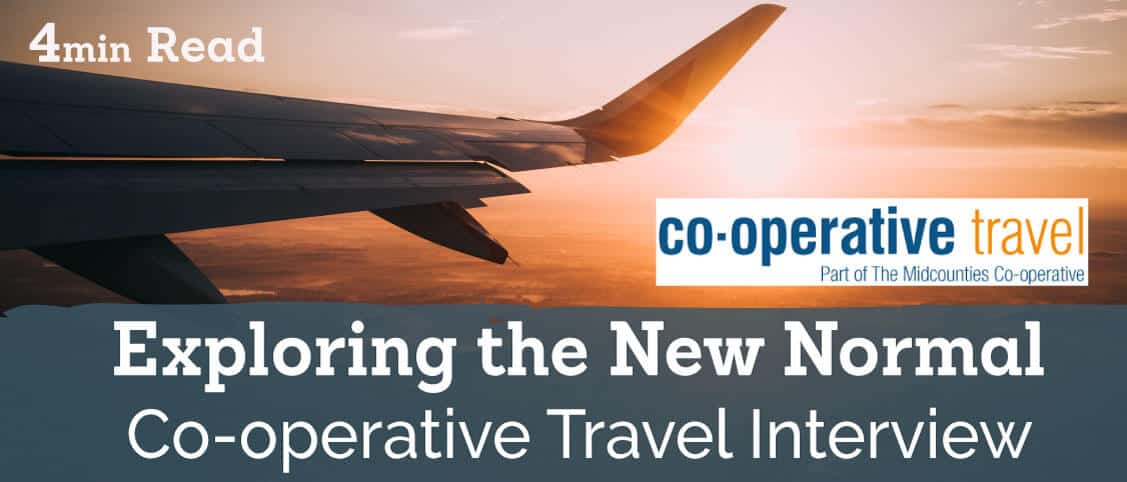 Published:
With a new normal hitting every sector, we spoke to some of our customers on their experience of Lockdown and how technology has played a key role in continuing 'business as usual'. Discussing the notion that tech is for good, not just for lockdown.
We're seeing a huge shift in the way every sector thinks about technology, with a readiness to continue to expand their digital adoption for years to come.
The Travel industry has adapted…
Our second interview was with Midcounties Co-operative Travel around how they've changed their processes to digital. The Midcounties branches of Co-operative Travel help deliver holiday bookings & travel services to parts of the West Midlands, South West, and South-East regions.
We spoke to Aaron Moore, Head of Travel Systems Operations about what change they've seen and how they've come to love their digital solutions during Lockdown.
How has Midcounties Co-operative Travel changed to adapt to Lockdown?

With disruptions to the travel industry, how have you carried on "business as usual"?
Here at Midcounties Co-operative Travel lockdown has presented us with many challenges. With hundreds of colleagues unable to work from our many Travel branches and our head office, we have had to react quickly to allow our teams to work from home.
To do that we have had to source the relevant equipment and also evaluate what new ideas and tech we could put in place in order to continue with our duties and also still serve our customers in a safe and efficient manner.
We also wanted to retain our reputation for excellent customer service during these difficult times. Our teams have been excellent in adapting to the changes we have put in place to help us get through this difficult period.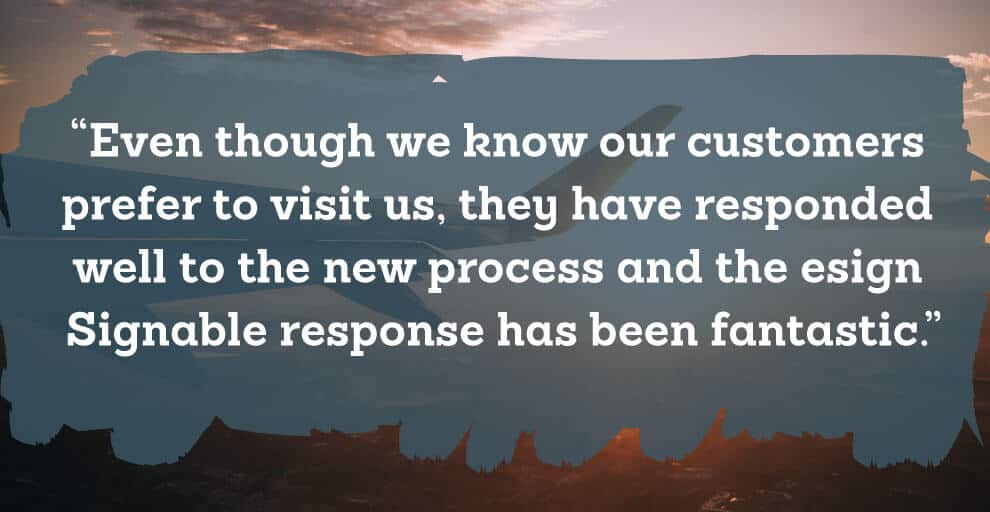 What problems were you facing before using eSignatures? And have they helped solve them?
We explored esignature solutions before lockdown arrived as another method of communication to our customers. We have a virtual call centre and also a high number of homeworkers who all handle customer enquiries and bookings in a non-face-to-face environment. So, we wanted the ability to communicate documentation and obtain customer agreements with customers electronically given we would not see them sign directly.
The Signable solution has slotted in nicely to fulfil that goal with its easy to use interface and user-friendly experience means it was a good choice for using within our business.
Since lockdown, we have then been able to implement the solution into our retail branch network as we have been unable to welcome our customers into our branches.
With this solution, we have been able to still communicate effectively, and issue and sign documents without the need to see our customers. Even though we know our customers prefer to visit us, they have responded well to the new process and the esign Signable response has been fantastic.
Have you implemented other digital solutions (e.g. Google Meet, Microsoft Teams, Slack) to help with Lockdown? If so how have they helped you?
Yes, we are forever looking for efficiency improvements, recently we moved onto Microsoft Teams, this has improved communication links being able to use a chat function, screen share but also the ability to share files easily within your department or a wider group of colleagues. It's still new in our operation but there are clear benefits already being seen.
What things are you proudest about in regards to how the company has dealt with lockdown? Any positive stories to tell? How has the team dealt with difficulty?
The general response from all colleagues and the willingness to help the business through what is unprecedented and very challenging times for our industry is clearly the proudest thing.
Teamwork has certainly helped us through and we have an incredible group of talented colleagues who have all adapted to any new processes we have implemented and being able to install easy to use applications such as Signable has helped to alleviate any potential work challenges given that it's being used to change the way in which we would normally have operated pre lockdown.
Would you say digital solutions have helped you get through Lockdown easier, than if you'd tried to carry on without?
Absolutely, this has really been apparent in the number of Signable usages each month. But, also with other digital solutions such as our online tools allowing customers to pay instalments towards their bookings. These solutions also allow customers to view their booking details, book branch visits, telephone calls and even video appointments with their regular Travel agents.
During this pandemic, it really helps us to remain available to our customers and offer the service our customers come to expect of us even when we were unable to welcome them into our branches during lockdown.
What solutions will you continue to use after Lockdown has ended? Do you see them as integral to your day-to-day runnings going forward?
We plan on continuing to use the Signable solution post lockdown as it still has benefits when we handle our non-face to face customers and the speed in which we can obtain our customer agreements via this mechanism.
We will also further expand on our Microsoft teams usage and enjoy all other features it has to offer for the business. But the nature of our operation is that we will evolve and always seek the best tech available to us and that suits the needs of our users.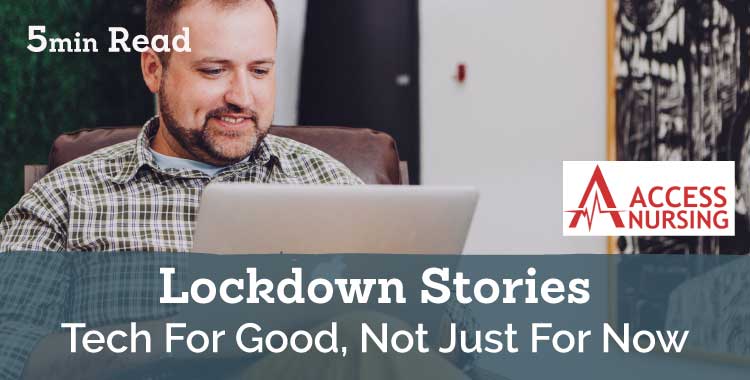 Interviewee Bio:
Aaron Moore is the Head of Travel Systems Operations at The Midcounties Co-operative Travel.
I am currently enjoying & embracing a role as Head of Travel Systems Operations at Midcounties Co-operative Travel with the aim of improving efficiencies of our chosen systems and processes for our users and ensuring we are at the forefront of using the latest and best tech that suits our business operational needs.
With over 20 years experience in the Travel Industry at different levels from junior sales consultancy to managerial positions covering a range of skill sets such as Marketing, Project Management, Analyst roles and now into the management of a team.
The majority of those 20 years have been spent on the Technology side, and I have developed a real passion for Travel technology, and given the experience I have of being a Travel agent and involved in marketing roles, I have an eye and willingness to incorporate ideas I have into the systems we use today and in the future to help our colleagues and make their life easier with the technology we adopt.
I'm married with two wonderful daughters who keep me on my toes when I move away from the laptop.