Construction & eSignatures – Building towards change?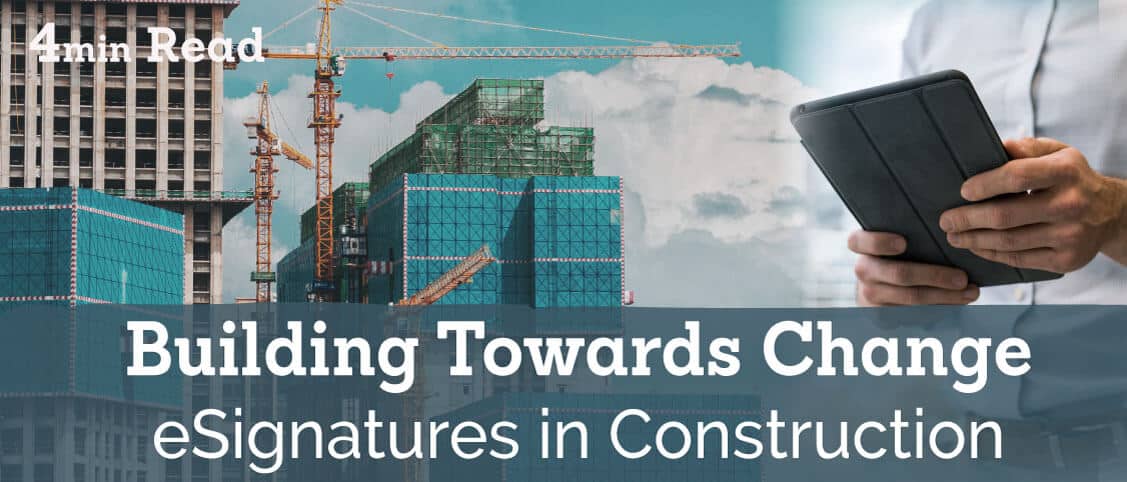 Published:
Construction & eSignatures – building towards change?
Roles in construction fit into many different areas. These could be situated in crafts, technical or managerial in either commercial or residential sectors. All, however, will need to consider the same things. Assessing market needs, the feasibilities of projects, designing pitches in order to secure business, plans, designs and finally, procurement and the subsequent development.
Whichever way you define or fit into construction, the industry has evolved over the years. And one aspect of that has seen a significant increase in the use of electronic signatures and construction contract management.
That is because all aspects of construction need to consider these points:
Requests for information (RFIs)
Proposals
Quotes
Project amendments
Purchase orders
Sub-contractor management
All of which need efficient sign-offs. Especially if your projects span a global scale.
However, whilst electronic signatures are becoming the new normal, the law is one step behind the technology. And certain circumstances can dictate when this form of signing should not be used. A popular example is when documents need to be registered with the UK Land Registry or because of a particular requirement e.g. under statute.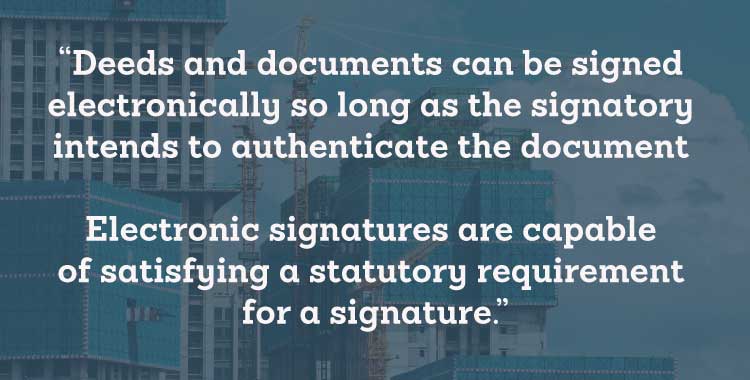 We're working on it
Fortunately for construction, this is changing. Recent developments have seen the courts rule that a signature block, automatically assigned, at the end of an email, constitutes as enough intent to be considered "enough" when executing contracts.
Mayor Brown, writing for Lexology, describes this decision as:
"In these circumstances, it was difficult to distinguish between a name added under a general rule that the sender's name and details should be added at the end, from an alternative practice that each time an email is sent the sender manually adds those details. And the recipient of the email has no way of knowing (as far as the court was aware) whether the details at the end of an email are added under an automatic rule or by the sender manually."
Simply put; the court recognised that the presence of a name is an indication of one's intent to be associated with the terms previously set out, and it was deemed that this was "enough" and ruled that the email had, in fact, been signed.
This is a subject I can really get into when discussing eSignature validity, but I digress…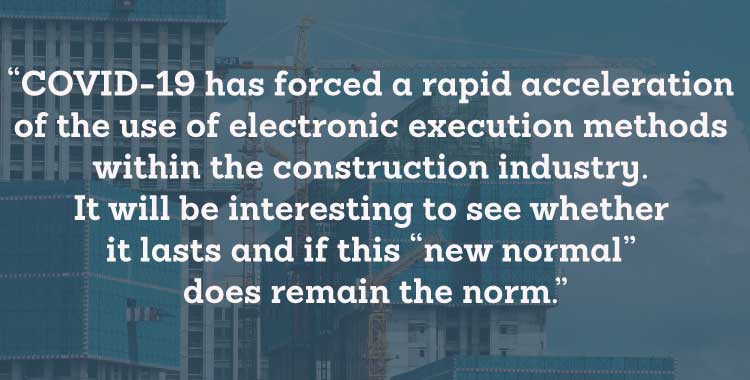 Adaptation is key. Or, rather, necessary….
Enter our recent pandemic and adapting to lockdown. Since the outbreak and the requirement for remote working increased by a staggering amount. Meaning that finalising documents with a wet signature became increasingly difficult, or in some situations, impossible. So what to do?
For the majority of cases, relying on electronic signatures for construction contract management was a no-brainer. Their legality is not an issue for many different instances and the ease of adopting meant it was an easy business decision to make. But there are still those question marks hovering over others.
Luckily, with recent developments in mind, adaptations have been considered to further how businesses can carry on. Thomson Reuters, who provide advice for law, tax, compliance, government, and media in regards to technology use stated as follows:
"Deeds and documents can be signed electronically so long as the signatory intends to authenticate the document and any relevant formalities are satisfied. It is possible to witness an electronic signature, but the witness must be physically present. Electronic signatures are capable of satisfying a statutory requirement for a signature" (source)
And so, although certain documents are still not immune to the inconvenient ties they still have to the wet-ink signature, it is encouraging to see that the construction sector is recognising where change can happen. And such practices will likely continue to be used once business life returns to normal. As concluded quite neatly by Thomson Reuers:
"COVID-19 has forced a rapid acceleration of the use of electronic execution methods within the construction industry. It will be interesting to see whether it lasts and if this "new normal" does remain the norm.".
See how to start implementing Electronic Signatures for Construction