Signable Celebrates Certification Nation Day as a Great Place to Work-Certified™ Company
Published:
Bristol, UK — On November 1st, Signable proudly joins the community of Great Place to Work-Certified™ companies across the country in celebrating Certification Nation Day.
This day is dedicated to honouring and acknowledging companies committed to fostering exceptional workplaces for all their employees.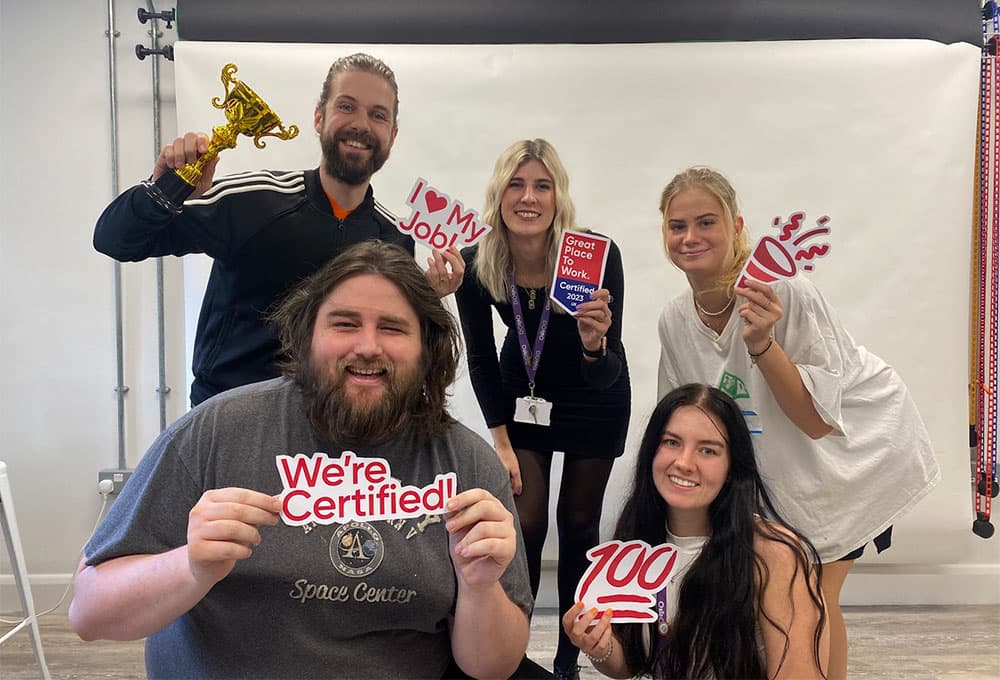 "Our relentless commitment revolves around nurturing a culture of excellence at Signable," says Olly Culverhouse, Signable CEO. "We're genuinely thrilled to shine a spotlight on our incredible staff who pour their hearts into serving our valued customers and making a positive impact on our community every day. It's a moment of immense pride for us to be a part of Certification Nation Day, celebrating the remarkable individuals who shape our exceptional culture."
Great Place To Work™ is a globally recognised authority on workplace culture, acknowledged by both employees and employers for its ability to identify outstanding employee experiences.
According to Benedict Gautrey, Managing Director of Great Place to Work UK, "Great Place to Work Certification is a major competitive advantage in the market for talent. By celebrating Certification, companies are enhancing their employer brand and becoming more attractive to potential candidates, making it easier to recruit and retain top talent".
"It's no secret that the companies with Certified status are continuously putting their employees first" says Claire Knights, Director of Growth & Recognition at Great Place to Work UK. "Certification Nation Day is the perfect opportunity for our Certified companies to celebrate what makes their company great and build upon their employee-first cultures."
Signable's unwavering dedication to its employees and the flourishing workplace culture is vividly exemplified through a range of distinctive initiatives. Our flexible working policies stand as a testament to our commitment to work-life balance, ensuring our team members have the freedom to tailor their schedules to their needs. We recognise that mental health and wellbeing are paramount, and our comprehensive support and resources in this area are a cornerstone of our culture.
Furthermore, Signable's commitment to staff progression is more than a promise, it's a reality. We invest in our employees' growth, offering opportunities for skill development, career advancement, and personal development. This investment has resulted in a highly motivated and skilled workforce.
Our comprehensive benefits package further demonstrates our unwavering support for our team members. From competitive compensation to wellness programmes, we provide our staff with the tools they need to thrive both professionally and personally. These benefits, combined with our supportive environment, foster a workplace where every individual has the opportunity to succeed and achieve their best.
Great Place to Work research has shown that job seekers are 4.5 times more likely to find an exceptional boss at a Certified great workplace. Employees at Certified workplaces are 93% more likely to look forward to coming to work and are twice as likely to receive fair compensation, earn a fair share of company profits, and have a fair chance at promotion.
We're hiring!
Are you looking to advance your career at a company that prioritises its people? Visit our careers page at: https://wearedomo.com/careers/current-vacancies/