Signable Proudly Sponsors Local Women's Football Team, "The Misfits"
Published: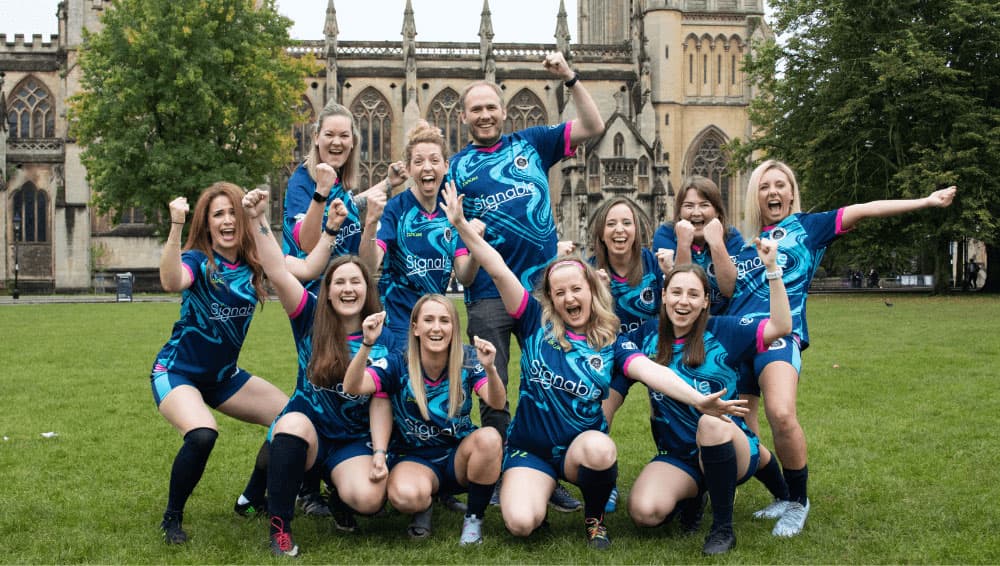 Bristol-based Signable, a leading electronic signature solution provider, is proud to announce its sponsorship of the local women's, minority gendered and non-binary football team, "The Misfits."
This groundbreaking partnership not only reaffirms Signable's dedication to supporting women in sports and the local community but also underscores its commitment to inclusivity and diversity.
"The Misfits" represent a vibrant and diverse group of women, minority gendered, and non-binary athletes who have been making significant strides in the local football scene. Their unwavering dedication, passion, and extraordinary talent have captured the hearts of many. Signable's sponsorship aims to empower "The Misfits" as they strive to achieve their goals while further championing diversity and inclusivity in sports.
"We are absolutely thrilled to embark on this journey with The Misfits," said Olly Culverhouse, CEO at Signable. "This partnership aligns seamlessly with Signable's core values of teamwork, resilience, and its unwavering commitment to inclusivity. We firmly believe in the power of sports to inspire, unite, and uplift communities, and we are immensely proud to be part of The Misfits family."
Ellie Yates, Head of Customer Success at Signable and a player within The Misfits team, commented: "I am immensely proud that Signable is sponsoring The Misfits. Football for women, minority genders and non-binary people has a long way to go to achieve parity with the men's game but teams like The Misfits are making football more accessible and welcoming for all. A lot of our core values at Signable are shared with the Bristol Football Casual League and with the Lionesses achieving such success recently, it is great to be part of championing inclusive grass roots football in Bristol". Ellie brings her passion for football and her expertise from Signable to the field, further solidifying the bond between sponsor and team.
In celebration of this sponsorship, Signable has provided The Misfits with new cutting-edge kits that not only showcase the team's diversity but also embody the vibrant spirit that defines The Misfits.
As Signable and The Misfits join forces, they're on a thrilling mission to champion women's football and forge an even stronger bond with the community.
For all media enquiries and further details about Signable's incredible sponsorship of "The Misfits" please contact: Meg Clifford (meg@wearedomo.com)
Stay connected and follow The Misfits on Instagram: @misfitswfc
Get ready for an electrifying journey with Signable and The Misfits as they ignite the local football scene!