Essential Guide to eSignatures (USA) – What is an Electronic Signature?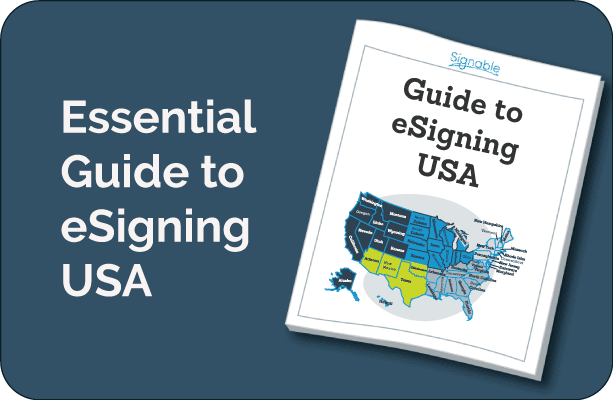 Join thousands of companies saving 22,000 hours annually sending & signing documents
What's included in the Essential Guide?
What is an Electronic Signature?
ESignature Legality in the US (eSign & UETA Act compliancy)
Signable's Security Protocols
What the Signable Platform Looks Like
Testimonials from our Customers
Pricing Breakdown

What is an Electronic Signature, Really?
For the uninitiated, the simplest way to describe an electronic signature is that they are the digital version of a paper-based method of signing signatures, on an electronic document.
They're interchangable in nearly every situation a handwritten or 'wet' signature is valid for. However they benefit from increased security and allow documents to be signed anywhere in the world, within seconds.
It's safe to say eSignatures are on their way to being the most commonly accepted way to sign documents; "In 2020, the global digital signature market size reached $2.8 billion. It is projected to grow to $14.1 billion by 2026 (MarketsandMarkets, 2020)".