Introducing The Signable Make Integration
Published:
We have a very exciting new integration that we are pleased to announce is out of our Beta testing phase – a Signable & Integromat / Make integration.
Make has recently been re-branded, so you might know them as Integromat.
What is Make?
Make is better visualised as a platform, which bridges the capabilities of unrelated apps in your workflow.
On their website, they can be described as:
"Make is a powerful integration platform that allows you to visualize, design and automate your work in minutes. Focus on your business fundamentals, and let automation take care of the rest."
And, they do just that.
Make will automate processes, helping you transfer and transform data.
Why is our integration so cool?
We are especially excited for this integration, as the possibilities are endless. There is no need to handle data manually that comes from the Signable app anymore.
Simply set Make up, and it will work 24 hours a day, making sure any data you wish to have from your documents sent is accurately uploaded in real time.
In action, this can look like personalised data that you want to pull straight from a documents audit trail. For example, pull a signers name, the date & any other fields you want straight into a Google sheets spreadsheet.
This saves you the hassle of manually inputting extra data that you need for your organisation, especially useful when you use our Signable API and send thousands of documents daily.
Not only does our Make integration save you time, it also increases the efficiency of your workflow.
How does our Make integration work?
Essentially, so it can move the data accurately from one app to the other, you can click deploy and anytime an event is triggered (an envelope) it then passes that data into the application you have chosen, or to set off a different sequence.
The capabilities of your experience of Signable are increased.
Create your customized scenario with Make. Automate repetitive tasks involved in using Signable and make your work easier.
This takes away the manual labour required, so you and your team can focus on other tasks.
What does this integration look like?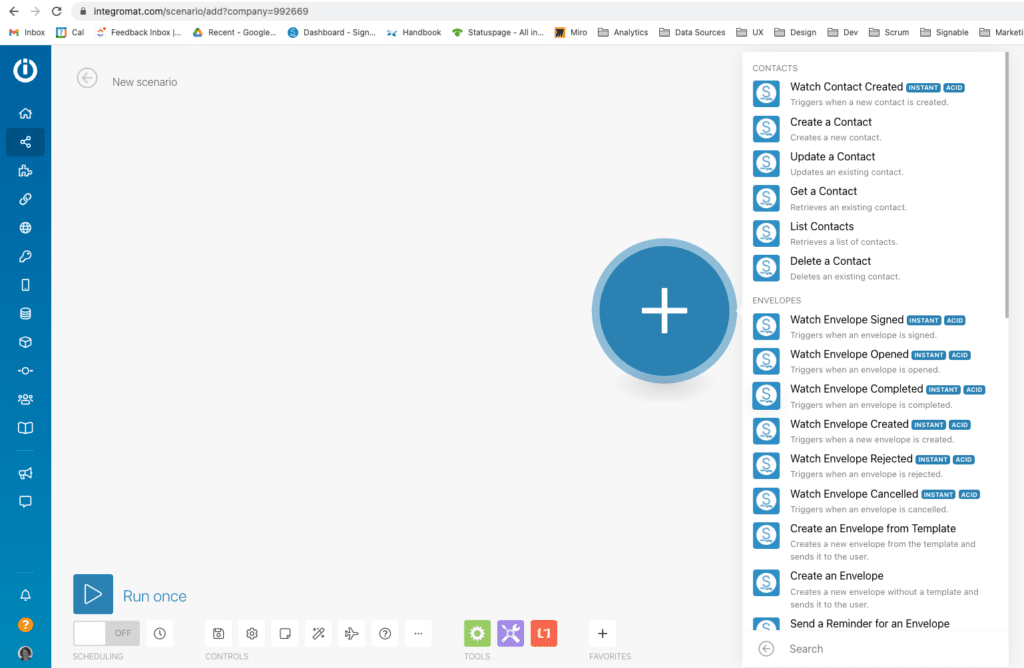 What are some scenarios where we can use Make and Signable?
Add new Google contacts to Signable
Create a Signable users from Airtable records
Save documents from new signed documents in Signable to Dropbox
Add new ActiveCampaign contacts to Signable
Save documents from new signed envelopes in Signable to Google Drive
Create Signable users from Google Sheets spreadsheet rows
Create Signable contacts from new Google Forms responses
How do I get started?