July Signable Product Update Blog
Published:
In July we experienced blistering heat waves, bidding farewell to another Prime Minister and a brand-new Signable homepage!
In between office lunch and learns and nearing completion of lots of exciting initiatives, we are one step closer to a much more personalised and efficient Signable experience.
Our brand-new homepage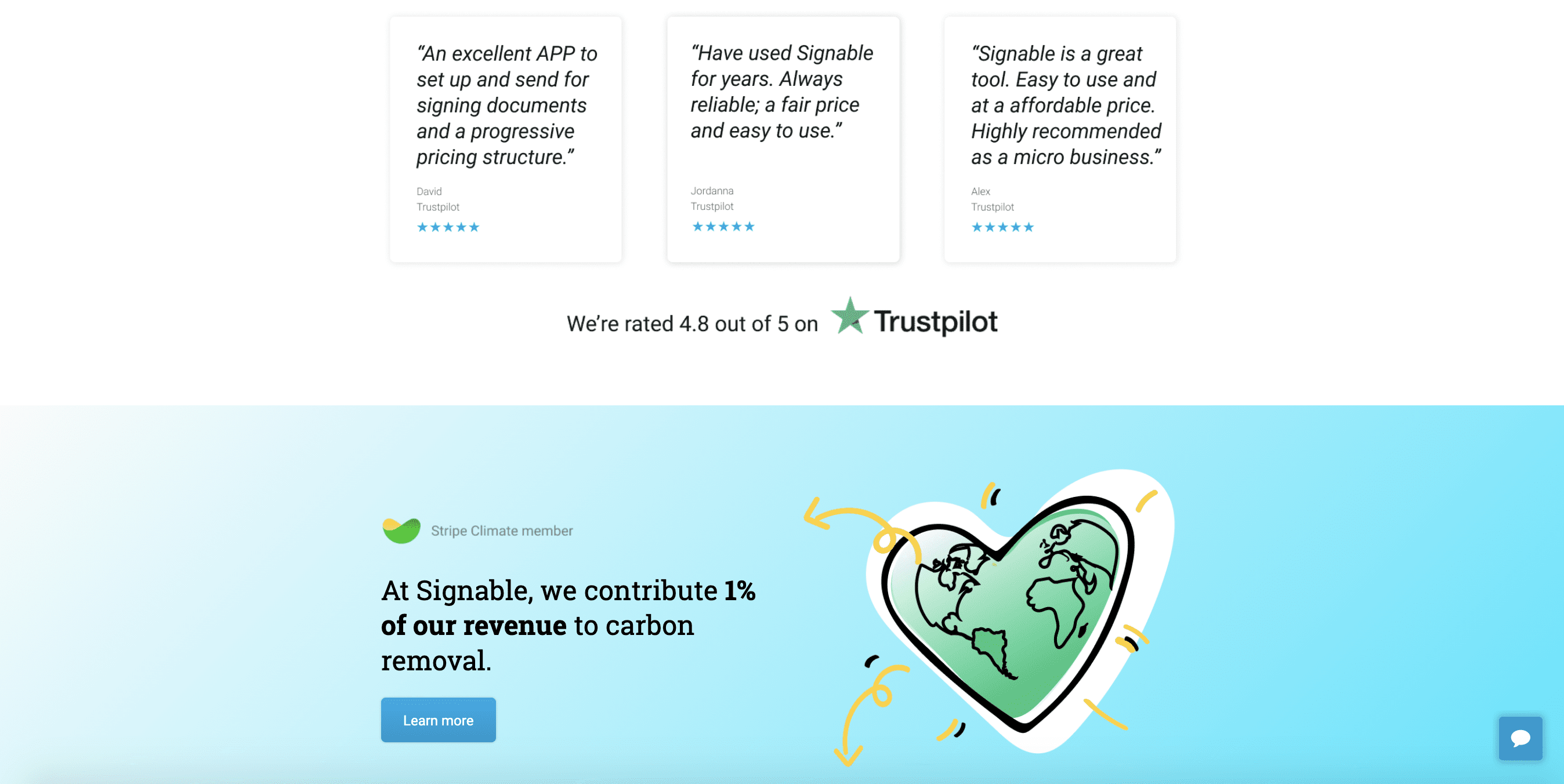 We've added some really fun new features to our homepage, including our Stripe Climate partnership and our Trustpilot reviews – which are stellar. Why not leave your own feature suggestion while you're here, or leave us a review on Trustpilot?
Navigate our homepage smoother than ever thanks to these aesthetic changes. Check it out here.
Security initiatives
As all our customers would expect, keeping up with security is one of the most important things on our plate. This month we made changes to the app to increase some security-related aspects, taking advantage of the latest available standards.
Unfortunately, we can't go into too much detail about what the updates were, but suffice to say that these updates are essential and help us meet the high security standards we have at Signable.
Performance enhancements
Two areas of the app have had a back-end makeover to improve how they perform. For customers using documents containing hundreds of fields, you'll notice that the library and dashboard pages now load much more quickly than they used to. Hooray!
For customers with thousands of contacts, you'll equally notice an improvement in the performance of the contacts section and even going through the envelope creation flow is much faster now. Because everybody hates loading times, right?
Copy, paste and delete using keyboard shortcuts!
Hot off the press – turbo boost your field setups by using keyboard shortcuts! When setting up fields on your documents, use these handy shortcuts to help you get set up in a flash:
Ctrl/⌘ + C = Copy a field
Ctrl/⌘ + V = Paste a field
Press the 'delete' key = deletes the field
If you work with long documents using multiples of the same field, this will be an invaluable tool. Remember you can also make the complex documents that you use more than once into templates, and these shortcuts work there too!
We've updated the welcome messaging

As per a request over on our feature suggestion website, we have updated the directives for new signers by adding the option to take a tour of the Signable signing page.
As always, we check the feature request and suggestion website daily – and all of our biggest projects are driven by your feedback. Your suggestions are incredibly valuable to us – so vote or suggest today on our feature suggestion website!
Google Docs integration
Our ever-popular Google Docs integration is not so much a new feature, but we thought if you needed a sign to get integrated with our Google Doc plugin, this is it.
What can you do with our Google Docs integration?
With Google Docs integration, you can easily push your documents out to be eSigned through your Signable account. Simply create the document or load it from Google Drive, add your signing field, select your signing parties and send!
Do you want to help shape Signable's future features?
Join the Signable user panel and you'll be invited to take part in research, surveys or usability testing sessions and get a peek at features that may be coming soon. This is your chance to have a say and express your opinions. You can say no to the invitation and you can also leave the panel at any time. Join now!