When a contract is signed can it be changed?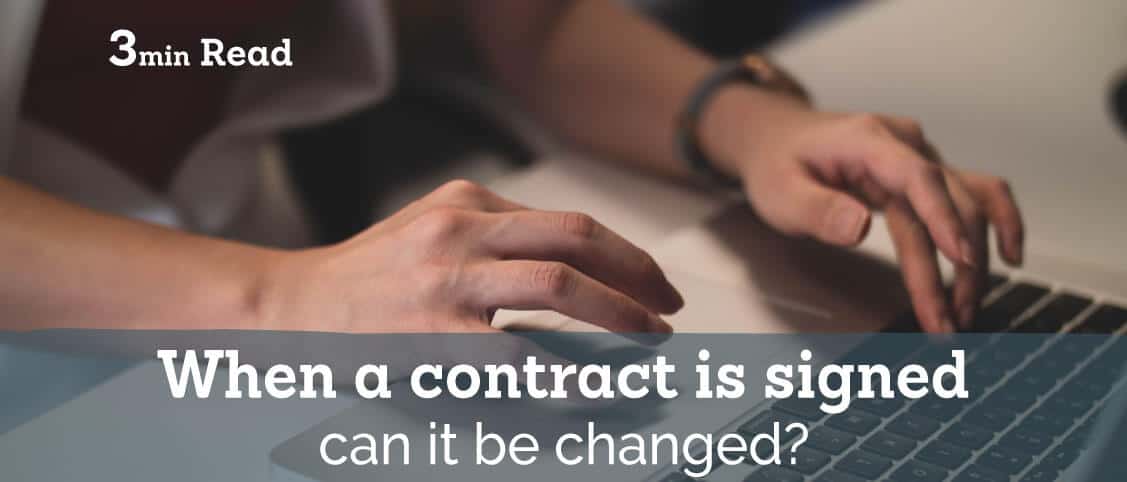 Published:
Contracts sent between parties often go through many changes. Contracts change as the situation does. So, you're wondering, once a contract is signed, can it be changed?
Contracts can go through many stages, changing amounts, prices, dates and times among other things. So, what do you do when you need to make changes to a contract that has been signed electronically? Here, we dig a bit deeper into what happens . . .
It seems like a process that's simple enough. But, as many will know, the contract process can take a lot more than a simple signature on one document. It can resemble a game of ping pong rather than a hole-in-one. In fact, amending a contract is a whole other process!
First, it's important to understand that electronic signature software provides the tools to sign contracts electronically. Signable allows you to send your documents to signees, and stores these documents online.
Before the contract is signed
To begin with, it's fairly easy for contracts to be changed before they are signed. With the continuous communication between the people involved, terms are agreed between participants in any way, shape or form.
It's important that the document that is sent off to be signed is not a draft, but the final copy. Any changes should be made to a contract before sending it off to be signed electronically. And, signing online is one of the most useful ways to give both parties a legal copy, which everyone can become familiar with and revisit forever.
After it's signed
What happens if you need to make amendments even after it has been sent out and signed? Once a contract is signed, can it be changed? As is protocol, it must be discussed and negotiated with the signing party beforehand before making any changes to a contract.
If this has not happened, then it is, first and foremost, illegal to alter a signed document. Most of the time, however, a contract will include how to change, extend, or terminate itself. This is standard practice for contracts.
"Signing online is one of the most useful ways to give both parties a legal copy, which everyone can become familiar with and revisit forever."
With electronic signing software, once the envelope containing your document has been sent off and emailed to the signer, it can only be retracted and cancelled if no one has signed it yet.
As a contract exists as a legally binding agreement between interested parties, it can be legally modified after being signed. But this happens only with the agreement of all the parties and by adding an extra section, called a 'rider'.
Although it works a little differently with electronic signatures, you can still reach the same effect. If you send out a contract electronically, and it has been signed, that contract should be formally terminated and a new one must be made.
This will contain the changes to the contract and will be sent out using a new envelope and a new contract. This is the only way to change a contract after it has been signed: make a new one.
Dos and don'ts
✓ Do make all the changes to your contract before sending it
✓ Do always send off the complete and final draft
✓ Do terminate a contract electronically if it is both signed and incorrect
✓ Do always communicate with all the parties involved about any and all changes to the contract
Χ Do not try to amend a contract online after it has been signed
Χ Do not make changes without receiving the official and written agreement from signers
Final thoughts
Keeping your contracts lawful is always important, and following these simple guides when modifying your contract electronically will keep you on track. Once a contract is signed, can it be changed? With these steps, you can electronically change it with a new envelope!
Learn more about the tool on our how-to page.
If you have any questions or queries, don't hesitate to contact our on-call customer success champions at 0800 612 6263 or email us directly at help@signable.co.uk.