Stanton Fisher – Finance
Published: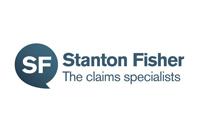 Stanton Fisher are a leading financial and travel claims specialist that are based in Cheshire. After five years in business and experiencing exponential growth; their UK office currently has circa 150 staff and is starting to branch out with offices abroad.
As a company based that are based in the claims sector, Stanton Fisher send hundreds of terms of engagement contracts each month. And as you know, sending a high volume of contracts costs a company in a lot of wasted time chasing up unreturned forms from clients.
Stanton Fisher recognised how electronic signatures could help solve this problem early on, and had already invested in an alternative e-signature provder before Signable; EchoSign. But after deciding they needed a more user friendly tool with service that offered better support, Kristian Rose, Project Manager, started researching what other options were out there.

"We trialed a number of competitors for a week or so but Signable was better in every aspect to what we saw from the rest."
Kristian explained what helped them decide on needing a change of software:
"We wanted a reliable, secure and cost efficient service that is both practical and straight-forward to use for both our clients and our staff … I consulted with 5 or 6 other companies to find the best service for us (but after finding Signable) straight away the team and management using the service only had good things to say about it. It was very easy for them to manage their clients from the Signable account."
"The customer care and support has always been fantastic".
As usability and support were the two deciding factors for making the switch; Signable helped Kristian make the decision by being "very simple and straight-forward, any problems Sue was on hand to assist us with straight away … The only problems have come from me forgetting how to do something!"
And whenever Kristian has needed to pick up a phone?
"Superb customer service from the word go. We liked the unlimited users and the cost structure made sense for our progression plans in the future. It was a very easy and friendly service to use."
Paperless processes have meant high conversions…
Now that Stanton Fisher have found an e-signature solution that suits them and their needs, they've found that their staff manage contracts easier and there's a significant increase in their conversion rate:

"Our conversion on signed packs is notably higher using this method … Whenever we can use an electronic signature, we use it. It helps turn business around quicker and the clients enjoy the ease of use."