Why Choose Signable over Docusign? Docusign comparison
Signable – Docusign Comparison – Why Choose Signable?
So, you're likely here because you're not fully sold on Docusign and want to see what else is out there.
You've come to the right place.
Honestly, Docusign is the right fit for some companies, but understandably it's not a 'one-size-fits-all'. Their pricing can feel a bit overwhelming and their range of bells and whistles could confuse you from your core need, simplicity.
That's where Signable can offer a better service.
With more reasonable and scalable pricing plans, including a fully flexible Pay As You Go top-up plan, we have thousands of customers who choose us over Docusign.
What Do You Get With Signable?
All our monthly & annual plans include:
✓Unlimited Templates
✓Unlimited Users & Teams
✓UK based support rated 4.9/5 on Capterra
✓Free API Key Usage
✓Personalised Account Management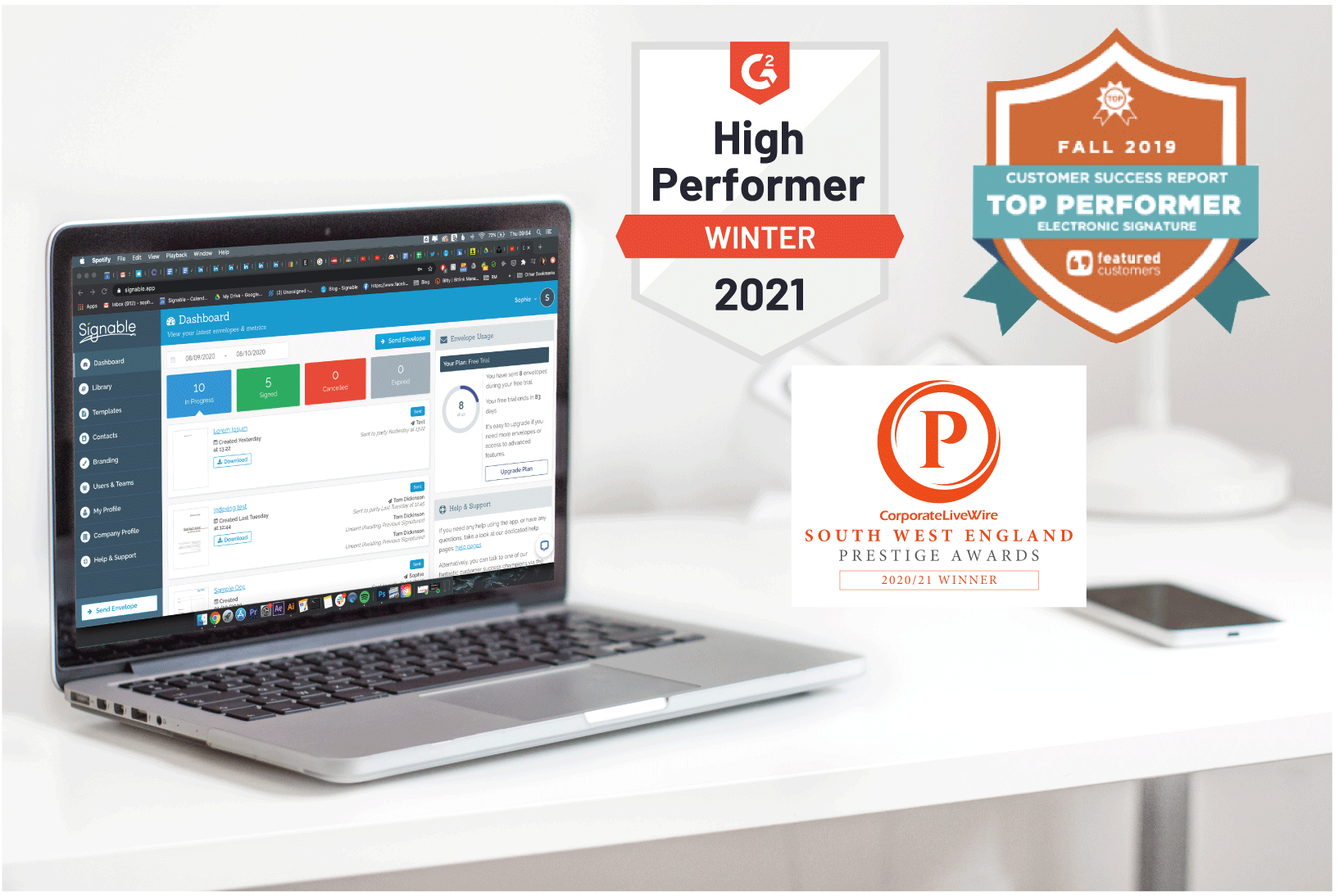 Straight-forward sending & signing
Signable is a straightforward, easy-to-use sending and signing platform.
Meaning that the process from setting up a new document & adding your fillable fields, to your client's signing really couldn't be easier.
Unlimited Templates
You can also add templates of your most used documents, edit them at any time and replace the document when you update any new terms and conditions.
Unlimited Reminders
Reminders can be set to automatically resend the document to the signer's inbox in case it got buried the first time. No need to waste any credits, it's free.
Unlimited Users
Add as many users as you'd like to create a seamless signing process for your clients and customers. Use across teams for internal processes like recruitment and updating company policies.
Unbeatable, personalised customer support
Our UK-based support team will walk you through the setting up of your account and you'll have a personal account manager assigned to you when you subscribe to any plan with us.
Meaning you can be sure you'll be treated as a human being and not just another number and you'll be helped in every way you need. We really are here to help.
Free API key use
We don't charge extra if you want to make your signing process integrated with your current systems. Our key is available to everyone on a monthly, or annual plan at no extra cost.
Our customer team can help you answer any questions you have about this.
6,000+ customers can't be wrong
"We were new to e signing and looked at many products, Signable was by far the easiest to use"
"The ability to use either a template or an existing document. The software makes it so much easier, quicker and cheaper to send out agreements and get them signed off. we have saved a huge amount in time and postage using Signable."
"A hidden gem"
"Ease of use. Great pricing for small volumes. We get a much faster turnaround in our key client docs compared to posting them. It's improved our business efficiency. It's secure and cost-effective compared to the post."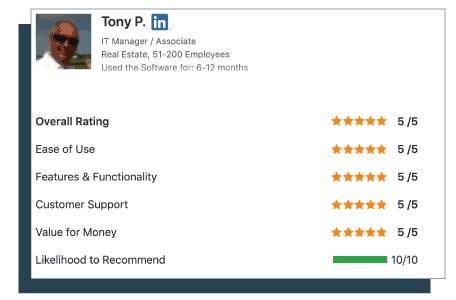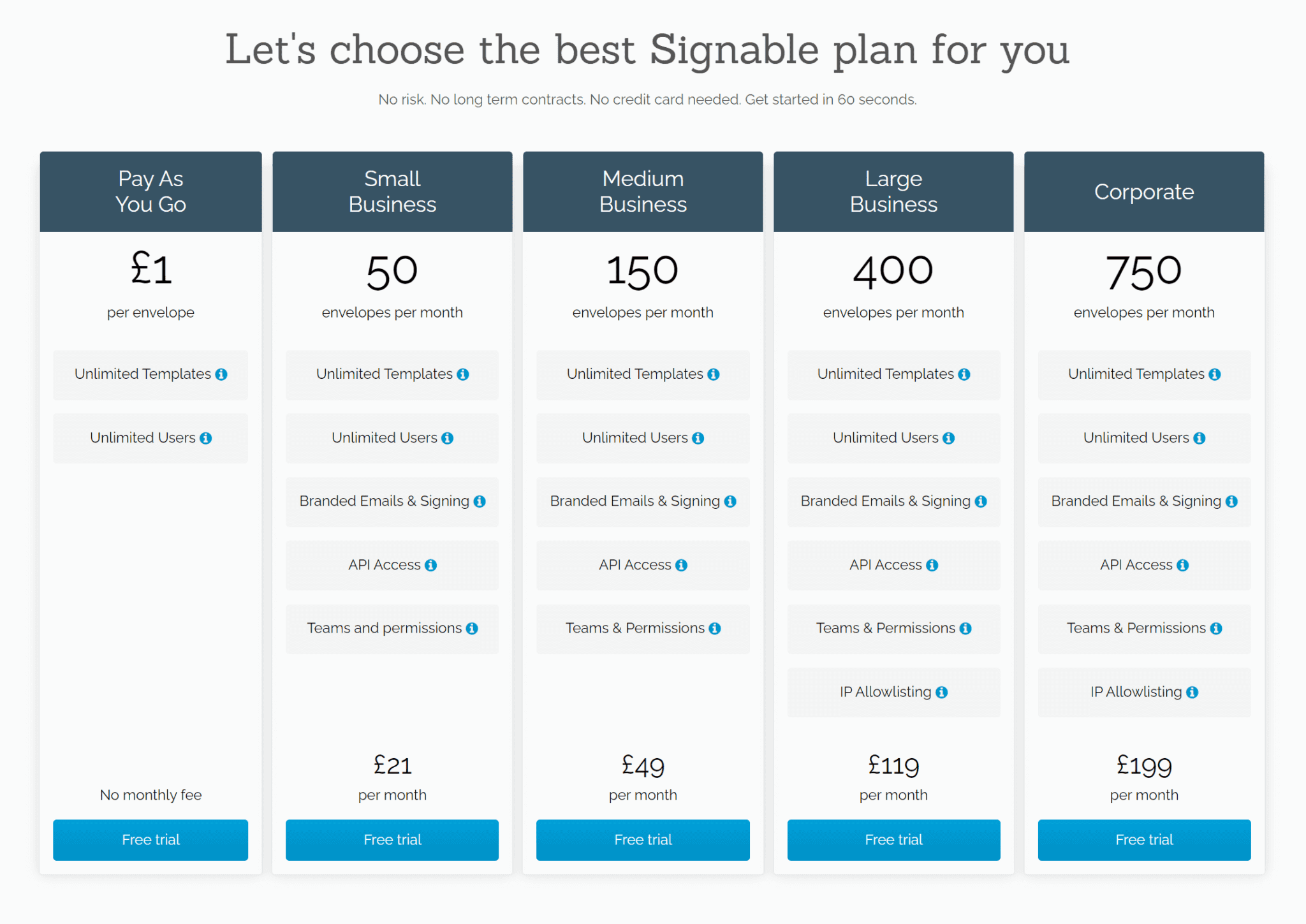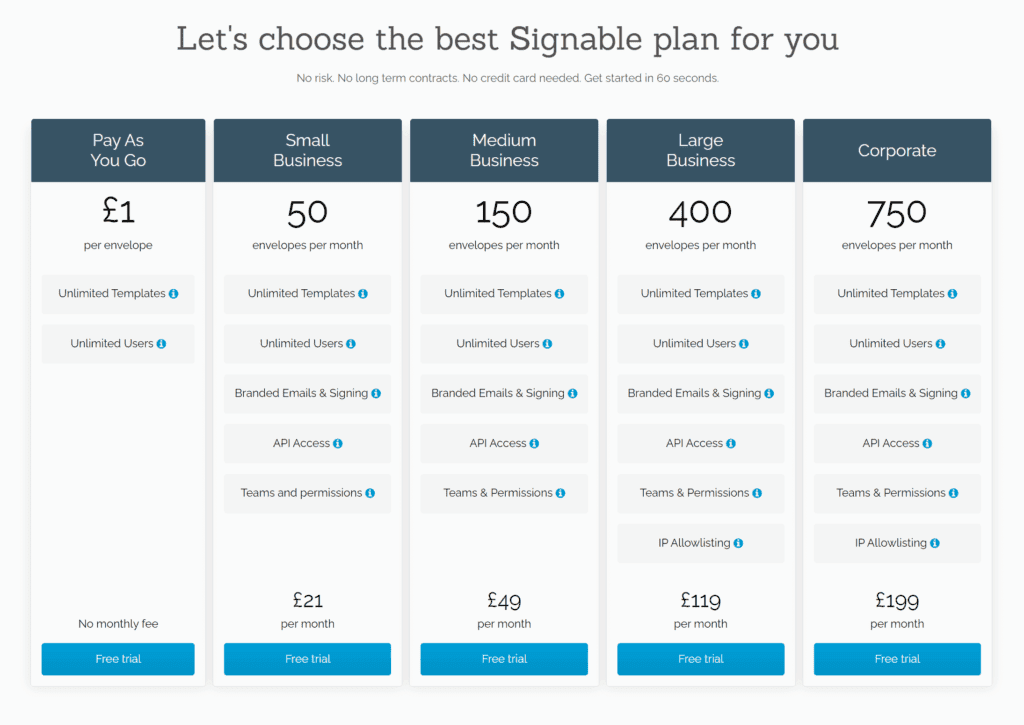 Want to put Signable to the test? Try us for free for 14 days!
*No strings, and we won't automatically move you onto a plan after your trial ends.