Why is COP26 important?
Published:
Why is COP26 important?
The countdown has started until the much-anticipated COP26, which is set to begin in Scotland this year from 1st November to the 12th November. This meeting of the United Nations for world leaders is essential. The climate talks are important as it has been seen in many regions that warming has already surpassed 1.5 degrees Celsius above pre-industrial levels. There is no single 1.5-degree warmer world.
It will see China and the U.S., which are jointly responsible for more than 40% of the world's carbon emissions, join together to devise long term plans to combat global warming.
Such plans include:
The recent joint statement on climate cooperation by the U.S. and China.
The pledge by the U.S. to cut its carbon emissions by 50-52% below 2005 levels by 2030, which is strong climate action.
The UK Government's target is to slash emissions by 78% by 2035.
The U.S. has done a full 180 degrees from Donald's Paris Agreement targets since Biden has taken charge. The president proposed $14 billion in spending on initiatives to fight climate change in the 2022 budget, including large cash injections for environmental regulation and science research.
The budget includes significant new climate change investments and financial support for communities hardest hit by pollution or the rapid transition from fossil fuels to renewable energy.
But does COP26 matter to businesses – and, if so, why? There are three significant reasons why a company should pay attention to COP26.
COP26 will turbocharge the green finance market
Investors are already flocking to invest in green assets, with the expectation that they will deliver superior returns in the long run.
COP26 is likely to turbocharge the green finance market, especially as one of the summit's goals is to help private finance support a whole-economy transition to net zero.
Biden's budget request proposes $485 million to support other multilateral climate initiatives, including $100 million for international climate adaptation programs and $691 million for the State Department and U.S. Agency for International Development to assist developing countries in adapting to climate disruptions.
Businesses should watch out for any green financing arrangements – both positive and negative – that are likely to come out of COP26. On top of this, companies should also keep an eye on clean air and habitat protection. There's an opportunity to tap into new sources of capital as existing environmental funding pools dry up.
COP26 will change business revenues and consumer behaviour
Growing awareness of the climate crisis is influencing consumer expectations and behaviours. Businesses have an opportunity to create value and increase revenues by responding to the trend for sustainable consumption.
Businesses are already anticipating the acceleration COP26 will have on consumer behaviour and are differentiating their products via sustainable products & marketing through labels, such as carbon footprint labels.
An independent study commissioned by Futerra found an overwhelming demand for brands to step up on sustainable lifestyles. If your brand isn't helping your consumers improve their environmental and social footprint, then you're in danger of disappointing 88% of them: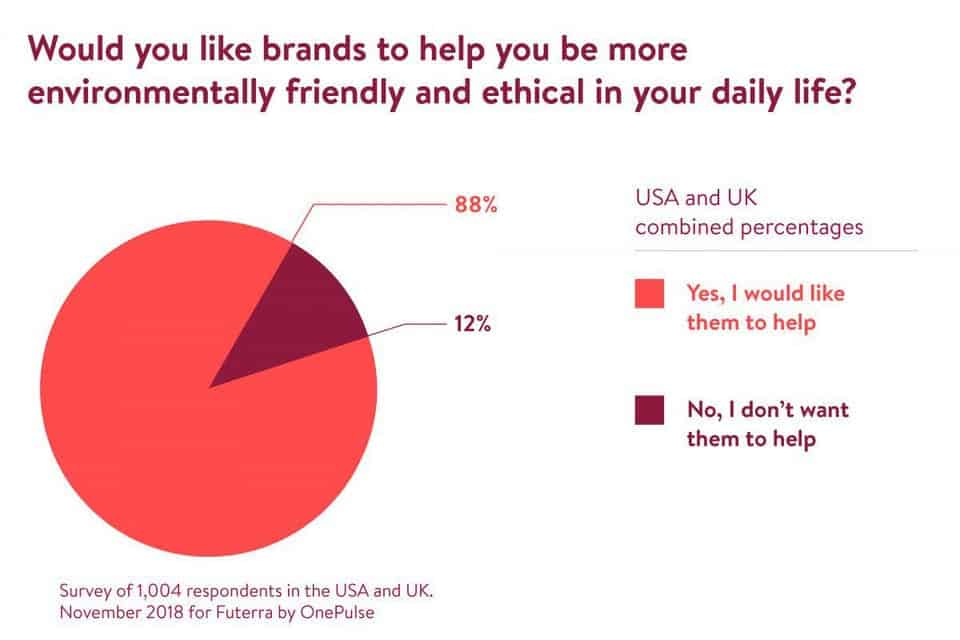 Companies need to communicate the environmental impact of their products to consumers – which is why many are going green & carbon neutral.
Many companies invest in carbon offsetting schemes or power their business solely on renewable energy and data.
New companies dealing in data of some sort can ensure environmental legitimacy by using SaaS. Cutting down on data centres by switching IT operations to a public cloud provider significantly lowers carbon emissions and electricity consumption.
For most of these processes, paper is an unnecessary waste, and it will help boast an entire paper-free ethos to your consumers. Many companies are implementing this through online paper documentation, online contracts & eSignatures to conduct business. Signable helps companies remain competitive by cutting down their paper usage.
COP26 will motivate businesses to innovate.
The combination of advancing technology, rising regulatory risks for high-emission assets, the falling cost of capital for green investments, and the increasing price of carbon emissions will create new opportunities for businesses.
These opportunities may involve the creation of new products and services and even entirely new business models. For example, some companies are investigating alternatives to concrete, such as building material that uses waste glass, plastic and even paper.
The rising carbon price creates significant opportunities for businesses to develop products and solutions that generate carbon credits – for example, filters that directly remove carbon dioxide from the atmosphere. There is now a large carbon market for protecting nature.
What does the future hold after COP26 for businesses?
Businesses can get valuable insights into these and other potential opportunities for innovation by engaging with COP26.
COP26 will motivate much global change. And, you can be sure that after November 12th, it will be a race to see who can reach those climate targets first.