Women of Signable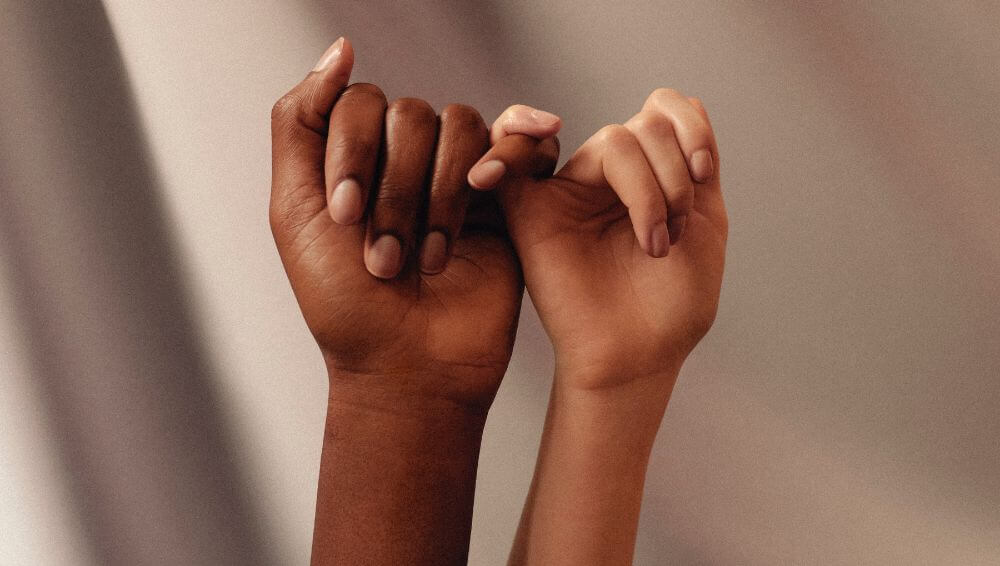 Published:
March played host to both Women's History Month and International Women's Day. To celebrate women everywhere who drive digital innovation and technological advancement, we collated some thoughts from the fantastic women across each of our teams about what it's like to be a woman in tech, working at Signable.
Here are some thoughts on what makes Signable a recognised Great Place to Work™ for Women!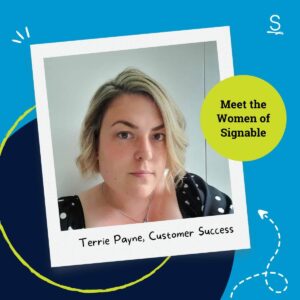 Terrie Payne, Customer Success Team Lead
"The best thing about working at Signable is having the trust and freedom to explore your role. Signable motivates you to work on your personal development and learn new skills. They encourage you to cross train and collaborate with other departments and to think outside of the box… No two days are the same and you walk away invigorated, inspired and excited about the next day.
Signable has allowed me as a single mother to have an amazing work life balance. I can flex my work hours to accommodate the school run, the unlimited holiday has allowed me to not rely on holiday clubs so much and with a dedicated wellbeing team and monthly budget, I have developed new skills to maintain a healthy work life balance. I now consider managing my wellbeing as part of my day to day activities.
I have been focused on managing the Partner Program relationships at Signable for the last two years. In that time we have helped Partners expand their e-sign offerings to their customers and improved the onboarding experience. Working closely with new Partners and solidifying relations with existing Partners, we have gained a real insight into the needs of a Partner both technically and commercially.
Fostering those relationships has really shaped the product roadmap. We have been able to launch three new API capability updates including: sending multiple templates via the API, advanced embedded signing and clearer API status reporting. I am passionate about the Partner Program at Signable and how we can easily help more software providers offer a seamless e-sign solution."
Emily Cook, Technical Product Manager
"The best thing about working at Signable are the people. There is a real emphasis on valuing everyone and making the working environment (either in the office or remotely) as inclusive and supportive as possible. Signable has a special culture that empowers individuals to not only do great work but also to be themselves. I've worked in tech for almost a decade and Signable has the most progressive and balanced culture that I've experienced.
From day one, I've been trusted with leading on the delivery for the most requested feature to date, and it's going really well! We're on track to launch "All-at-Once" Signing this quarter. As a new starter and product manager, being entrusted with such a large potential source of revenue is a huge compliment and demonstrates the high level of trust in my ability. This really inspires me to take ownership and do everything to ensure that this project is a great success.
As part of the Product team, our focus is on understanding user needs, and researching, developing and launching features that bring value to our customers. As cybersecurity becomes an ever prioritised topic for our customers, we continue to enhance our security features. Two Factor Authentication is a feature the whole team worked especially hard to bring to our Customers' accounts in order to support cybersecurity. We're also responding to the growth trend with customers who need to send more envelopes, hence why we'll soon be launching "Bulk Send" as well as "All-at-Once Signing."
If you want to hear more from Emily, she'll be hosting an exciting event at Signable HQ later this month featuring a panel discussion from other successful women in tech. The event focuses on celebrating success, making tech more accessible and creating a supportive community for all. We'd love to see you there!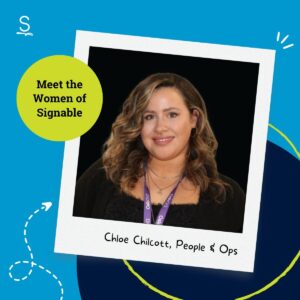 Chloe Chillcot, Operations, People and Wellbeing Specialist & Mental Health First Aider
"The best thing about working at Signable is having the freedom to take ownership, chase ideas and be truly heard. Everyone at Signable encourages and celebrates one another daily and the values are authentic and align with my own.
Last year, I became one of two Mental Health First Aiders here at Signable and my role expanded to include supporting the teams' mental health with 1:1s, signposting and wellbeing events/resources. I've had the opportunity to do meaningful work for a company who genuinely cares about its employees. Not only have I been given progression within my Operations role, but I have been encouraged to explore other departments and gain experience in HR without having to take a junior level pay cut. Progression and exploring what makes us passionate is supported and encouraged by management.
The People Team have just rolled out a brand new Competency Structure giving more transparency on movement through the business & helping non-people managers have a clear development route. I am also part of the DICE group who advocate Diversity & Inclusion within the company. Hand in hand with the People Team, we have been improving our recruitment process in numerous ways, from changing the way we hire for culture contribution and values alignment, to ensuring job adverts demonstrate our inclusivity."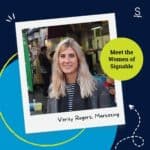 Verity Rogers, Customer and Acquisition Team Lead
"There are so many amazing things about working at Signable, it's hard to narrow it down to just one. I love being able to test out new approaches and ideas, and feel like my input is really valued. It's also great being able to collaborate with different teams and work alongside such talented, caring people.
I've never worked anywhere with a better work life balance. I love the work I'm doing, but with the unlimited holiday policy, I also know that I can take time off when I need to and come back refreshed. It's such a game changer not having to be strategic with your holiday, and being able to take time for things that really matter in your personal life.
I've been working on promoting Signable's Affiliate's Program for the last few months. It's been really exciting to lay out a plan, put it into action, and see the impact of it."
Learn More About Our Culture
We are a small business that thrives on doing the right thing. Our people are the reason we exist and are growing. Our priority is to look after them and give them a workplace where they can be themselves, grow and develop (personally and professionally) and where their wellbeing is put first.
Check out our careers site for more information on how we champion change and keep an eye out on our job board for the latest vacancies at Team Signable!