API integration VS in-house development
Published:
With news of Twitters V2 API fresh on the shelves this week, we thought we'd hop on the steam-train and evaluate an internal debate that every software company – that is committed to growth – will have in its lifetime: API integration or in-house development?
Why are API's so important?
If a SaaS business does not have an API for their software or service, it will become impossible for clients to integrate the service with their business systems. In fact, the market is now so competitive that success is not just about whether or not a company has an API, but about how usable and intuitive it is.
E-commerce sites are among the most significant users of API integrations. Web stores have order management systems that process shopping and shipping orders. But to process them, they need to access servers and databases which include customers, products, and inventory levels.
What are some of the most popular API's?
Skyscanner Flight Search
Open Weather Map
Yahoo Finance
The toss up between API integration or in-house development
From small startups up to large enterprise organisations, the build vs buy software debate has and will always be a hot topic when deciding how to spend the IT budget. When choosing document automation software for your business, you have two choices:
Put the hours in and build the solution in-house or
Invest your IT budget into a specialist, industry-focused automation solution.
The tradeoffs for build vs. buy depend on your resources, time, and internal expertise. Sometimes building in-house is a feasible option, other times it's more resource-efficient to purchase existing solutions. It boils down to the following reasons for API integration.
For argument's sake, we have chosen a document management software development strategy, ≈.
The benefits of API integration:
Unknown and evolving scope of document automation in logistics
Developing an internal product requires planning, resource allocation, and preparing for the unknown. Because data extraction projects in logistics are relatively new, it can be challenging to define the scope. Add to the fact this is a research-led project vs pure engineering; this can lead to significant timeline risk. A leading AI specialist at IBM recently revealed that almost 90% of all data science projects never make it into production.
Minimum viable functionality
Data extraction solutions are built to provide minimum viable product (MVP) functionality as quickly as possible. While it's true that achieving high accuracy relatively quickly on significant clients is feasible with a strong engineering team, the last 20% of document variety tends to take up 80% of the work.
The total cost of ownership
The total cost of ownership (TCO) of internally developed tools can often be up to five times greater than initially expected, a statistic revealed following conversations with a leading freight forwarder. For data extraction in logistics, with constantly changing document layouts, new issuers, new document types, and even new document layouts come the ongoing costs of upgrades and maintenance.
User workflows and integrations
Core technology may solve immediate pain points. However, suppose the complete solution lacks usability or does not easily fit into your existing workflow and processes. In that case, it may be far more cumbersome, time-consuming and disruptive to operations than you anticipate.
Speed of extraction
Along with scalability and uptime, the speed of extraction is a make-or-break factor. To work in a live environment, documents need to be processed in seconds. High pipeline speed and parallel processing, especially during peak times, requires significant engineering investment.
Over time, more and more technical debt inevitably accrues due to product neglect, evolving product demands, and engineer turnover.
Interested in more content on how to integrate Signables e-Signature API with your platform? Read our blog here: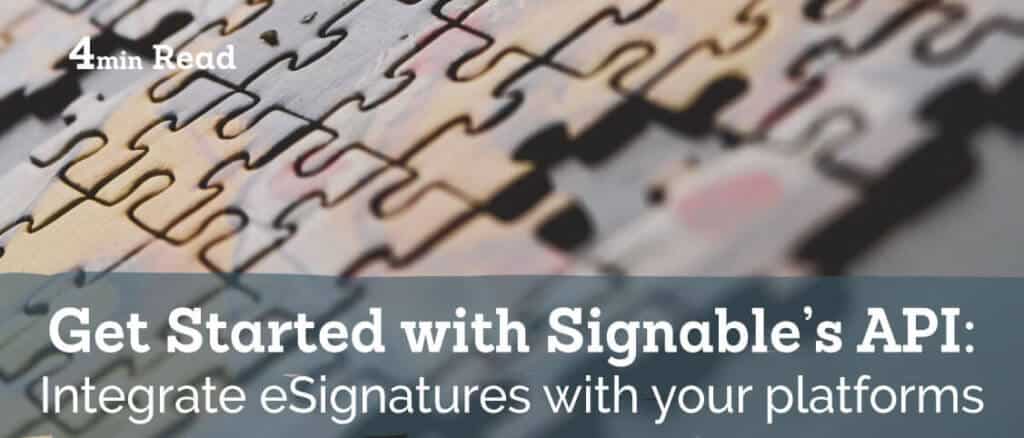 How is API Integration achieved?
Currently, there are several ways to achieve API integration. They significantly depend on the individual needs of your system or business.
Custom Integrations.
Custom-built integrations involve hand-written script from a software developer with a deep understanding and knowledge of the API documentation. This technique became popular some years back, but the cost of custom development (and ongoing maintenance) has made it less attractive against newer integration methods. It can also be very time consuming to take this approach.
Connector Applications.
Connector applications are designed to facilitate the data transfer between two well-known software platforms. Connectors are affordable, make it quicker to deploy standard API solutions and make integrations easier to manage and maintain. They also reduce the need for API management.
API Integration Platforms.
These are typically SaaS applications dedicated to developing API integrations that help join other SaaS applications and systems. They support a certain level of flexibility as you can build custom integration apps using robust tools available in the market. Some like RapidQL can fetch and transform data into a form that your app can understand with just a single query. It permits you to make requests to different private and public APIs as well as databases simultaneously.
These IPaaS services can also allow you to connect and stack multiple APIs, which goes a long way to helping Enterprises automate their workflows.
Final word
In the new post-COVID reality, the pressure to do more with less is higher than ever before. By leveraging modern managed integration solutions, companies get a chance not only to save money on not having unnecessary spending but also to gain a competitive advantage by pushing the performance of B2B communications to the highest level.
There is no development risk and the product can be implemented and integrated with your existing systems, with your teams fully onboarded in a matter of hours.
When Twitter updated its privacy policy this week so that developers may build on top of it, they set the foundations for their new gameplan, which was too decentralize it. The platform wants to imagine itself more like iOS or Android – a level playing ground where developers can build using the API.
This ambitious goal is a clear indication that the future is in API integration, fostering a progressive and harmonious eco-system of constant growth.
Now, what about the Signable API?
Using our API you can integrate Signable with your existing internal system for streamlined electronic signing.
The Signable API is quick to integrate, flexible and scalable meaning companies of all different sizes can use it. The test mode acts like a Sandbox where you can experiment with sending documents without sending out anything publicly.
The Signable API is straightforward to use, but a powerful tool built for developers and trusted by businesses.
Using the Signable API will help you to:
Send documents quicker
Save time when managing your documents
Pull data into Signable from your own CRM
Send higher volumes of documents
Interested in reading more about the Signable API?