April Product Blog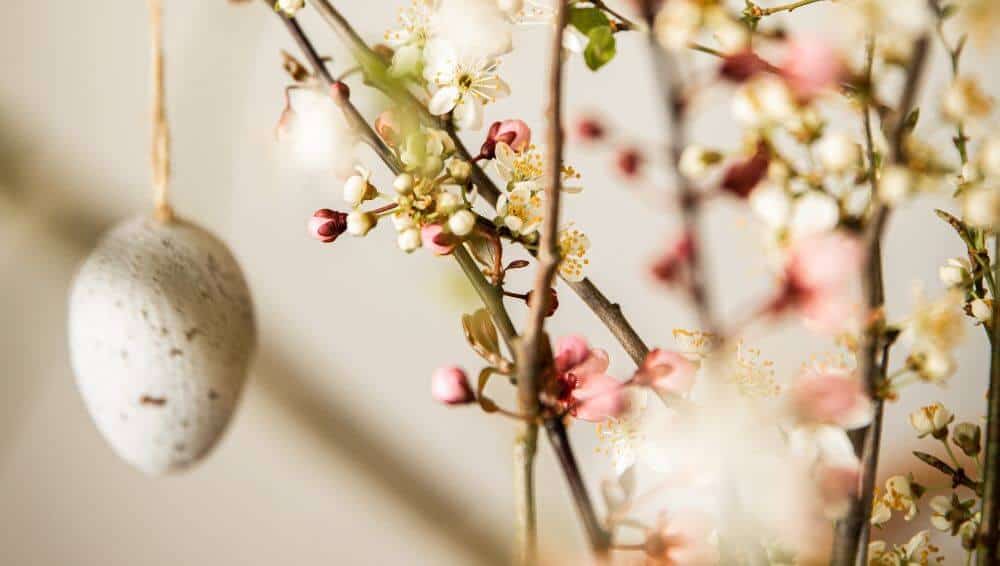 Published:
April: the start of a new quarter and another step closer to the release of two exciting new Signable features!
That's right, if you missed it, we're currently working on two heavily requested features from our customers: All at Once Signing and Bulk Sends. These features will be winging their way to you in the near future… so stay tuned to find out more!
But what about the here and now? Well, as always, we want to ensure you're getting the most from your Signable account, so this month, we wanted to remind you of a useful little feature called embedded signing!
Essentially, embedded signing allows you to embed the signing form or template into your website or app, meaning your customers can sign directly on your platform. There are two ways to go about this:
Widgets
Embedded signing via the API
We're going to explain what each of these mean, when they would come into play, and how to use them for easy and efficient electronic signing.
What is a Widget?
Let's start with the simplest: widgets.
A Widget is a useful tool which allows you to embed a simple form only requiring a single signer onto your website.
For example, a widget would be a perfect choice if you have a standardised form which you require all prospective customers to fill out, such as a booking form, enquiry, sign-up form etc.
How to Embed a Widget on Your Website
Embedding a widget is a quick and easy process which involves minimal technical knowledge.
To get started, simply:
Head to 'Templates' in the main menu bar
Click the title of the template that you want to create the widget for
Click the 'Create widget' button
You'll then see a pop-up with the embed options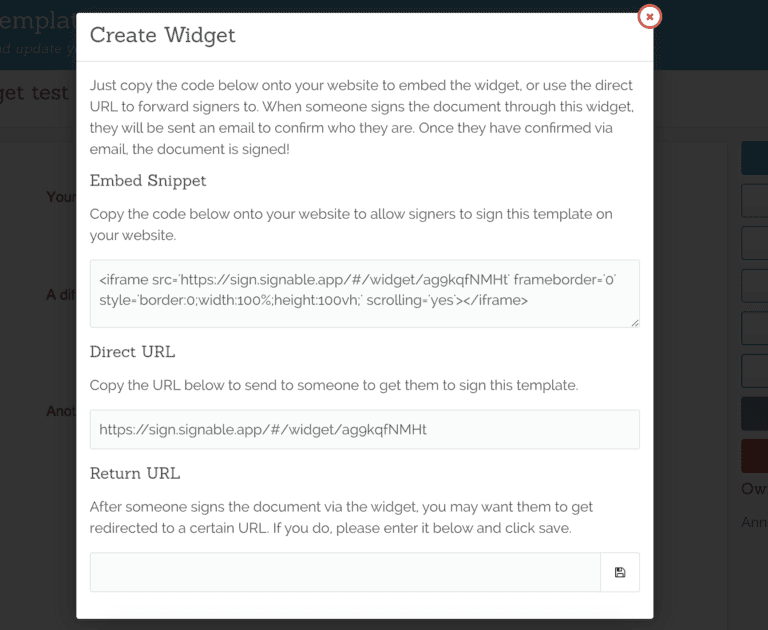 Copy the 'embed snippet' and place it on the desired page on your website
Once your customers sign the document, they will be prompted to fill in their email address and name. They will then automatically be sent an email from Signable to verify their signature.
You'll be able to see the envelope in your Library under the status of 'Awaiting verification'. Once the signer has verified their signature via email, the document will show as 'Completed' just like any other envelope.
You will only be charged for envelopes which have had their signatures verified by the signer so not only is this a great way to gather signatures efficiently for simple forms, but helps to manage costs too.
What is Embedded Signing Via the API?
If you have some technical skills or a development team and would like to integrate Signable more tightly into your application, then embedded signing via the API is for you!
Using this method, App Developers can embed the signing page directly into your application behind a username / password log-in page, meaning that your customers can enjoy Signable's eSignature functionality directly within your app without having to leave it.
Furthermore, as the form is behind a login in your application, embedded signing via the API provides a more seamless experience for your users as they don't have to verify their email address as a separate step.
Unlike with widgets, embedded signing via allows the document to be signed by multiple parties, so is a great choice for more complex forms.
This type of embedded signing is popular with businesses who wish to have a little more control over the signing process as there is greater customisation over how the signing page appears to the signer and the emails they receive.
How to Set-Up Embedded Signing Via the API
As mentioned above, embedded signing via the API is more technical than widgets and requires a developer to build the functionality into the site directly.
Developer documentation about embedded signing can be found here.
The Differences at a Glance
Whilst embedded signing via the API and widgets both work in similar ways, here is a summary of the key differences.
Configuration
Embedded signing is achieved via the API and requires support from a developer or someone fairly technical. Widgets on the other hand, require less technical knowledge and do not require you to be connected to Signable's API.
Number of Parties
Embedded signing allows a document to be signed by multiple parties whereas widgets are for simpler documents that only require one party to sign.
Control & Customisation
Embedded signing gives you a greater amount of control and customisation over the signing process. When a customer signs via a widget, they will automatically receive emails from Signable.
Get Set-Up Today
If you're not currently utilising the embedded signing features mentioned above and would like to learn more, get in touch with our Customer Support Team who can help you get started today!