FinTech 2021 Trends – Brexit FinTech Insights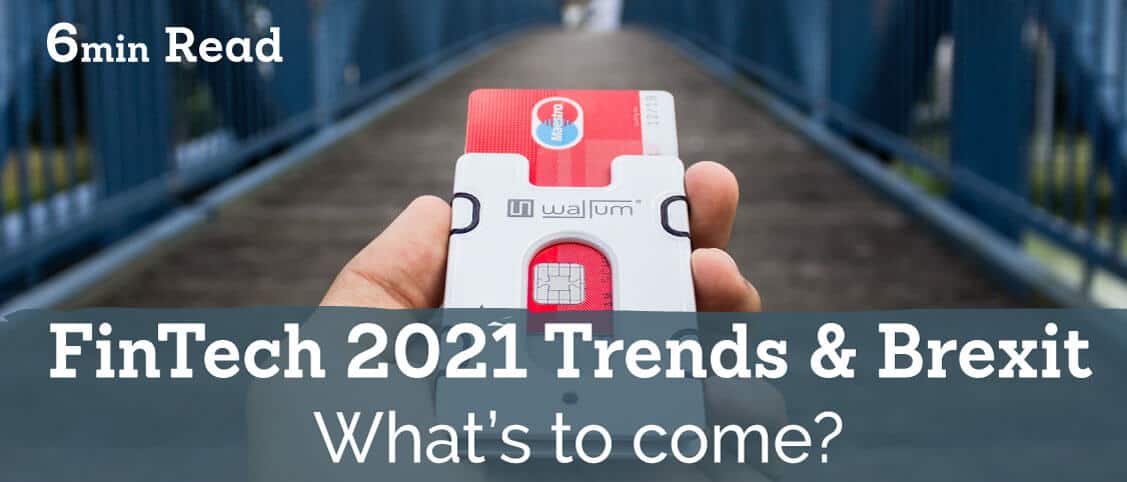 Published:
Fintech 2021 trends & finance after Brexit?
As we reach the end of a year that has felt like a decade long, and the finance world is a wholly different beast to what it was this time last year. With pressures from remote work and a change to how we work in general, we've seen a larger uptake in fintech than ever before. So, what's the FinTech 2021 trajectory?
With huge changes coming to the UK, and probably the rest of the world after we start to turn a corner on the pandemic, Brexit also presents an interesting landscape for new fintech trends.
Let's first off talk about the software that's got us all through lockdown and remote work struggles.
Top Fintech of 2020
During 2019 FinTech garnered a large amount of investment capital compared to previous years, but it comes as no surprise that 2020 has taken a huge hit this year, with less being invested overall. This lack of investment has meant many startups haven't had the financial support needed to get off the ground or even to stay afloat during the pandemic.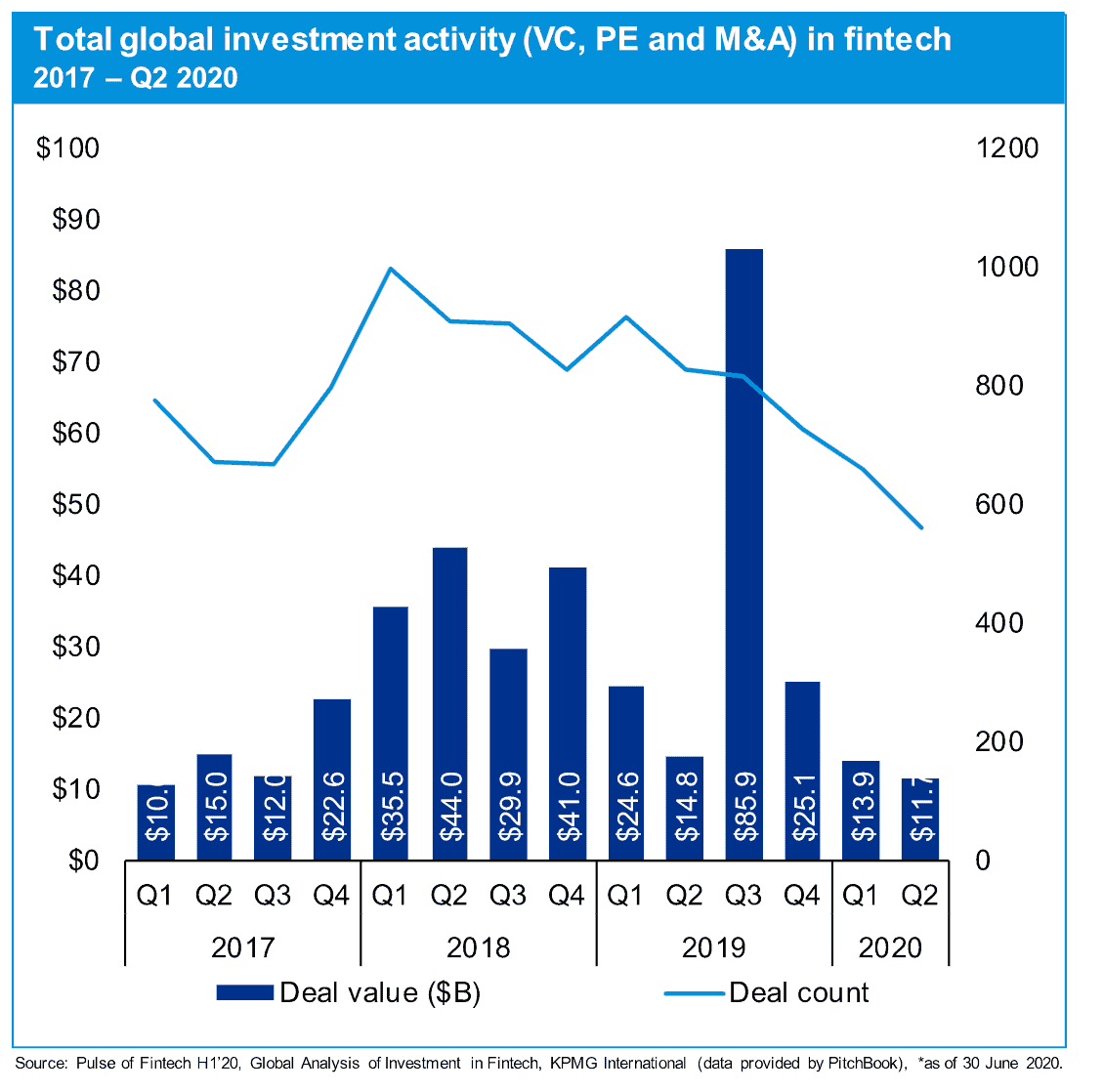 But with the huge requirements of businesses across sectors, the uptake in fintech usage has meant the tech finance industry is far from beaten. With businesses being forced to take stock of the IT resources they use and upgrade to better finance solutions, 2021 fintech is set to be an explosive year.
But to look back on the most popular solutions for fintech 2020.
Fintech Trends 2020
Digital-only Banking & Digital Onboarding – Starling Bank, Monzo, Revolut etc.
Consumers are looking for solutions that make their lives easier and further enable them to manage their finances easily anywhere at any time.
The Fintech sector is being pushed for a new kind of financial experience that serves real people in this hyperconnected world. We've seen this through the 2019 and 2020 further boom of digital-only banking like Monzo and the like.
FinanceDigest predicted in 2019 that:
"77% of financial institutions will adopt some form of blockchain technology by 2020."
Blockchain is integral to digital-only banks, not to mention how key it is to securely onboarding new customers completely digitally.
Along with the launch of digital-only banks, traditional banks have been pressed to catch up, and have done this through banishing their older, paper-based onboarding processes. Through services like Signable, banks have been able to provide new digital solutions as well as allowing new customers to sign up completely online,
Cryptocurrency
With 2020's global disruption and huge economical plummets, it's no surprise that Cryptocurrencies have become more widespread. With consumers and investors alike placing their hope on stable, digital currencies like Bitcoin and Ethereum.
Again, blockchain has facilitated developments and has furthered the expansion of FinTech's online currency. It's not only sped up transactions but secured them further with dedicated servers.
However, 2020 was the 'year of cryptocurrency', but it's now clear, there are still some growing pains and it will need to update even further into 2021 if it is to continue.
Cybersecurity
Enough said about the impact of the pandemic on banking and investment, but across the board cybersecurity has been on everyone's minds. Blockchain, as we've touched on above has been a huge area for development in FinTech's 2020 plans. With a more secured security comes more leeway for finance firms to move to remote business.
As spoken about by Antonio Senatore, EMEA Blockchain Lead in Deloitte's 2020 predictions:
"This is the beginning of the decade of Blockchain and I think in 2020, we'll start to see the global recognition of crypto assets in the FS industry."

– Antonio Senatore, EMEA Blockchain Lead
Trends for 2021
In an interview with Innovative Finance Chris Brooks from Modulr says lockdown "served as a wakeup call" to many businesses who continue to use unwieldy IT systems or manual payments.
This clearly shows that businesses will be prioritising upgrades to these systems they hastily put in place over lockdown. But, what can we expect from FinTech 2021?
Evolution of Customer Experience & AI
With an emphasised look at how consumer behaviour is changing with banking comes a look at the customer experience and journey.
Whilst we've discussed the impact of a 'digital-only' banking system, this customer experience that comes with these new banks is where the focus will be in 2021. With traditional banks moving even further online and improving not only their onboarding but their customer service.
"In fact, the need for better-digitized customer experiences has only crystallized and accelerated, with consumers staying home or at the very least staying away from physical bank branches."
This is predicted to come in the form of AI agents to help engage customers online and provide fast solutions for common banking issues. This will hopefully mean no more waiting on the line for hours at a time!
Collaboration between banks and FinTech startups
Banks were undoubtedly in competition with the newer FinTech Startups of 2019 and 2020. These newer, younger companies are more in-tune in some ways to newer customer prospects and can react faster.
However, the realisation has come in 2020 that banks and these startups want the same thing, to serve the customers as their demands change. With their bigger capital, established banks can acquire some smaller fintech startups to begin this change.
In this way middle of the road banks, with smaller capitals, will need to learn to collaborate with the new startups to harness the new distributors of banking services of the future.
"Given the 'borderless nature' of FinTech and the acceleration of industry convergence across several previously siloed verticals, I anticipate seeing more collaborative efforts initiated by regulatory agencies that seek to strike the right balance between responsible innovation and safety and soundness."
Brexit and FinTech
With the impending Brexit, potentially one with no secure deal in place, many FinTech Startups are beginning their contingency plans. When the UK leaves the EU finally after the transition period on the 1st of Jan, FinTech will be highly impacted if firms don't have a plan.
The UK has continued its access to the single market in Europe, but when the transition period ends FinTech will lose passporting rights that allow them to operate throughout the EU.
Many UK fintechs have established new European outposts to ensure they can continue to do business in other regions and avoid disruption to their users, especially in the event of a no-deal scenario.
Many Fintech firms including Revolut, Curve and Modulr are looking to secure licences in Dublin and Lithuania. Michael Kent, CEO of Amizo says:
The U.K. "will be fine" as it's "the home of capital markets."
So, even though we've seen investments in FinTech Startups plummet, along with the UK economy, 2021 is a year of secure cryptocurrency, widespread collaboration in the FinTech space and a focus on customer experience.