Mental Health Coach Gives His 3 Top Tips for Staying Happy
Published:
Who is Nick Elston?
My name is Nick Elston. I am an Inspirational Speaker on the Lived Experience of Mental Health and the Founder of Forging People 'a new breed of People Development'. A BIG thank you to my friends at Signable for having me along to deliver this to you!
First and foremost, I hope that you are all staying safe, well and strong at this time. We're all in it together, albeit with our own set of unique challenges and circumstances. But, this fact can also increase our state of overwhelm and constant underlying anxiety and dread.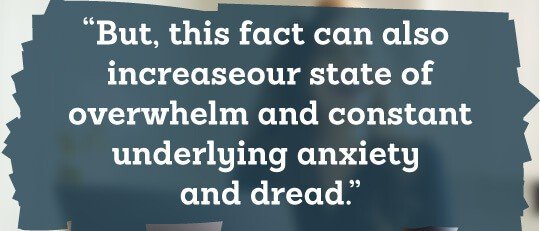 I've put together these 'lived experience' tips in the hope it will help and inspire you and provide some good mental health tips right when you may need it most.
All of what I share are techniques and learnings that I have used along my own journey through Mental Illness & Mental Health, through recovery, but also day to day maintaining and boosting a positive mindset.
I am not a medical professional but I am a very active signposter, Mental Health First Header & Champion for many organisations promoting positive Mental Health & Wellbeing initiatives & solutions.
Disclaimer done — we'll move on to the tips!
Never Assume
Mark Twain said that some of the worst things in my life….never actually happened — how true is that!
We are hardwired to look for danger. We assume a negative outcome to most of our pursuits, especially when you throw in Mental Health challenges, but also low self-esteem and low self-confidence.
Add overwhelm, disconnection and isolation to the mix and it's very easy to understand why people can struggle to see any positive right now.
We also become highly sensitive and highly emotional, even more so if you are prone to that behaviour anyway. So we are, to some degree, making decisions from a position of fear.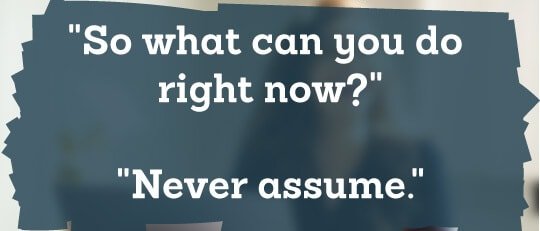 If the world's greatest minds don't know the extent of the COVID-19 Pandemic, an end date, or even what the end looks like, then who are we to take a stab at that?
The good mental health tips that follow will give you some ideas on what you can do to help put that resolve in place.
Set Boundaries
A positive start to the day
Make your bed and get dressed! I'm sure our parents have shouted that at us all at some stage! But, the process of getting ready and keeping the routine you would have if you were going out into the world proactively get us going into the day with positive intent. It really helps!
Workspace
Where possible, work somewhere different to that where you relax, socialise and switch off. If that isn't possible, then at least pack everything away at the end of your working day to ensure it's out of sight, then out of mind.
Stick to your hours
Stick to your usual working times. If you are self-employed & suddenly no business, furloughed or out of work — put your focus into Personal Development, Professional Development & in the case of the Self-Employed — work on the bigger picture of the business — so you give yourself every chance of not just surviving this — but thriving through it!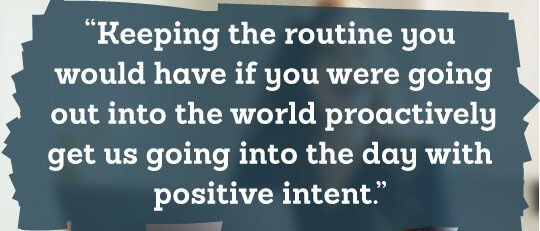 Relationships
Look, I guess we choose to live with people that we love, but we are not used to this level of immersion. Especially if you throw in parenting or caring, so this can be tough. We need to have the courage to set boundaries to preserve some time for ourselves. Even just 30 mins a day as a sanity check to ensure that you have a healthy spot of time for yourself.
Move!
Sounds simple, eh? But if we do not move, we become lethargic, run the risk of back pain and decreased physical health which in turn affects our Mental Health, of course.
Depending on where you live, it could be difficult to get out right now for our allotted one piece of exercise, but if you can, use this chance to run, walk, walk the dog and get some fresh air.
However, for those like myself, who are self-isolated or do not have the chance to get out and about, even simple things like setting an alarm every hour to walk around, get a glass of water, doing a household chore every day. It all helps.
I am fortunate enough to have a garden. So, when I have had telephone meetings I've seen this as an opportunity to get my steps in, walking around the garden whilst I speak. In the sunshine and the fresh air, it's really invigorating, but, I'm actually wearing in a new path!
As someone who is also doing Couch to 5K, I haven't got a big garden so have been doing this on the spot, which is actually a lot tougher workout with no movement or momentum!
Need some other help?
I hope that these 'lived experience' tips & tricks have provided some good mental health tips for you. If you'd like to reach out for more insights, I'm always happy to hear from you!
You can find me on my website, as well as on the Forging People website. You can also reach out to me on Twitter @NickElston_