PropTech UK – Investment & 2020 forecast analysis
Published:
PropTech isn't just a buzzword
Talk to anyone in the property industry and they'll be able to tell you how much PropTech companies have changed their business in the last few years.
Property is inherently favourable of it's traditional processes, being one of the oldest industries in the world. But, in recent years, and even just in the past few months, it's seen a huge uptake in digitalisation. We spoke to a range of PropTech experts and analysts to form a full report that we've taken snippets from for you here. If you'd like to read the full report of our findings and predictions for PropTech in the UK, download it below.
Why is property software making such a big splash?
No doubt the benefits of replacing outdated processes like in-person signing & handwritten inspection reports are many. Saving time for you and your clients is a no-brainer, but what if the solutions are costly and hard to implement on a larger scale?
Allow us to take you through the reasons PropTech is booming and will continue to be a key player in the industry in 2020.
"In 2018, a total of £995 million was invested in PropTech companies in the UK."

– Future PropTech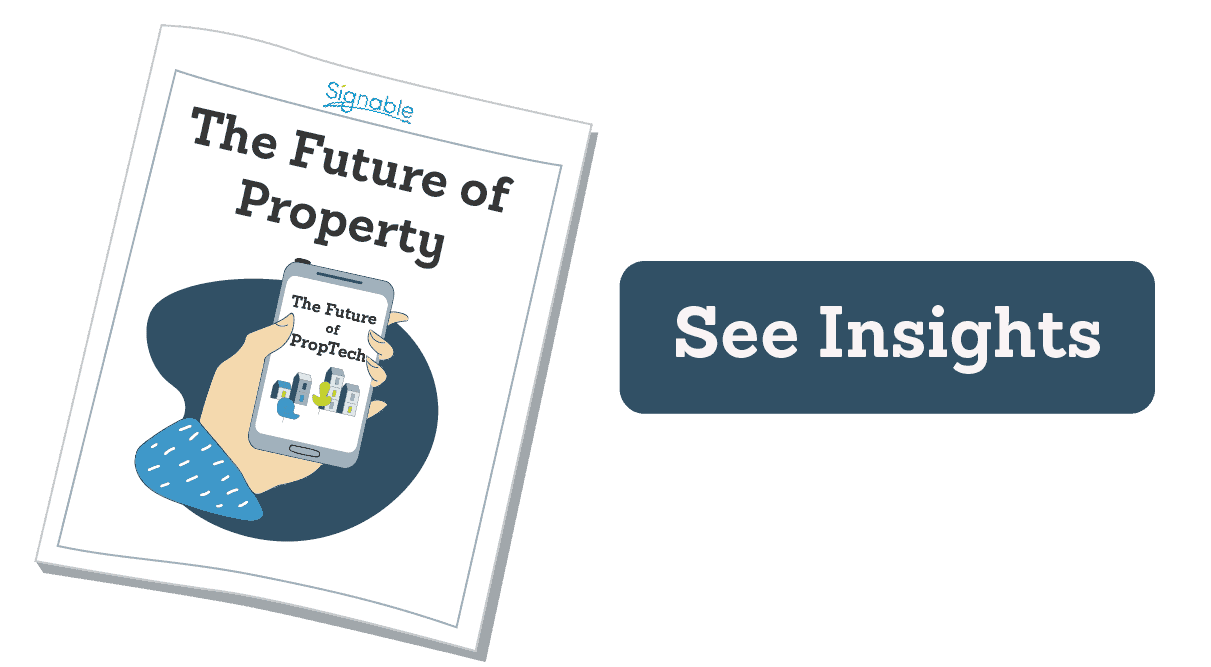 Michael Bristow
Michael Bristow is the CEO & Co-Founder of CrowdProperty, UK's leading specialist property project online lending platform. Michael also sits on the Investment Committee for Pi Labs (Property Innovation Labs), Europe's first and most prolific venture capital fund investing exclusively in early-stage ventures in the property technology (proptech) vertical.
Overall this country needs to be building 300,000 homes we never get anywhere near that. In 2008 we built 200,000 homes and 30% of those homes were delivered by small builders. The market for good small and medium-sized property professionals doing property projects, were really hard to come by and as a result, they [small-medium builders] were really struggling to find the funding.
So, last year we did the biggest survey ever undertaken by the small builder market, and our findings we're exciting, to say the least.
Andrew Stanton is the CEO of Proptech-PR. He's also a Proptech Real Estate Influencer, Analyst, Journalist and Consultant; providing consultancy, insights, strategies, thought pieces, PR & commentary on the Proptech & Real Estate world. He's also an advocate for Unissu.
Estate Agency or Real Estate like many industries is undergoing seismic changes, the way we work, where we work, and who we work for and how technology is 'helping' in that process. One positive thing coming out of this difficult situation is that many agents who are 'transactional' focusing as I used to for 30-years plus on the next deal, can now use their time to reflect and plan on a more 'modern' and efficient model of agency.
Over the past few months having had many confidential conversations with people in the c-suite of some really big organisations across the property industry (estate agency, legal, property finance and, of course, PropTech) it's clear that the 'digital transformation' of the whole sector is happening on a large scale.
Jamie Holmes
Jamie Holmes is the CEO at VU.CITY, a smart city software platform that provides the world's largest and most accurate 3D city models. The detailed 3D digital twin assists with site appraisals, unlocks opportunities, leads to better design, engages our communities and ultimately helps reduce uncertainty; speeding up and improving the planning process.
But B2B PropTech is still in its infancy. More specifically in my area of expertise, the PlanTech branch. PlanTech focuses on how, with digital innovation, we plan and design our cities. And those of us who work in PlanTech want to create technology that helps city makers create better places.
To date, the industry has been slow to respond to technology, but it is now recognising the opportunity to embrace change, and I believe we are on the verge of something really exciting.
Rachel Lightfoot
Rachel Lightfoot is the Co-Founder of TouchRight Software. They provide a simple, easy to use web and mobile app for property professionals to help transform their property reporting. Their award-winning software helps a range of property professionals across the industry produce property reports with ease, saving paper, time and adding even more value with a few simple clicks.
Whether it's cloud accounting software or workflow management tools – the skills needed to identify the right tools and use them effectively – can elevate businesses to the next level of growth."
The total lockdown we're experiencing at the moment has made us highlight some different ways of 'remote' working with the software and we will shortly have a full remote/self-service option which will open up a number of template options for different property sectors & more choice for property managers.
Download the full report analysis of UK PropTech & the digitalisation of the property industry below.