New Responsive Signing Page – With New Features!
Right at the top of our Trello board, which we use to track feature suggestions, is (was :)) more of a mobile-friendly signing page. At number two on our list was supporting multi-lined text fields. Both of which I am glad to say is available now!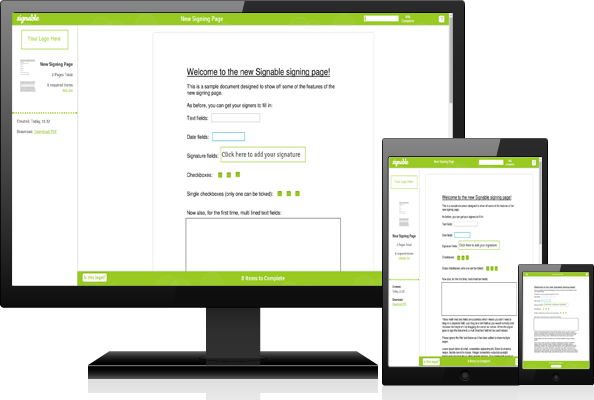 After you have spent a few minutes having a play around with it, allow me to introduce some new features of this page.
Bigger page previews
We have massively increased the size of the pages that are shown to your signers. Previously it was a bit tricky to read the document on the screen if the font size was extremely small. Now the pages are the main focus of the screen and are clearly readable. We are actually looking at improving the quality of these images in an upcoming change however right now they look great!
Clear action bar along the top and bottom
We sometimes got comments from our customers saying that their signers sometimes got confused about what to do next, when signing the document. To a lot of people signing a document electronically is a brand new experience and can be a very daunting task. Now, running along the bottom of the screen is a green bar which gives your signers a clear idea about how many items they need to complete, as well as a couple of buttons which they can use to either get more information about the legality of signing documents electronically or to move onto the next item to complete.
Along the top of the screen, we also have a progress bar which tracks the progress of the signer as they complete the document.
Redesigned signature box
Over the next few months, we are looking at expanding the signature options that we offer. At the moment, your signers can either draw their signature with their mouse (or finger) or type their name. Other possibilities include logging into an identity provider or even a social media site. This redesigned signature box allows us to include other ways of getting signatures from your signers.
New help sidebar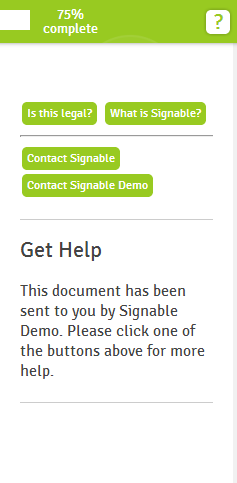 Another key point of the signing page is that signers may have queries or questions about the document or about the signing page itself. If they have either, they can now click on the question mark in the top right (or click the 'Is this legal?' button at the bottom) and a handy help sidebar will appear.
From here they can read up on what Signable is as well as the legal validity of signing documents via Signable. Two other features are the ability to send messages direct to you or us from a simple form. The signer won't see your email address, instead, they will fill in a form which is then sent automatically to the main company email address on your account. From there you can respond to them as usual.  If your signer gets in contact with us then we will respond to them as usual however if it relates to the details in the document, we will pass it onto you.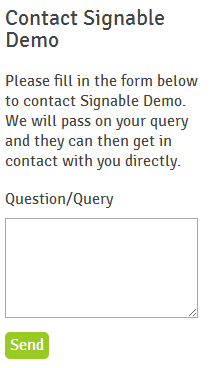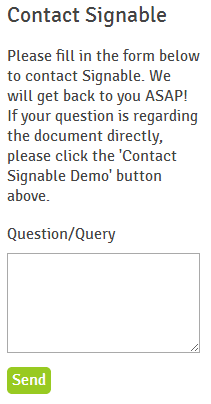 Multiple lined text fields
As mentioned above, one of our most frequently requested feature is the ability to support multiple lined text fields. Previously you could drag the text field as tall as you like when preparing the document, however, the signer would only have one line to complete. This caused confusion, not only for you but for the signers as well. Now any text fields that have been resized taller than a single line, will be a bigger text field. This is ideal for comments boxes, more information fields or fields on your documents where one line just isn't enough.
Wrap up
Overall this new signing page has taken nearly 6 months to design and build. Explicitly designed to make it easier for your signers to complete your documents. Please, if you have any questions or queries about this new page or Signable at all, just leave a comment below or contact us.