October Update – Fixed Bugs & New Features!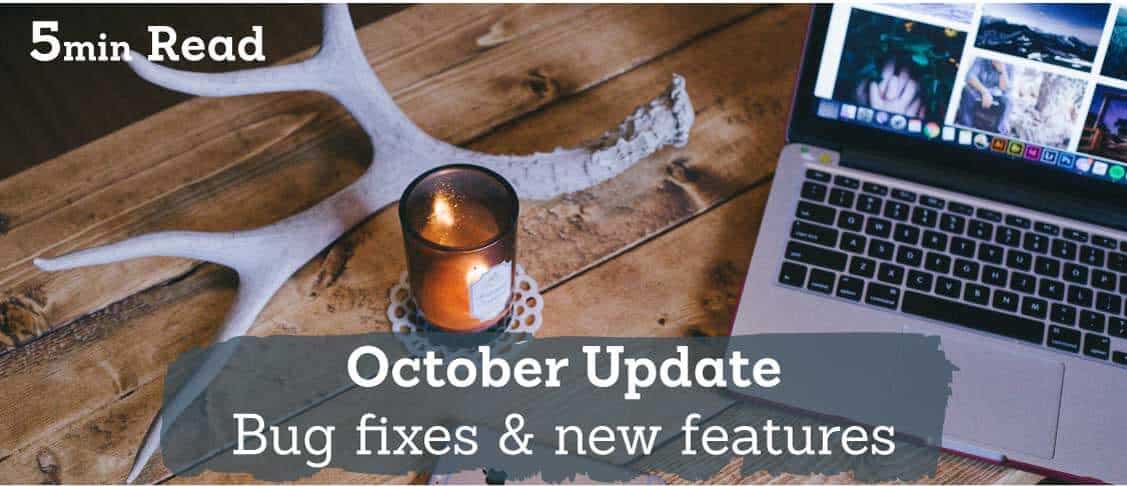 Published:
Sign documents better!
We're loving all the positive feedback about our summer update, so glad to see so many of you testing out the new features and appreciating the lack of green! If you've not seen what we updated a few months ago, check out the list here. Not tried to sign a document yet? Sign up at the bottom of this post.
So, log into your account and follow along!
We heard you!
We've had great feedback from you about what does and doesn't work and we've listened! Our developers have been working away on this month's update so you can continue to send and sign documents with ease!
Bugs and issues you've helped us solve
Long documents no longer cut off!
If you've had issues sending long contracts and noticed they got cut off, worry no more! You're able to send any length of document without risk of anything being lost. Meaning your clients can read that important small print and sign documents quicker.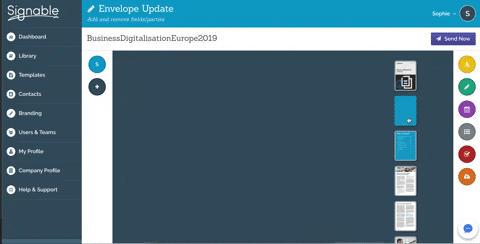 Sending a question to the sender
If you sign documents with Signable you will have seen a few options on our signing page, including 'I have a question'. This option is excellent if you're not sure about something on the document you're signing and you'd like some clarification from the company/person who sent it.
When you type your question it'll now go straight to their inbox so they're able to quickly answer whilst your still on the sign document page. This makes the process even quicker so there's no hanging around drafting up an email.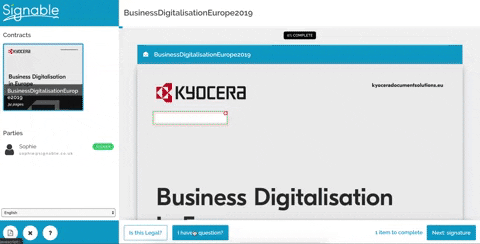 AutoComplete email addresses
We all love the 'add myself as a party' option, honestly one of my favourite features (don't shame me). So when a bug that showed up some auto-filled email addresses as incorrect, we jumped into action mode. The issue is now completely fixed and you're able to add yourself/autofill contact emails to your heart's content, as I did below…

Editing parties on the envelope status page
Sent a document to a client who's forgotten their email password? No problem. You can change the party's email address after the document has been sent out as we've fixed the edit party button. All you have to do is:
Find the envelope you have sent out in your 'Dasboard'
Click the title of the envelope to access the envelope status page, where you'll see a list of the envelope parties.
Click on the edit party icon
Enter in your new email address to the field
Click 'Update Party' and the email address will now be changed.

Other bug fixes:
Fixed credits modal that didn't close when credits were added
Fixed bug where download button for upload fields was sometimes showing when it shouldn't have been
Adding fixing party status for unverified (widget) envelopes
Fixed bug which was preventing fields from being assigned to different parties
Fixed bug preventing non-admin users from adding contacts
Top new updates
Updated support times
We've increased our customer support times, we're now open from 8 am – 5 pm! So we've got more time to deal with more feedback from you. We welcome suggestions too, so if there's something you think would be great to add, let us know!
We've also got a survey coming up soon to formally ask you what you'd like to change. You could win a £50 Amazon voucher while you're at it! So keep your eyes peeled in our next newsletter for that.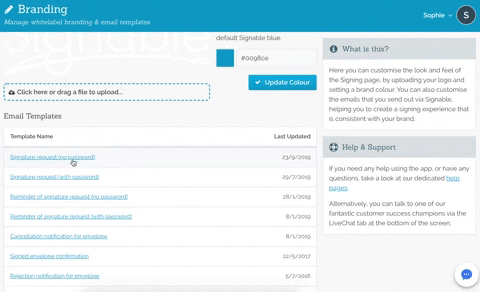 Not a new feature by any means but we've updated a few things to make personalising the documents you send out even easier. If you've never used this feature you're missing out! Let's go through the steps:
Log into your account
Head to 'Branding' in the sidebar
Click on one of your current templates to edit
Paste in variables to the 'plain text' editor or simply change the wording in the simple editor
Remember when you change a template it will be used whenever you send out a new document
If you have any suggestions or feedback for us on how we can improve, please email our help team on: help@signable.co.uk
Feedback Survey
We'll be sending out a feedback survey to all customers very soon so keep your eyes peeled in your inbox! P.s. You could win a £50 Amazon voucher! Ooooh Ahhh…
Not tried to send or sign a document yet? Try us for 14 days, no commitment, no strings, no-obligation, free! Let's go!
Your name Email address Company name
We may send you emails directly about your Signable account. These emails will come directly from Signable and will always be related to your account. You may opt-out of these emails via the link at the bottom of the email that you receive.