What is the Right Popular eCommerce Platform?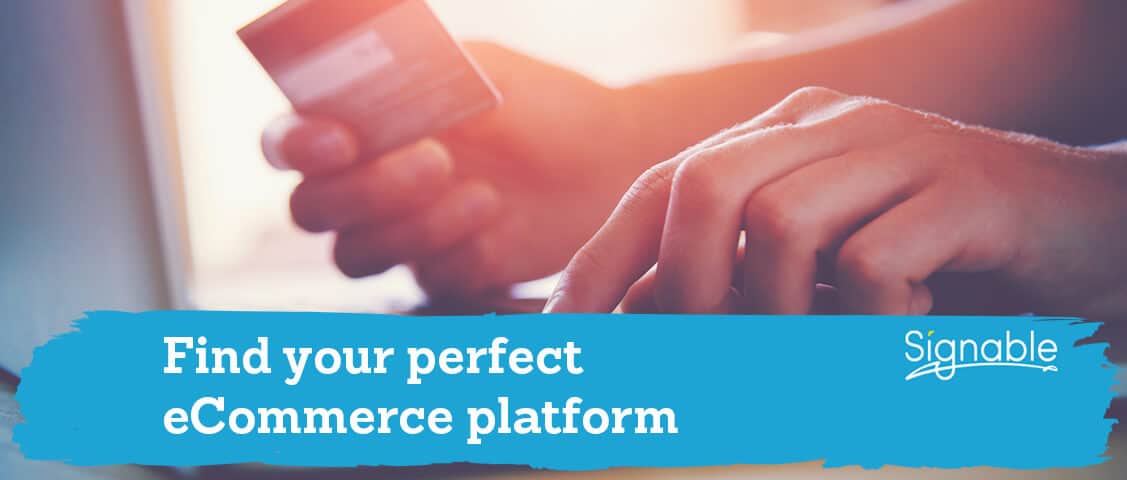 Published:
Whether you're starting up a brand new online shop or simply feel you aren't getting enough out of your current eCommerce platform, it's definitely worth getting a full picture of the options available. Let's take a look at some of the most popular eCommerce platforms out there to see if you're missing out.
Magento

Undoubtedly the most popular choice for larger businesses, Magento is estimated to hold around a quarter of the market share in eCommerce sites. If you have a broad range of products available and sell high volumes of products, this may be the ideal choice for you. Magento boasts some very big names including Coca-Cola, Burger King, and Kurt Geiger. However, it's versatility means even smaller companies can benefit.
Don't be fooled into thinking it's plain sailing though, this is definitely one of the most complicated platforms on this list to use and as such managed hosting is recommended for Magento sites. For beginners, there are far simpler and more user-friendly options available, but if you have the capital to invest in skilled web developers for customisation, you'll enjoy the high-end, martini-sipping features that Magento provides.
Shopify

With more than 500,000 active shops selling with Shopify, it's clear their interface is a winner with their users. Compared to Magento, Shopify is more focused towards social media integration and casual shopping through mobile devices. For example, if you start a Shopify store you can easily connect and sell through your Facebook page, rather than having to direct users to your site to make a sale.
With more than 100 themes available, along with over 1,500 plugins and extensions, customising and upgrading your shop is super simple and effective. Their pricing structure also screams ultimate user-friendliness as you can choose between a range of different packages to suit your budget.
But Shopify isn't perfect either. First of all, you're locked into using Shopify's payment system or a reasonable transaction fee for every sale. Plus the extensions that add functionality aren't free, so using the system can end up being very expensive, very quickly. Nevertheless, it remains a great choice for beginners looking for the opportunity to grow.
WooCommerce

WooCommerce is an eCommerce plugin used on WordPress sites, which means your site is built on the awesome power and versatility of WordPress. If you are already familiar with WordPress you'll find it easy to work with WooCommerce. The plugin itself is free to use and naturally, the site comes with WordPress' flexibility and customisation.
Of course, it's worth pointing out that WooCommerce is not a standalone platform, so you're bound by the rules of WordPress (like an overbearing mother). The software also offers fewer customisation and advanced options of some of the larger platforms which can leave it feeling quite limited.
BigCommerce

BigCommerce is another leading eCommerce platform, with more than 55,000 online shops including everything from small start-ups to huge names like Gibson and Toyota. One of the major advantages of BigCommerce is that it's extremely simple to use even if you don't have a lot of technical expertise. It is simple to integrate onto major platforms including Facebook, eBay, and Google and comes with features such as newsletters, analytics, coupons and more.
The relative lack of free themes means that you might have to shell out on a premium theme to get something that you like which can add to the overall cost.
Big Cartel

Big Cartel made its name in providing a platform for artists to sell their work, however, across recent years it has developed into a full-sized eCommerce platform that can be used by any kind of online store. Still mostly popular with artists and creatives, it's very simple to setup and manage and can be integrated easily with Facebook.
Unfortunately, the simplicity does come with a downside: the overall functionality of the platform is very limited. If you have simple online selling needs, the user interface will certainly appeal, but if you have aspirations for more, Big Cartel probably isn't for you.
https://giphy.com/embed/3o6Zt9fevSRznTSHtK
Which popular eCommerce platform works best with Signable?
ECommerce businesses can have multiple uses for e-signatures, from agreeing to deals with suppliers to signing off contracts on large purchases – this has seen many businesses looking to add electronic signature integration like Signable to their website. But which of the eCommerce web platforms works best?
The truth is that no matter which web platform you work from, it is easy to integrate Signable into your site. Whether you are a small shop running a simple Big Cartel page or you have a huge custom-built WordPress site with a WooCommerce plugin, electronic signatures can be a fantastic addition to your business.
About the Author: Dakota Murphey is a Brighton-based tech geek, writer, and mum to two young scamps. With the tiny little bit of time that's left after tending to said scamps and geekery, our Dakota is a bit of a film buff and loves a box set, a fine-dining experience, and the odd glass or five of vino.