Signable recognised as one of the UK's Best Places to Work in Tech™!
Published:
5th September 2023
Signable's commitment to excellence in workplace culture earns UK tech industry recognition.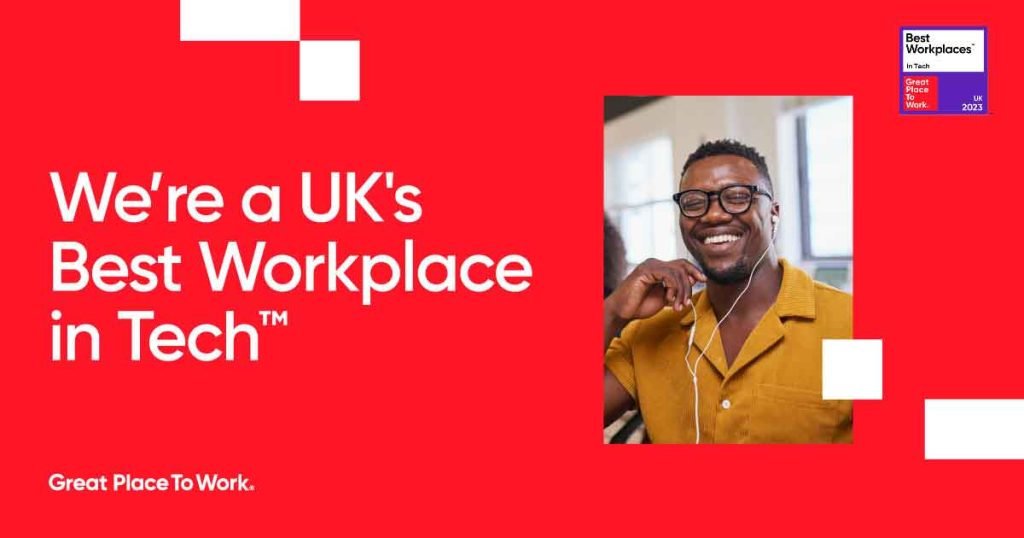 We are thrilled to announce that we have been recognised as one of the UK's Best Places to Work in Tech in the Small Business Category by Great Place to Work™ UK.
This esteemed accolade stands as a testament to Signable's unwavering commitment to nurturing a positive and inclusive work environment, embracing diversity, and fostering growth for all our team members.
Great Place to Work™ UK is renowned for its comprehensive evaluation and certification process, meticulously assessing workplace culture, employee satisfaction, and leadership practices. Being recognised in the "Small Business" category alongside other industry leaders highlights our dedication to establishing an outstanding workplace.
Signable's success in achieving this honour is rooted in our steadfast commitment to several core principles:
Employee-Centric Culture: At Signable, we cherish our employees as our most valuable assets. Our organisational culture is built on the foundation of prioritising their well-being, continuous growth, and personal development.
Inclusive Environment: We wholeheartedly embrace diversity and inclusion, actively ensuring that our workplace is a welcoming and supportive space for individuals from all walks of life. We are also proud to have a team of inspiring female leaders who empower their teams daily.
Community Engagement: We are deeply committed to giving back to our community through a range of initiatives, demonstrating our firm belief in social responsibility. This year, Signable launched an initiative to give registered charities a discounted rate on all plans. Just another way we're giving back.
Going Green: We are committed to playing an active role in the fight against climate change. Our commitment is exemplified by our dedication to contributing a portion of our profits to Stripe Climate, an organisation that collaborates with innovative carbon removal technology companies.
Signable CEO, Olly Culverhouse, commented: 'As a company, being a place that our team are proud of and love to work at is a crucial part of what makes us, us. We are constantly looking to improve and be better in an industry that is constantly changing and evolving. Our people are the priority, and through adapting our benefits, policies, and the way we work and communicate, we are focused on being a great place to work for many years to come.'
Benedict Gautrey, Managing Director of Great Place To Work® UK said: "The Best Workplaces in Tech™  list is created using the anonymous feedback collected from employees within the technology industry about their workplace experience. In one of the country's fastest-growing industries, it's fantastic to see these Tech organisations putting their people strategy at the heart of the business and implementing policies, practices and programmes that sustain an impactful and consistently great employee experience for all. A huge congratulations to Signable for making one of our most prestigious
lists."
Signable extends heartfelt appreciation to all our employees whose dedication and hard work have brought us to this remarkable milestone. We are eager to continue our journey, evolving as a company that places the well-being and growth of our team members above all else.
For more information about Signable and its commitment to fostering a great workplace, please visit: https://wearedomo.com/.